Discoveries of gold in 1858 drew many to what would eventually become Colorado, and in 1858 the two towns of Denver and Auraria were established (they soon merged into one, and Auraria is now a neighborhood of Denver). Among the earliest settlers in Auraria were Count Henri and Countess Katrina Murat. Count Murat claimed to be a relative of Napoleon; he had fled to Germany from France after his famous relative's defeat. There he met and married the young Katrina and together they left Europe for America in 1848 to escape the political upheavals in their homeland.
Although safe here from political enemies, the Count and Countess, who settled first in California before coming to Colorado, lacked the wealth they had enjoyed in Europe. The Count became an barber and his wife took in laundry; soon, however, they opened one of Auraria's first hotels, a two-story log cabin called the Eldorado. Horace Greeley was among the hotel's early guests.
Countess Murat is also sometimes known as "the Betsy Ross of Colorado." Supposedly, Katrina — who anglicized her name to Catherine after coming to America — sewed the first American flag flown in Auraria. "She was big hearted and generous to a fault," wrote Louie Croft Boyd, who had known the Countess. He published his recollections of her in the September 1939 issue of Colorado Magazine. You can also read about the Murats in Colorado, The Land and the People, published in 1957 as a grade-school history of Colorado by the state's Department of Education and available online from our library.
The Murats lived the rest of their lives in Colorado and are buried in Denver's Riverside Cemetery.
Countess Katrina (Catherine) Murat. Courtesy History Colorado.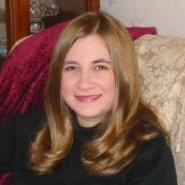 Latest posts by Amy Zimmer
(see all)