Our library recently received a fascinating new document for our collection that will be of interest to historians researching Colorado's railroads as well as to those interested in our state's geology and mineral resources.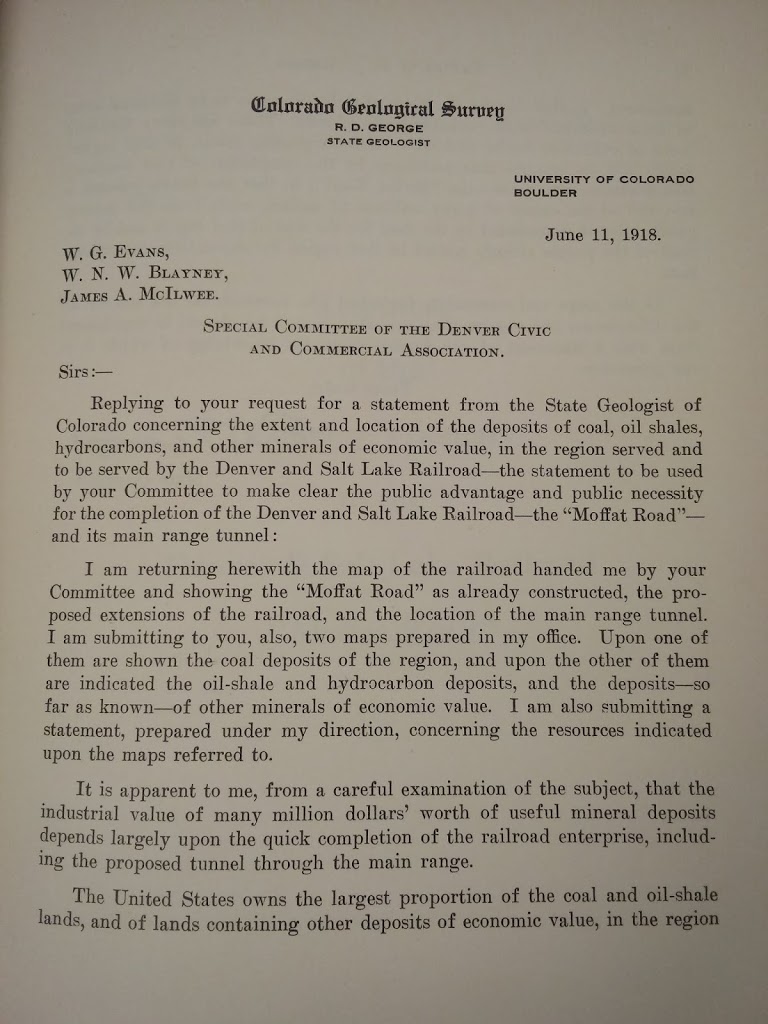 Exactly one hundred years ago, in 1918, a special committee of the Denver Civic and Commercial Association asked State Geologist Russell George to produce a report of the mineral resources that could be found in the Northwest Colorado region of the Denver and Salt Lake Railroad, known informally as the "Moffat Road." The committee, led by Denver Tramway Company president William Gray Evans, was interested in "the extent and location of the deposits of coal, oil shales, hydrocarbons, and other minerals of economic value…to be used by [the] Committee to make clear the public advantage and public necessity for the completion of the Denver and Salt Lake Railroad — the "Moffat Road" — and its main range tunnel." In other words, Evans — one of the major promoters of the Moffat Tunnel after the 1911 death of its namesake, David Moffat — wanted to use this report as justification for the railroad and tunnel through the mountains, construction of which would be no easy task.
George and the Colorado Geological Survey provided Evans and his colleagues with a thorough description of the area's resources, the most prominent being coal — the mining of which was one of the state's major industries during this era. George's narrative is bound together with three large foldout maps. One map shows the Road's route and proposed tunnel location alongside existing (supposedly inadequate) rail lines. The second map details the area's coal resources, and the third map points out locations of other mineral resources, including copper, molybdenum, tungsten, carnotite, gold, and oil and gas.
Evans and his colleagues were likely very pleased with the report, because George concluded that "the industrial value of many million dollars' worth of useful mineral deposits depends largely upon the quick completion of the railroad enterprise, including the proposed tunnel through the main range." However, it would be nearly a decade before the Moffat Tunnel finally opened in 1927. Evans didn't live to see the tunnel's completion; he died in 1924.
This document is an incredible primary source for anyone researching Colorado's railroad history. Although it is not presently available online (the large size of the maps would make this difficult), anyone is welcome to come and view the document here in our library. Search our library's online catalog for many more resources on Colorado's history, geology, and transportation.
June 2020 Update: This publication has now been digitized and is available to view online.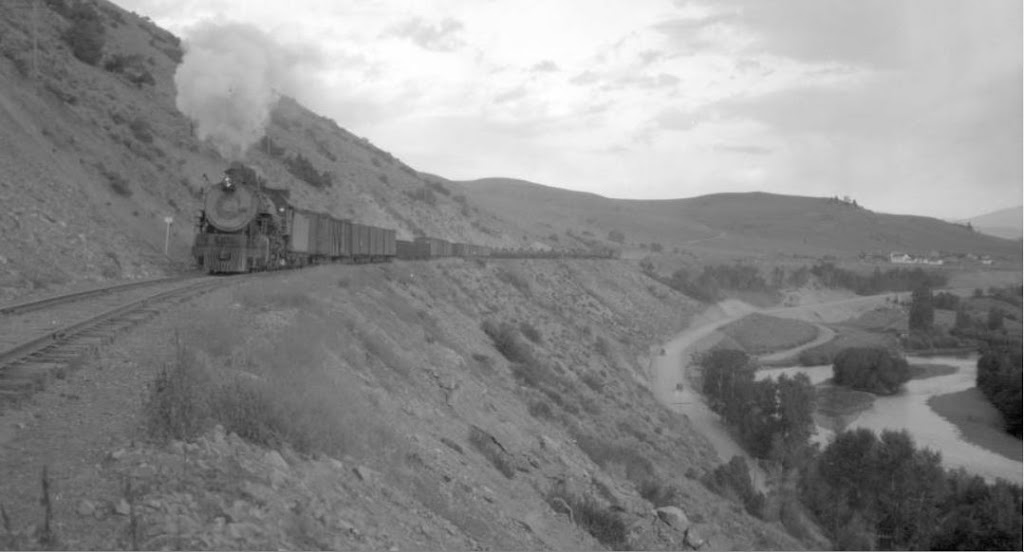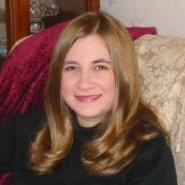 Latest posts by Amy Zimmer
(see all)