Our series on Colorado's Scenic and Historic Byways continues with Cache la Poudre – North Park. The Cache la Poudre – North Park Scenic and Historic Byway traverses 101 miles from Fort Collins to Walden through breathtaking landscapes, allowing visitors to immerse themselves in the rich heritage of the region, partake in exciting recreational activities, and spot abundant wildlife.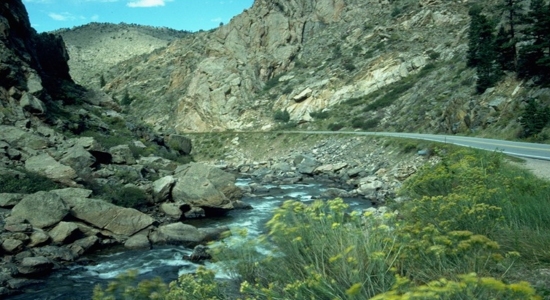 The Colorado Department of Transportation (CDOT) designated the Cache la Poudre – North Park Scenic and Historic Byway in 1991, and the route also received a National Forest Scenic Byway designation in 1993. However, this stretch of road has long held a significant place in Colorado's history. It follows the path of the Cache la Poudre River, which served as a lifeline for Native American tribes and, later, European settlers. Originally used as a trade route, the river played a vital role in the establishment of Colorado's agricultural and industrial communities. The Byway showcases remnants of this historical legacy.
Because it cuts through public lands and offers several points of access to the river, the Byway offers an array of recreational opportunities for outdoor enthusiasts. Adventure seekers can tackle Class IV rapids while whitewater rafting or kayaking down the only designated National Wild and Scenic River in the state. Fishing enthusiasts can take advantage of some of the best fishing in Colorado along the Cache la Poudre River, which is home to several species of trout. The Bellvue-Watson State Fish Hatchery is also located along the Byway and is open to visitors who are curious about the state's fish stocking program – or to those who just want to feed the fish!
Along with recreational opportunities, the protected public lands surrounding the Byway provide opportunities to experience Colorado's diverse wildlife in its natural habitat. At its highest point on Cameron Pass at 10,276 feet, the Byway passes through the evergreen stands of State Forest State Park. On the other side of the pass, the Byway drops into North Park, a large, high-altitude valley that is home to elk, deer, and moose. The Byway ends in Walden, right next to the Arapaho National Wildlife Refuge, a birdwatcher's paradise that is a stop on the Colorado Birding Trail. Take the Northwestern Colorado Trail Guide with you to see how many species you can spot.
If a journey along the Cache la Poudre – North Park Byway is calling your name, take a look at the reports relating to the Byway located in our digital repository and the Framework for Wayshowing published by CDOT. These materials are chock full of useful information about the Byway, from traffic safety tips to information about cultural heritage sites to lists of restaurants located along the way. So, pack your bags, hit the road, and prepare to be captivated by the Cache la Poudre – North Park Scenic and Historic Byway!
Latest posts by Miranda Doran-Myers
(see all)