We're starting the New Year exploring Lory State Park! Lory is a beautiful and diverse park located in the foothills of the Rocky Mountains in northern Colorado, just west of Fort Collins. It encompasses about 2,600 acres and features more than 25 miles of trails.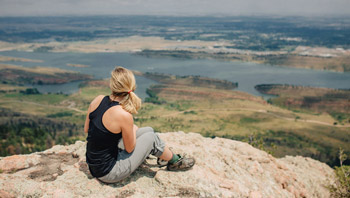 Visitors to Lory State Park can see stunning views of the surrounding mountains and plains. The park's elevation reaches nearly 6,800 feet at the top of Arthur's Rock, providing ambitious hikers with panoramic views of the Front Range and the Continental Divide.
In addition to the scenery, Lory State Park offers a variety of recreational activities for visitors to enjoy. Miles of hiking and mountain biking trails range from easy loops to more challenging routes. Lory is also a stop on the Northeastern Colorado Birding Trail. The park is home to a wide variety of bird species, including bald eagles, ospreys, and many more – use the Lory State Park Birding Checklist to see how many you can find!
Those exploring Lory might find areas with cut trees. These are the result of the forest fuel mitigation project that began in 2003. "Fuel mitigation" is a forest management strategy aimed at reducing wildfire risk. In Lory, this includes clearing and thinning trees in areas where vegetation has become dense, using prescribed burning to mimic naturally occurring wildfires, and selective tree thinning to promote aspen growth. For more information, read the Lory State Park Forest Fuels Mitigation Project report in our digital repository.
There's something for everyone in Lory State Park! Coloradans can visit any Colorado state park for free with a Check Out Colorado State Parks backpack. Which parks are you excited to visit in 2023?
Latest posts by Miranda Doran-Myers
(see all)