As we near the end of 2022, we're once again sharing the most popular items that the State Publications Library added to our digital repository over the past year. The digital repository has thousands of state publications easily available for anyone to explore. Explore the State Publications Library digital repository using this link.
The list below shares the top 5 most popular items that were added to our digital repository in 2022 but are not necessarily newly published items. Onto the list!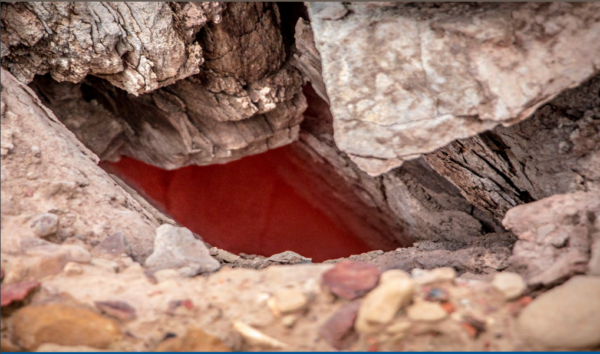 Colorado underground coal mine fires 2018 inventory report  (2019)
In 2017 and 2018, the Division of Mining Reclamation Safety (part of the Department of Natural Resources) inspected 38 coal mine fire sites across Colorado. The fire sites they surveyed included actively burning fires, dormant fire sites, and sites that were previously confirmed as extinguished. This inventory report presents a summary of the information collected about each fire site, including photographs, thermal imagery, emissions data, and surface temperatures of the fire sites.
Fun fact: This report contains information gathered using unmanned aerial systems (like drones) that can safely access coal mine fire sites that hold a substantial risk for exposure to toxic gases.
2022 state ballot information booklet (2022)
Otherwise known as the "Blue Book," this booklet is published by the Legislative Council of the Colorado General Assembly. The Blue Book contains information that helps voters understand the purpose and effect of each ballot measure so that they can cast an informed vote. A physical copy of the Blue Book is mailed to every registered voter in Colorado before each election, but just in case you misplace yours, you can always find an online version in our digital repository!
Fun fact: The Colorado Talking Book Library records an audio version of the Blue Book each year for those who have trouble reading standard print. You can access the audio recordings on their website.
Pronunciation guide, Colorado (1955)
Colorado is a state full of place names originating from various languages, often pronounced an American English accent. So, it's no surprise that pronunciation of these names can vary and can lead to intense debates on the "correct" pronunciation of names like Mesa Verde, Buena Vista, Uncompahgre, and Iliff. In the 1950s or 60s the University of Colorado's School of Journalism published an official pronunciation guide that contains phonetic spellings for Colorado's counties, cities and towns, mountain peaks, lakes, and passes (although the names of the some of these locations may have changed since the guide was published).
Fun fact: This guide lists three possible pronunciations for Mesa Verde: may-suh VEIR-day; may-suh VER-dee; and, may-suh VERD.
A guide for requesting section 24(c) special local need registrations in Colorado (2015)
This publication was created by the Department of Agriculture to provide guidance for applying to request additional pesticide use in "special local need" situations. While pesticide use is typically regulated at the federal level, the state can regulate special local need pesticide use if there is a pest problem that requires intervention that is not available at the federal level. This guide contains step-by-step instructions for submitting a special local need application, along with an example of a filled out application.
Fun fact: Special local need situations could include a new method of pesticide application, a new pest, development of resistance in a pest, or need for a less hazardous pesticide formulation.
2016 national honey bee health survey (2016)
This survey was conducted by the Department of Agriculture in 2016 to document potential hazards to Colorado's honey bees. Researchers looked at bee diseases, parasites, and pests that could affect honey bee populations, as well as examining pollen from beehives to see if the pollen contains traces of pesticides. The 2016 survey is a continuation of existing research and builds on information collected in surveys that took place in 2011 and 2013. This report summarizes results from those past surveys.
Fun fact: The 2016 survey expanded the types of apiaries that could participate to include smaller apiaries – those that have as little as four hives – in order to get a more representative look at Colorado's honey bee population.
We hope you found as much fascinating information in our digital collection as we did in 2022. More of our frequently used new digital publications are listed below. Keep an eye out for even more great information that will be added to the digital repository in 2023!
Latest posts by Miranda Doran-Myers
(see all)