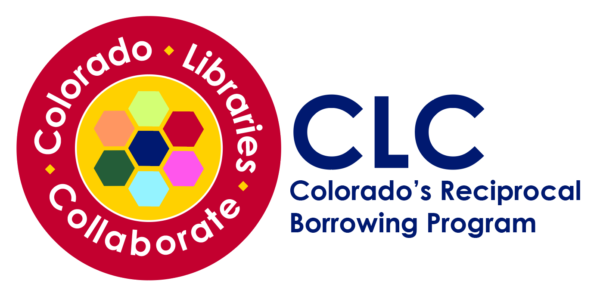 Overview
Colorado Libraries Collaborate (CLC) is a program that allows patrons of member libraries to borrow from any other member library. This reciprocal borrowing program gives patrons access to many more materials than are available from any one library.
How the Program Works
The library signs up to participate as a CLC member and makes the program available to its patrons. (See CLC for Libraries for information on becoming a member.)
The library educates its staff about the CLC program. (See CLC Marketing and Promotion for downloadable materials.)
The library extends lending privileges to patrons of other CLC member libraries.

CLC Borrowers must pay local taxes that support a Colorado library or be a member of another CLC member library in order to receive CLC privileges at other participating libraries. Each CLC member library determines how to verify compliance.
CLC Borrowers will not be charged a non-resident fee when borrowing from a participating CLC library.
Borrowers' Responsibilities
Meet the lending requirements of the library they wish to use.
Register and be in good standing at a library supported by their local taxes.
Be informed about and abide by the rules and policies of the CLC libraries they use.
Assume responsibility for all materials borrowed, including but not limited to payment for lost/damaged materials and overdue fines.
Return materials in a timely fashion according to the rules of the lending library.
See also: CLC for Borrowers
Steps for Library Implementation
Submit a CLC Program Participation Agreement (either online or in paper) with the State Library. Each governing authority of a joint library must file a signed separate Agreement.
Adopt a CLC policy that states the local library's lending privileges for CLC Borrowers.

Participating libraries are encouraged to extend to CLC Borrowers the same lending privileges received by their primary clientele.
The CLC member library board may establish its own policies for extending lending privileges to CLC Borrowers. If a library of any type finds it necessary to put restrictions on the number and/or type of materials loaned to CLC Borrowers, participation with this kind of restriction is preferable to non-participation.

Eliminate non-resident fees for authorized CLC Borrowers.
Determine a process for issuing patron barcodes.

Some libraries may issue library cards to CLC Borrowers while others may issue barcodes that borrowers affix to their home library card.

Make their CLC policy available on the library's website.
Educate library staff about the program.
Publicize and promote the program among their community.
Examples of Library Operational Practices
Please note that these practices are examples only; member libraries determine their own local practices.
Home libraries may suspend borrowing privileges due to non-return of items or non-payment of fines at a lending library.
CLC Borrowers may be asked to sign a waiver allowing borrower information to be shared with other participating libraries.
Lending libraries may request to know from the home library additional information about the current status of the patron.
Home libraries may maintain and assist lending libraries in sharing current patron address and phone number in the retrieval of overdue materials or collection of fines/fees.
Participation
Participation by libraries in the CLC program is voluntary.
School libraries are encouraged to participate to the extent that local practices and district policies permit. Because publicly funded school libraries operate under special conditions—such as limited public access to the building and restrictions on the sharing of personally identifiable information (PII)—their participation in the CLC program may be as borrowing rather than lending institutions. This is still preferable to non-participation.
To be eligible for future grants that may be provided by the State Library from Library Services and Technology Act (LSTA) funds, libraries primarily supported by private funding (51% or more) are encouraged to be CLC members, offer ILL (Interlibrary Loan) at no charge to Colorado libraries, have a publicly searchable online catalog, and at least one of the following:

Provide walk-in building collection and reference use at no cost to Colorado residents;
Participate in publicly available access to digital collections (other than the library's collection);
Accept direct patron referrals from other Colorado libraries at no cost to the patron.
Colorado State Library Responsibilities
Serve as advocate, promoter, and spokesperson for the program statewide.
Communicate program details and provide information about opting in/out to Colorado libraries on an annual basis.
Convene an advisory group to regularly review the program and suggest improvements.
Provide information and orientation to local library staff.
Colorado Library Consortium (CLiC) Responsibilities
Serve as advocate, promoter, and spokesperson for the program statewide.
Encourage libraries to participate in the program.
Provide information and orientation to local library staff.