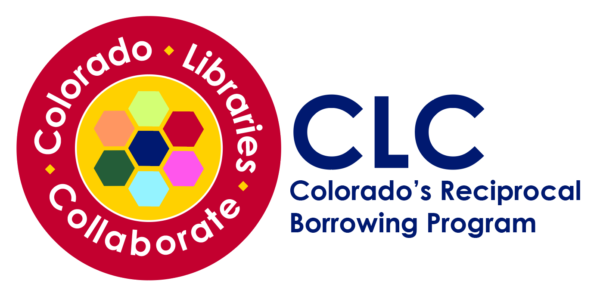 Colorado's libraries are part of a unique resource sharing ecosystem, one component of which is Colorado Libraries Collaborate (CLC). CLC is essentially an agreement among member libraries to allow their patrons to borrow from each other.
Started in 1991, CLC offers many benefits to patrons and member libraries:
Opens Colorado library doors to most Colorado residents;
Expands library services at no additional cost;
Provides free access to more resources than any single library can provide;
Supports literacy and reading;
Encourages every Colorado library to participate (including public, academic,
school and special libraries);
Increases public awareness of libraries;
Provides opportunities for school and community partnerships;
Eases the strain on materials budgets;
Maintains lending library control;
Makes participating entity eligible to apply for Library Services and Technology
Act (LSTA) funds.
Participation is key to the continued success of CLC. We encourage all libraries to become CLC members.
Program Guidelines
The fundamentals of CLC are unchanged since the program began in 1991. In 2016, a working group revised and simplified the language as part of an effort to refresh the program.
Here are some highlights of CLC that libraries should be aware of:
CLC Borrowers will not be charged a fee for using the CLC program.
Libraries have local authority over the lending privileges and onboarding process for CLC Borrowers. This means that each library determines:

the number and type of materials allowed for CLC Borrowers;
how to verify eligibility for the program;
whether to issue a new library card or attach a barcode to the Borrower's home library card.

We strongly encourage all CLC member libraries to create a CLC Policy and make it available online.
Membership
Most libraries in Colorado are already CLC members. Libraries only need to apply one time, and there is no annual renewal.
To become a new member library, you will need to complete the following steps:
Read the CLC Program Guidelines and
Submit the CLC Program Participation Agreement in either the Online Version or Paper Version.
Libraries that wish to opt out of the CLC program should contact Marisa Wood, Collaborative Programming Coordinator, by email at clc@coloradovirtuallibrary.org.
Promoting CLC
In order to maximize the impact of the CLC program, it is important for libraries to promote it to their patrons. We have created marketing materials that libraries can use in print or online to promote the program. We also encourage libraries to make their CLC lending policies available online.