Coloradans are getting older. So is everyone else. What else is new? What's new is that aging has never been more challenging. Technology never stops moving. Innovations create new obstacles even as they increase efficiency and access. More access for individuals trying to go about their daily lives in increasingly digital-only spaces also means more access for individuals trying to scam and grift those of us just getting by. The more connected we become in a digital world, the less connected many of us feel from a healthy habits either physical or social. As in all things, not everyone gets the benefits of this increasingly technological world. Broadband access isn't guaranteed. Device and technology hardware isn't free and is scheduled for obsolescence. Our remote communities become harder and harder to reach and rural residents are left behind when they have the most to benefit from increased access.
And that's just the technology! And that's just our community members! It's doubly true for libraries that are already stretched beyond our capacity to serve the myriad needs of our amazing communities and all the people that comprise it.
This is where something like OATS and Senior Planet hope to come in. OATS, or Older Adults Technology Services, and Senior Planet hope to meet our aging and older community members with digital literacy programming (OATS) and lifelong learning, physical and mental wellness, and social connection programs (Senior Planet) at no cost to libraries with peer-led instruction, coaching, and connection through in-person and online programs that are free to attend.
Libraries can:
Broadcast and/or livestream Senior Planet wellness classes like Tai Chi, Pilates, Movement, Barre… or even Money Management, PayPal and EBay, Zoom, Medical Apps and so many more technology and learning classes for free with no registration needed 
Provide OATS in-person technology classes (choose from a menu of available curriculum and course content)
Promote AARP Livable Communities programs for better health, community resilience, and overall wellbeing of older adults via your social media, newsletters, or program flyers
View the "OATS and Senior Planet for Colorado Libraries" webinar recorded on September 13, 2023 below.
Slides presented including resources and links are available here: Senior Planet for Colorado Libraries
Representatives from Older Adults Technology Services (OATS) from AARP will introduce Colorado libraries to the way OATS can support libraries to empower older adults with the tools and training necessary to take advantage of today's technology and use it to enrich their lives. OATS is a social impact organization with a mission to "harness the power of technology to change the way we age." They will also introduce Colorado libraries to their flagship program, Senior Planet from AARP through which OATS creates and delivers in-person and online lifelong learning experiences in wellness, technology, and lifestyle management.
Colorado is rapidly aging and rapidly aging in place. Libraries can continue to be the trusted place we already are for building the resilience of our neighbors and our communities as we grow older, better, and wiser. We shouldn't have to sacrifice our health, our access, or our fun.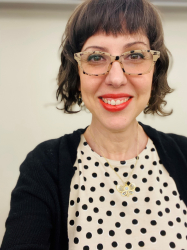 Latest posts by Cristy Moran
(see all)