What is it?
Library staff are missing patrons due to COVID 19 distancing but continue to offer service with "take and make" kits for caregivers to take home. Little, hungry brains must continue to be fed with learning, playing and maker activities. Below are five kit ideas aimed at children ages 0-5 for your use. Also, if you are applying for CARES Act funding (due by July 20) these materials are eligible.
Why do it?
Caregivers need support, and children need adults to invest in their brain building.
How do we distribute them?
Kits are packaged in containers like ziploc, brown paper, and drawstring bags. Library staff use online tools such as event calendars and Google forms for pick up at arranged times. Online tools also make coordination possible to complement virtual programs. Flyers, signage, etc. are effective promotions for weekly grab and go kits for curbside pickup. Some are even placing kits at high trafficked areas such as gas stations or grocery stores for pick up.
What do I add to them?
This takes time and money. Hopefully you can save both with the 5 kits below. You will find supply lists and activities that are anchored with well-known books for curbside pick-up or through online subscriptions. Copy and print activity instructions to go with the kit if you like. Bonus: Add a gift for a grownup. Even a bookmark is a fresh new gift.
Need more ideas?
Check out Low Contact Programs, an interactive spreadsheet created by Melody Garcia Growing Readers Together Regional Literacy Specialist – North Eastern Region
Another thought–
Die cut machines (hand roller or to use with a computer) are useful tools for Take and Makes. AccuCut (the type I use) has kid-friendly dies and even box and bag patterns for packaging. If scissors can cut a material, it will probably work with a die cutter–including paper, fabric, mylar, and sponges. To keep the equipment dusted off down the road, re-purpose your die cutter as a "maker" tool when we get to host patrons again.
5 Take and Make Activity Ideas
Supply examples are behind the links, however, where you decide to purchase materials is completely up to you. Thank you–you are a hero!
Monster Romp
Supplies needed (approximately 1.10 per set)
---
Brainy Kids
Supplies needed (approximately 1.07 per set)
Greeting card + envelope
Set of 4 crayons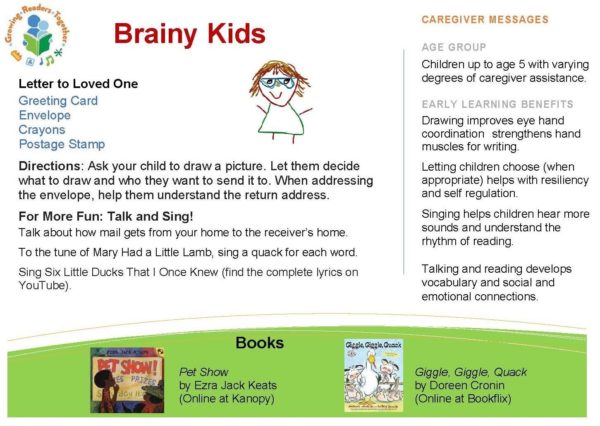 ---
What's Your Story?
Supplies needed (approximately .69 per set) 
---
Imagine
Supplies needed (approximately .52 per set)
Construction Paper
Cotton Balls
Glue Stick
---
You are My Sunshine
Supplies needed (approximately .75 per set)
If you'd like to share your ideas and/or feedback, please don't hesitate to comment.

Latest posts by Regan Harper
(see all)