We've asked libraries across Colorado to submit program they've run in the last year that they're proud of and they want the rest of us to see and celebrate. Sharing stories in books is great… but what about our stories? The stories of the ways our libraries bring the community together, enrich the lives of our neighbors, and serve the people who live and work in our cities and towns.
Cathy Click, Basalt Regional Library's Community Engagement Coordinator, answered our call and we're excited to let them tell you about their Let's Talk About It: Mental Wellness & Overdose Prevention program in their own words.
Library Name: Basalt Regional Library
City/ Town: Basalt, CO
Program Name: Let's Talk About It: Mental Wellness & Overdose Prevention
Date/ Date Range of Program: December 11, 2022
Intended Audience: Adults, families, teens
Description:
The Basalt Regional Library (BRL) hosted a panel discussion on mental wellness, overdose, drug poisoning, and addiction education and prevention. Speakers from a number of partner organizations participated in an honest conversation about drug use in our valley.
How did you come up with the idea for this program?
The library has Narcan training sessions for staff through High Rockies Harm Reduction and partners with several other local non-profits to present community programming. Drug use and in particular, the fentanyl crisis, is rarely acknowledged in our valley and these partners are on the front line of the effects of abuse, addiction, and overdose. We felt a frank conversation before the school vacation and holidays was appropriate, difficult and important. The range of experience included former users, survivors, parents and teens. At the conclusion of the panel discussion we had a Narcan demonstration.
What partners (if any) did you work with in developing or implementing this program?
High Rockies Harm Reduction, A Way Out, Aspen Strong, Aperture of Hope, toxicologists and public health professionals
What about this program did you find successful? How did you measure the success of this program?
The audience included parents, family friends, and teens witnessing some painful and scary scenarios both real and imagined. For the library and our partners, even one person taking the step to attend this program is a success. The BRL is committed to creating the safe space in which to have these tough conversations in order to take the stigma out of talking about it. We concur with our participating partners that this program is one we can have throughout the year, constantly building on their relationships and the ability of the library to bring together a diverse population in a safe space.
Future discussions will include simultaneous translation for native Spanish speakers.
Final Thoughts:
Happy to share any resources or ideas.
Cathy Click has permitted us to share their contact information so that anyone interested in reaching out to them about their program can do so. It is an incredibly generous offer of which you are invited to avail yourself if you're inspired by their work and want to celebrate them or if you have questions about ways you can follow their lead.
To reach Cathy, email them at cclick@basaltlibrary.org
Resources shared in this post include:
Links to partners
Flyer for program
***
Colorado State Library (and the readers of this point as well, no doubt) understands how time consuming, emotionally draining, costly (in so many ways), and challenging it can be to run a program or project. Sometimes they fail gloriously… sometimes they fail with barely a whisper. It can be hard to recover from that. You've worked so hard!… and it just didn't work out. Be gentle with yourself. Self-reflect. Pick up the pieces. And then get to the next thing. It'll be worth it.
For all those other times, be sure to celebrate. Brag about it! Feel good about yourself, the team that collaborated on your work, and the community members who participated with it. Celebrate your hard work and the value that you contribute to your community.
Tell us the story of your program just like this library did here. Submit your library's program for a Program Spotlight featured here and shared as far as Colorado State Library news reaches.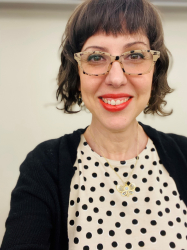 Latest posts by Cristy Moran
(see all)