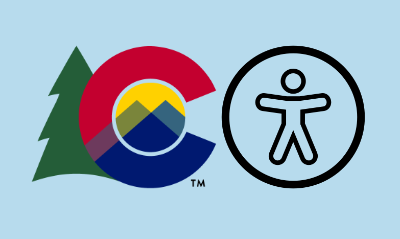 This post was co-written with Laurie Kubitz of the Governor's Office of Information Technology.
In alignment with Governor Polis' focus on equity, diversity, and inclusion –- a "Colorado for All" way of governing and decision making, House Bill 21-1110 strengthened state discrimination laws for individuals with disabilities.
While requirements surrounding information technology accessibility have existed in statute for decades, prior to the passage of House Bill 21-1110, there was no formal process for establishing or enforcing accessibility standards. Not only did the legislation broaden information technology access to be more inclusive of all individuals with a disability, it provided a means to enforce these standards by making it a state civil rights violation for a government agency to exclude people with disabilities from receiving services or benefits because of lack of accessibility.
Under the Colorado Anti-discrimination Act (CADA), it is unlawful for any person to discriminate against an individual with a disability. House Bill 21-1110 expands this prohibition by defining discrimination to include two standards:
It is discrimination to exclude an individual with a disability from participation in or being denied the benefits of services, programs, or activities provided by any Colorado government entity.
It is discrimination for any Colorado government entity to fail to develop an accessibility plan by July 1, 2022, and to fail to fully comply with accessibility standards developed by OIT by July 1, 2024.
The new language specifically applies to accessibility of government information technology and expands the state's accessibility standards to include all individuals with disabilities, as defined by the ADA.
Municipal, County and Library District Responsibilities
Municipal, county and library districts are not required to submit an accessibility plan to OIT, but they do need to bring all library technology—both public and internal facing—into compliance by the July 1, 2024, deadline. If they don't, they could be subject to fines and other legal actions.
According to the OIT FAQ for HB21-1110, local governments are required to:
By July 1, 2024, develop an accessibility plan using the accessibility standards developed by OIT and be in full compliance with WCAG 2.1 AA Guidelines in the creation and publication of any online content and materials; including, but not limited to text, links, images, forms, PDFs, documents, and embedded third-party applications.
How the Colorado State Library Can Help
I–Babi Hammond–build and maintain websites for many Colorado libraries and other organizations as part of the COLibraries and CVL Sites programs, and have fielded questions from some of them about how to make sure their sites are in compliance with the new law. If you're in the same boat, you're in luck: OIT has a lot of information and tools to help you, and, especially if your site is hosted by the State Library, we can help, too.
Making Your Site Accessible
The first thing you'll probably want to do is become more familiar with what makes a site accessible. OIT has a good starting point in their Guide to Accessible Web Services. They have easy-to-understand "Accessibility How-to Guides" for:
A good understanding of accessible color contrast and link appearance is also important. WebAIM.org has good, more in-depth, overviews of the standards on their Contrast and Color Accessibility page and making sure links look like links.
Checking the Accessibility of Your Site
Armed with a familiarity with the basic standards, you can use an online accessibility checker or browser add-on that will flag errors found on your site. These free services check one page at a time, which might make the idea of checking your entire site seem daunting. If so, try just checking your most-visited pages.
WebAIM's WAVE (web accessibility evaluation) tool is fast, and it shows you exactly where on the page potential problems were found. It also helps explain the problems found, and how they can be fixed. There are also WAVE browser add-ons for Chrome, Firefox, and Edge.
Many other website accessibility checkers are provided by companies who will want to sell you their accessibility tools, such as consulting, accessibility overlays, or complete-site audits. Their audit reports tend to be unnecessarily opaque and alarmist. So be careful out there, and take any automated evaluation results with a grain of salt.
Many errors, such as missing alt-text for images or color contrast errors, can be fixed fairly quickly. Others, such as missing form labels, may take some more work, but they certainly are fixable–probably well before the 2024 deadline.
If your website is hosted by the State Library, and you have any questions or concerns about how well it meets accessibility standards, feel free to contact me at hammond_b@cde.state.co.us and we can set up a consult about your site. Especially if your website has not been updated in some time, this might be an opportune time to consider a redesign that will incorporate accessibility standards as one of its goals.
Maintaining Accessibility
Accessibility is not a one-and-done thing, but rather a continual process that will involve both technological improvements, proper training, and an on-going commitment on the part of your site's content creators.
You should plan to conduct accessibility audits at regular intervals. Annual checks are probably sufficient for small sites. An audit does not have to be very elaborate.
You can use free audit tools like WAVE for a quick check-up on your most-visited pages and quickly identify any new problems that have crept in.
Proper training for any staff creating or editing online content is also important. OIT's guides are a good starting point. WebAIM has more in-depth guides for those interested.
It's a good idea to be aware of changes in accessibility recommendations as technology changes and standards evolve. You can sign up for OIT's  Monthly Accessibility Newsletter for accessibility tips and news.
If you are purchasing new products, make sure you include accessibility requirements in your decision-making. OIT has a short Vendor Accountability Checklist to help ensure digital products and services conform to state accessibility standards.
Latest posts by Babi Hammond
(see all)