Wildlife crossings in Colorado have been a topic of interest here at the State Publications Library for a few years now.  So, of course we were excited to read the final reports for a 5-year study by the Colorado Department of Transportation (CDOT) and Colorado Parks and Wildlife (CPW) highlighting the success of wildlife crossing structures on State Highway 9 (SH-9) between Silverthorne and Kremmling.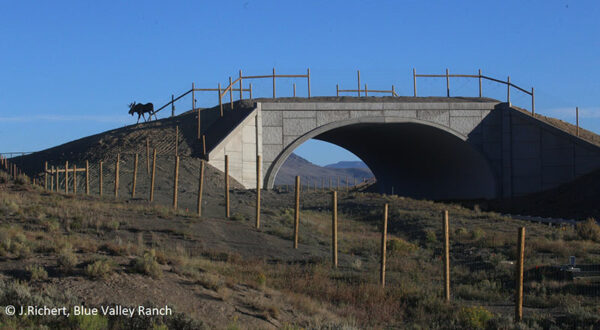 Wildlife crossings are built structures that allow animals to safely cross human-made barriers, like busy roads. They are an important tool for combatting the adverse effects of habitat fragmentation and help lower the number of vehicle collisions with animals attempting to cross busy highways. In 2016, CDOT and CPW completed the construction of a series of wildlife crossings along SH-9 that allow mule deer and many other animals to safely cross either above or below the road. After the crossings opened, CDOT and CPW spent five years collecting data to see how often the crossings were being used and published a series of reports explaining their findings. You can read these reports in our digital repository: Year 1, Year 2, Year 3, Year 4, and the Final Report (PDF).
CDOT and CPW found that mule deer, the target species for this project, used the wildlife crossings more than 112,000 times over the course of their 5-year study. That's about 60 times per day! Other animals were also documented using the crossings, like moose, elk, black bears, mountain lions, wild turkeys, and even a couple of river otters. The wildlife crossings reduced the number of wildlife-driver collisions by 92%. This means that the wildlife crossings prevented the deaths of an estimated 56 mule deer and prevented 13 car crashes.
If you're interested in more in-depth data and detailed maps, give the reports a read; if you'd rather view selected data points and excellent footage of animals using the crossing, CDOT made a summary video full of camera-trap photos just for you:
Highway 9 isn't the only Colorado highway with wildlife crossings – check out this nifty interactive map showing where all the wildlife crossings are located around the state. If you, like me, are shocked that you've never noticed these structures on a stretch of road you've driven many times, take a look at some illustrations of the different types of wildlife crossings that can be found along our roadways. Next time you're taking a Colorado road trip, slow down and see if you can spot wildlife using the crossings right under (or above) our cars' noses!
Latest posts by Miranda Doran-Myers
(see all)