You may have already guessed by all of the political ads on tv and the many flyers in your mailbox that election time is coming soon. November 8th is election day this year. Ballots will be mailed out October 17th to all registered voters.
There are 3 proposed amendments to the Constitution and 8 referendums on the ballot this year. The number of proposals may seem overwhelming, but the Colorado Legislative Council can help you sort through the issues. They put together a non-partisan analysis for each proposed amendment and referendum. The pros and cons for each are explored in the state's official ballot analysis handbook, known as the "Blue Book." 2022 Blue Books have been mailed to registered voters, but if you prefer a digital version, they can be viewed online from the State Publications Library in both English and Spanish. An audio version is also available through the Colorado Talking Book Library.
Fiscal impact statements for each statewide ballot measure are also available online.
Counties and special districts may also have initiatives on the ballot related to local taxes. Information on local initiatives can be found by visiting the website for your county's election office .
In addition to the amendments and referendums, voters will be asked to vote on which judges should be retained. Every year evaluations for the judges are available on the Office of Judicial Performance Evaluations website.
Have you checked to see if you are registered to vote?
The Colorado Secretary of State's Office has many tools for voters. You can verify or update your registration through their "Find my Voter Registration" form. Once the record has been retrieved, you can find additional personalized information: what districts you live in, and information about in-person voting.  If you are wondering which candidates/races you will be able to vote on, the Secretary of State's Office has sample ballots that you can view online.
If you need to register to vote, visit Go Vote Colorado to find information on ID requirements and other details on the registration process. You can register to vote until 7pm on election night. If you are more than eight days out from an election you can register online. You can also visit any county clerk and recorders offices, or state DMV office to register. Within eight days of the election, it is best to visit one of the in-person voting centers to register. County election offices will have the details on in-person voting locations.
Once you have filled out your ballot, use the Polling Location and Drop Box Lookup tool to determine where to drop it off. Your vote is your voice!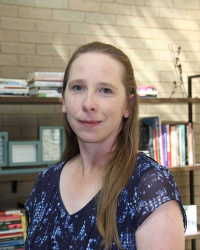 Latest posts by Samantha Hager
(see all)