A few years ago, a couple dozen paintings of Colorado governors and other state officials were uncovered behind a wall at the Colorado State Archives. An article in the January 2020 issue of 5280 Magazine highlights the search for the identity of the only female portrait in the group.
As reported in the 5280 article, Metropolitan State University history professor Derek Everett believes the woman is Katherine L. Craig, who served several terms as Colorado's Superintendent of Public Instruction. In her time, Craig was well-known in Colorado political circles; she even laid in state in the Capitol after her death. Today, however, she is nearly forgotten. So, who was Katherine Craig?
Born in 1862, Katherine grew up in the foothills of Jefferson County. Highly educated for her day, she attended the University of Colorado, Missouri Valley College, and the Teacher's College at the State Normal School in Greeley (today's University of Northern Colorado). After graduating, Katherine taught literature in Denver Public Schools and also briefly taught in Salt Lake City.
In 1904, Katherine was elected as Colorado's education chief, then known as the Superintendent of Public Instruction. Today this position is known as the Commissioner of Education and is appointed by the State Board of Education; however, a century ago, the Superintendent was a statewide elected position. Katherine received the Republican nomination in 1904 and ousted the Democratic incumbent, Helen Loring Grenfell, in the statewide election. During her first year in office, Craig undertook one of the projects for which she would be best remembered. For as long as Colorado has been a state, the education department has issued an annual publication of Colorado school laws (nearly all volumes of which, from 1877 to the present, can be accessed through our library). Katherine Craig took the publication a step further than her predecessors, however, and began an annotated version that would be far more useful to educators.
Craig was so well liked as superintendent that she was re-elected in 1906 by a wide margin. Two years later she was narrowly defeated for re-election by Katherine Cook. One can't help but wonder if the similarity of their names caused the voters some confusion. Nevertheless, Craig ran again in 1914 and was again defeated by her Democratic opponent, this time Mary C. C. Bradford. As the state's political winds shifted, Craig and Bradford would face each other again and again, with Craig emerging victorious in 1920; Bradford winning in 1922 and 1924; and Craig defeating Bradford in 1926. In 1928 Craig faced a new opponent, Inez Johnson Lewis. Craig won re-election that year but was unseated by Lewis in 1930. She ran for the final time in 1932, again falling to Lewis. A few months later, Craig's health began to fail, and she passed away at age 58 in the spring of 1934.
As Superintendent, Katherine Craig had been known as a skilled and thoughtful educator with an "excellent executive ability," according to a biography that appeared in the General Assembly's 1915 souvenir book. She served as Vice President of the National Education Association (NEA); worked for the Colorado Woman's College; and was involved in many service clubs. She was even discussed as a possible candidate for Denver mayor in 1910.
Craig was also a talented and prolific writer. In her role as Superintendent of Public Instruction she wrote many textbooks for the students and teachers of Colorado's public schools, including holiday books for Arbor Day and Washington and Lincoln's birthdays; American Citizenship; Animal Studies for Colorado Schools; Craig's Brief History of Colorado for Teachers and Students; and Craig's Primary Geography. She also issued the state's Course of Study books and penned several guidebooks for educators, such as How to Improve Rural Schools and Teachers' Character Building. Her writing wasn't just limited to education books, though – in 1902, before becoming involved in politics, she published a romance novel, Judge Greyburn and Kathlene Lee.
During her career as an educator, Katherine Craig, who never married, had mostly resided in Denver but she retained her family's property in the Jefferson County foothills. Upon her death she willed the land to the Denver Mountain Parks. Just east of Genesee on I-70, the land is known as Katherine Craig Park to this day.
While it hasn't been proven for certain that Katherine is the subject of the mysterious portrait, it is certainly possible given the similarity to her appearance as well as the painting's date (1933, penciled on back) coinciding with the end of her well-respected political career. For more on Craig's life, see her obituary and articles about the various elections in the Colorado Historic Newspapers Collection. Also available for viewing online are the Biennial Reports of the Superintendent of Public Instruction, which have been digitized by the State Publications Library, as well as the Secretary of State's Abstract of Votes Cast, which provide the election results for each year. Finally, the 5280 article mentions two books, Derek Everett's The Colorado State Capitol and Gail Beaton's Colorado Women: A History; both are available for checkout from our library.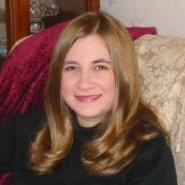 Latest posts by Amy Zimmer
(see all)