Have you noticed the rainy weather we've had over the past few weeks? We're currently right in the middle of Colorado's monsoon season, which typically lasts from July into late August. Monsoons bring heavy rains that can lead to flooding. Luckily, the State of Colorado publishes resources that can help you prepare if there is a flood in your area.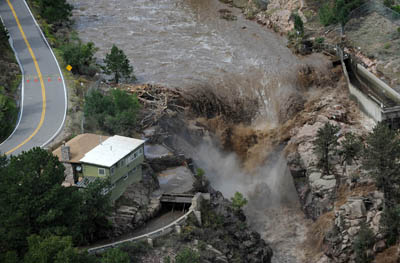 The Colorado Flood Threat Bulletin (FTB) is published by the Water Conservation Board. This bulletin is updated daily from May 1 – September 30 and provides a statewide overview of areas that are at risk of flooding. Along with the daily bulletin, the FTB website provides a state precipitation map and a look forward at the flood threat for the next 15 days.
The Water Conservation Board also publishes an annual report reviewing Colorado's flooding and flood risk. You can find reports from 2012 to the present in our digital repository.
The Department of Public Safety Info Center has a wealth of information about flood preparation and management. One useful section includes tips for preparing your home to minimize flood damage, which can help reduce costs if your insurance policy doesn't cover flooding (many don't!). The information is broken up into three main sections: before, during, and after a flood. The site also provides additional facts, resources, and first-hand accounts from those who have experienced floods in Colorado. This valuable resource is translated into eight languages, including a video with American Sign Language.
If you'll be driving through canyons, wildfire burn areas, or any other areas prone to flooding during monsoon season, it's a good idea to check the Department of Transportation's COTrip website while planning your route. This site provides the latest information about road closures and detours, including roads closed due to flooding. Don't stress if you have to change your driving plans – use the opportunity to check out some of our summer road trip tips!
Latest posts by Miranda Doran-Myers
(see all)