This week we're featuring Lake Pueblo State Park. Lake Pueblo is a large reservoir located just west of Pueblo, CO along the Arkansas River. The park features 60 miles of shoreline, marinas, hiking and biking trails, campgrounds, and more.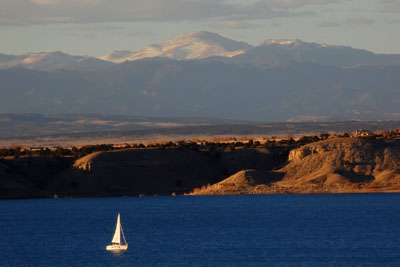 Lake Pueblo was created when the Pueblo Dam was built between 1970-1975. The dam was constructed to help control flooding of the Arkansas River and provide water for agriculture and municipal use, with an added bonus of creating opportunities for recreation in the area.
On such a large lake, it's no surprise that boating is a popular activity in Lake Pueblo State Park. The Lake Pueblo Boating Map shows the marinas and boat ramps that are available for launching watercraft to enjoy a day on the water.
Unfortunately, popular boating areas like Lake Pueblo are at risk for aquatic nuisance species (ANS), which are invasive species that can cause damage to Colorado's aquatic ecosystems. Zebra mussels are an ANS of particular concern to Lake Pueblo. The water in Lake Pueblo tested positive for zebra mussel larvae in 2007, 2008, 2009, and 2011. After zebra mussels were discovered, Colorado Parks and Wildlife acted quickly to develop the Lake Pueblo Zebra Mussel Response Plan, published in 2008. This plan outlines the measures that were taken to prevent zebra mussels from spreading to other reservoirs and eradicate existing zebra mussel larvae. The plan has been successful – there are currently no zebra mussels detected in Colorado.
Boat inspections are a critical part of the zebra mussel response plan because ANS are typically introduced by boats that have been exposed to contaminated water. To help keep zebra mussels out of Colorado's waterways, follow the steps outlined in the ANS Watercraft Decontamination Manual and get an ANS Stamp before launching. Visit the CPW website to learn more about boat inspection and launch requirements for Lake Pueblo.
Latest posts by Miranda Doran-Myers
(see all)