Climate change has been on our minds a lot lately. Long stretches of hot days and record setting temperatures this summer along with prolonged periods of drought have people wondering if this could be a permanent trend.
In the last few years state government agencies have been taking action to develop programs that address climate change. Two recent laws: Colorado's Climate Action Plan (HB19-1261) and the Colorado Environmental Justice Act (HB21-1266) are guiding these efforts. In addition to air quality monitoring and green-house-gas reduction, the legislation requires agencies to incorporate climate equity and environmental justice principles into the state's climate strategies.
Climate equity addresses the fact that while everyone will be affected by climate change, some communities will feel the effects more than others. The Colorado Air Pollution Control Division explains it well in their recently published "Climate Equity Framework":
People of color, Indigenous people, lower income individuals, historically underrepresented groups, children and older adults, and those experiencing multiple environmental burdens are all considered "disproportionately impacted" by climate change. Notably, many of these same communities have been historically excluded from decision making about environmental policies and programs – a pattern that has led to unjust and ineffective outcomes.
The Climate Equity Framework outlines strategies to identify those communities and discusses ways to increase the participation of community members in the development of public policies.
Environmental justice recognizes that all people have a right to breathe clean air, drink clean water, participate freely in decisions that affect their environment, live free of dangerous levels of toxic pollution, experience equal protection of environmental policies, and share the benefits of a prosperous and vibrant pollution-free economy.
~ Colorado Environmental Justice Act (House Bill 21-1266, § 2(a)(I))
A new mapping tool, EnviroScreen, was released this summer by the Colorado Department of Public Health and Environment. EnviroScreen is an interactive environmental justice mapping tool that helps users identify communities that have a greater risk of health impacts from environmental factors like air pollution and greenhouse gases. The maps display health and social burdens, pollution and climate burdens and demographics by geographic area. The Drop down menus can be used to change the map layers to display environmental exposures like lead, toxic air emissions, ozone, noise and traffic. Information is available for counties, census tracts and census blocks. Data tables can also be downloaded, so you can play with the data yourself. More information about the project and other resources about health and the environment can be found on the EnviroScreen website.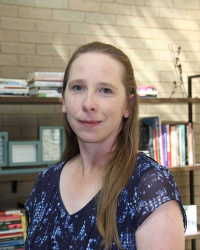 Latest posts by Samantha Hager
(see all)