If you haven't spent time exploring the southwestern part of our state, you may not be familiar with Ignacio Colorado. Nestled in the southeast corner of La Plata county, Ignacio is a tri-ethnic community of about 800 people with a rich history and many stories to tell. Ignacio Community Library began the 'Voices of Ignacio' project in 2016 with the help of funds received from the Latino Americans: 500 Years of History grant. Through the grant, library staff and volunteers recorded fifteen interviews with local community members, digitally preserved dozens of school yearbooks, and scanned hundreds of photos and documents. Earlier this year, Ignacio Community Library partnered with the Colorado State Library to give the Voices of Ignacio Digital Collection a permanent home online through the CVL Collections program. Though not all of the digitized content has been added to the database yet, the collection to date has been shared with the Plains to Peaks Collective, making these items discoverable through the Digital Public Library of America, a national platform for digitized historic collections.
Voices of Ignacio
The stories found in Voices of Ignacio span the breadth of human experience from everyday recollections of coming of age and raising a family, to the dramatic. Local resident Rosemary Aiken's first hand account of a bank robbery transports you to the scene 30 years ago:
It was high noon on a hot, summer day, Monday July 3, 1989. The bank lobby was crowded with customers at the Norwest Bank in Ignacio, Colorado. There was quite a buzz of conversation and you could hear a baby crying…. I backed into the vault and a minute later a teller walked past the door. A masked man had her by the arm and was holding a pistol to her back!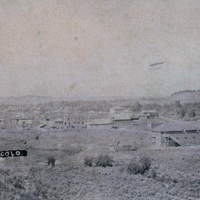 Images from the collection highlight local businesses through the years, and show the town's evolution from early outpost, to mid-century western Mayberry, a reference to the fictional town from The Andy Griffith Show that more than one resident deploys to describe Ignacio, its character, and sense of community.
In addition to unifying the community by sharing stories of Southern Ute, Hispanic and Anglo residents, Voices of Ignacio offers curated virtual exhibits of narrative recordings, digital images and documents that highlight local residents' memories of the area, as well as a timeline of the town's history, significant individuals, and events. Get to know Ignacio through the voices of its community and watch the collection grow at voicesofignacio.cvlcollections.org!
---
If you would like to learn more about sharing your organization's historical collections through CVL Collections, please contact:
Marisa Wood
Collaborative Programming Coordinator
Colorado State Library
mwood@coloradovirtuallibrary.org
And see the PPC website, and the CVL Collections website.
Latest posts by Marisa Wood
(see all)