A small town with a long history is a community with stories to tell; stories of hard times and harsh winters, but also of optimism and opportunity. Families who have lived for generations in Bayfield, Colorado are the keepers of their community's stories and tell the tales of homesteaders, ranchers, farmers, and the railroad, to say nothing of family histories. Fortunately, the Pine River Library, along with its partner the Pine River Valley Heritage Society, is preserving and sharing these stories online through their newly launched Pine River Library Digital Collection site. It features three unique historical collections: Bayfield High School Yearbooks, Pine River Valley Heritage Society Oral History Collection, and The Missionary Ridge Fire 2002.
The Collections
The Oral History Collection was a series of interviews recorded in the early 2000s by the Pine River Valley Heritage Society and loaned to the Pine River Library as part of the Heritage Hub Project. Interviewer and longtime Bayfield resident James "Jim" Frahm sat down with other residents to capture their recollections of the town and their families. Retired school teacher and librarian Lavenia McCoy recalled the electrification of Bayfield, the first television, and the founding of the public library. Other interviewees discussed hunting, ranching, homesteading, and their relationships with other local families, neighboring towns, and Native Americans.
Elizabeth vonTauffkirchen, Digital Services Manager at Pine River Library, commented on her experience working on the Oral History Collection:
Working with the Pine River Heritage Society and the Bayfield Senior Center has been a surprise and a delight! I have received nothing but excitement and support by each new person I encounter at both organizations. Constructive partnerships have a particular energy that invigorates projects and drives them forward. The multiple, active, engaged partners in this project have contributed to make a product I am proud to share with our public!
It's not surprising, given the close-knit nature of the Bayfield community, that many of the family names mentioned in the oral histories also show up in The Wolverine, Bayfield High School's yearbook. Pine River Library worked with Oklahoma Correctional Industries (OCI) to digitize 28 yearbooks spanning 1950-1986. Elizabeth noted that "OCI has done a wonderful job digitizing our local high school yearbooks as part of a grant-funded program to assist prisoners with viable job skills while preserving yearbooks for schools, libraries, and museums."
Bayfield's class sizes were small in the 1950s—some graduating classes were no more than 12—but even so the yearbooks depict a typical American high school experience of sports, clubs, proms, class clowns, and senior "wills" ("I, Gordon Powell, will my haircut to Donald Sower," 1955). Longtime Bayfield residents will almost certainly spot some familiar names and faces on these pages.
The third collection, The Missionary Ridge Fire 2002, focuses on an important moment in La Plata County history, when a wildfire destroyed 72,962 acres and 46 houses over 39 days during the summer of 2002. The collection contains video footage of the fire as well as a video produced after the fire by San Juan Public Lands Center (San Juan National Forest & Bureau of Land Management), La Plata County Office of Emergency Preparedness, Fort Lewis College Office of Community Services, and Durango Community Access Television.
The Project
Pine River Library partnered with the Colorado State Library to create the Pine River Library Digital Collection, which is built on the open-source tool Omeka. Omeka's capabilities will allow Pine River Library to eventually contribute information about its digitized artifacts via the Plains to Peaks Collective to the Digital Public Library of America, a national platform for discovering historical collections. Soon educators, students, researchers, and history enthusiasts will be able to learn about the history of Bayfield and La Plata County as told by its residents in their own voices.
Elizabeth reflected further on the Pine River Library Digital Collection:
This project has been (and continues to be) challenging and rewarding. Digitizing the stories of our town's residents is such an important step in preserving our local heritage.

The opportunity to partner with the Colorado State Library on this site has been a fun adventure; I started this project as a complete novice in regard to archiving and metadata. I have learned volumes and yet have much more to learn in this area. This project is the perfect vehicle for that growth. I like to think we're blazing the trail and other libraries will add similar sites in our wake.
---
For more information about the Pine River Library and Colorado State Library partnership, or to learn more about sharing your organization's historical collections using Omeka, please contact:
Amy Hitchner
Collaborative Programming Coordinator
Colorado State Library
ahitchner@coloradovirtuallibrary.org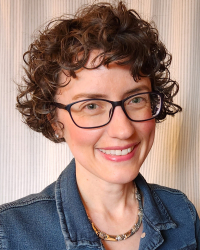 Latest posts by Amy Hitchner
(see all)