Most of you know that Colorado offers free online access to historic newspapers through the Colorado Historic Newspapers Collection (CHNC). With over 650 unique titles comprising over 2.8 million pages, the CHNC offers access to more Colorado titles than any other free or commercial site.
But did you know that Colorado isn't the only state with free online access to historic newspapers? When I share information about the CHNC, I'm alway surprised by the number of people that say
This is great information but can you tell me about online newspaper collections in other states?
There are many generations of transplants in Colorado and many are conducting genealogical research outside of the state. Without one comprehensive US newspaper collection it can be hard to navigate the historic newspaper landscape in the US and elsewhere. To make things easier, the CHNC has compiled a list of state newspapers sites along with a few national and international sites.
It's important for users to know that every state offers some amount of free online access to historic newspapers. For example, our close partners to the north, the Wyoming State Library and the University of Wyoming, offer free access to over 4.8 million pages through the Wyoming Digital Newspaper Collection. And together we offer free access to both Wyoming and Colorado Collections through the Plains to Peaks Historic Newspapers collection. This combined collection allows users to search Colorado and Wyoming newspapers together which can be a valuable research tool for our shared history.
There are many states that support their own online database similarly to what we offer in Colorado. In fact some even use the same database provider that we use. If you're comfortable navigating the CHNC rest assured you will be successful searching many other newspaper sites including the California Digital Newspaper Collection, the Illinois Digital Newspaper Collections, Indiana's Hoosier State Chronicles, Virginia Chronicle, Washington Digital Newspapers, as well as national sites like the Catholic News Archive and the Hoji Shinbun Digital Collection, Japanese Diaspora Initiative – all powered by Veridian and all free to access.
The vast majority of states participate in the National Digital Newspaper Program (NDNP) which offers free access through the Library of Congress Chronicling America site. The NDNP is a partnership between the National Endowment for the Humanities (NEH) and the Library of Congress (LC), that funds digitization of historic newspapers and maintains the searchable online database. History Colorado (HC), the NDNP grant recipient in Colorado from 2017 to 2022, added nearly 300,000 pages to Chronicling America. They generously shared the pages with the CHNC ensuring the Colorado newspaper collection could be searched in one place.
The Chronicling America site includes 20,175,507 pages from 3,820 titles from 49 U.S. states (New Hampshire is coming soon), Washington, D.C., Puerto Rico, and the U.S. Virgin Islands. Users can choose to search by individual title, by state or search all the titles at once. The site offers many of the same features as CHNC including clipping articles and saving as a pdf.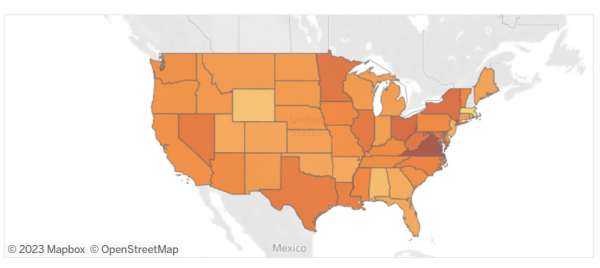 Veridian also understands the value of searching across online newspaper sites. They have created Elephind, a search engine that allows users to search across all Veridian sites simultaneously. The sites included in this free global search include numerous U.S. collections, special collections, as well as a number of non-Veridian sites including the Trove (National Library of Australia), Papers Past (National Library of New Zealand) and all the content found in the Chronicling America.
By clicking on the Elephind.com search result that interests you you'll go directly to the newspaper site which hosts that story.
There are also commercial newspaper sites that offer for fee access to digitized newspapers from all 50 states. NewspaperArchive offers a yearly subscription at $12.99 a month and Newspapers.com, a product of Ancestry, offers a basic search package at $7.95 a month.
NewspaperArchive is full of unique newspapers featuring articles from small towns and cities around the world. In our newspaper archives, you can find 16,029 newspaper titles, promising content that can't be found on other online databases.
Both of these sites offer some unique content that cannot be found elsewhere. For example, NewspaperArchive.com offers for fee access to the Colorado Springs Gazette, 1873-2019 and Newspapers.com offers for fee access to the Colorado Springs Gazette-Telegraph, 1960–1978.  However both sites also include and charge for access to newspapers that can be found freely available. Both sites have added and charge for access to all of the Chronicling America titles.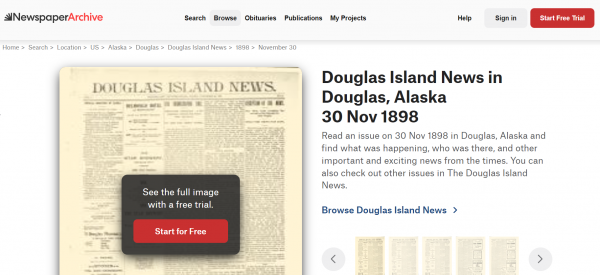 In addition, NewspaperArchive.com has, without permission on known occassions, taken all content, including many of the small town and city papers, from other freely available sites, added it to their site and profited off that access. Unfortunately some unsuspecting users may believe they need to pay for this content to view it.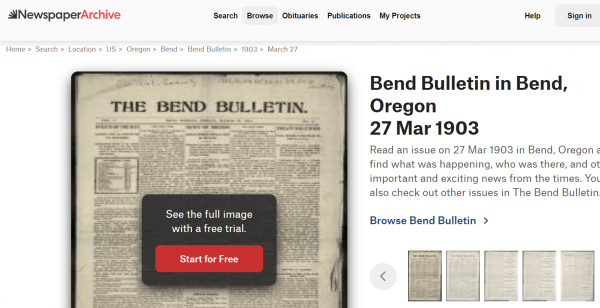 We appreciate that there is value in searching across numerous titles and states. However, we also feel it is important for users to understand what they are paying for and spread the word about freely available hsitoric newspapers. The cost to digitize historic newspapers and make them searchable is not insignificant and often comes at a cost to other programs that institutions may offer. Cultural heritage organizations that support free newspaper sites do not profit and are truly dedicated to free and open access to information. We hope you have fun exploring the stories you find in other states!
Latest posts by Leigh Jeremias
(see all)