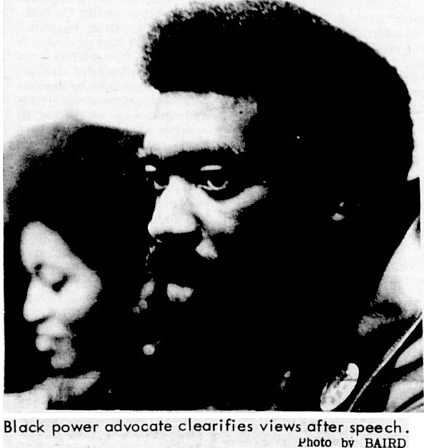 The Black Panther Party (BPP) was a left-wing Black power political organization founded by Bobby Seale and Huey P. Newton in 1966 in Oakland, California. The group is still mainly associated with big cities on either coast, but do you know about the history of the Black Panthers in Denver? And that the founder and leader of the Denver chapter once made television history?
As anyone who has done research using historic newspapers can attest, they are a wonderful resource for getting lost down rabbit holes, and this topic is no exception. Researching the local Black power movement brought up quite a few mentions of Lauren Watson (1940-2019) in several local papers at the time that can be freely viewed online and saved, such as The Denver Blade, (CHNC recently acquired most of its run). Also of interest are the college papers The Rocky Mountain Collegian – CSU Fort Collins, Colorado Daily – University of Colorado Boulder, and The Paper – Metro State. The Denver Blade was an African-American newspaper which offered a crucial real-time perspective and outlet for Colorado's Black communities, while college newspapers were often allowed free reign to center events, language, and voices that were ignored by mainstream press.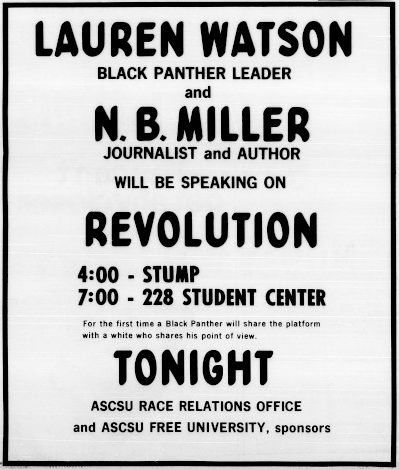 On November 6, 1968, Watson was scheduled to speak at Colorado State University (CSU) on the subject of "Revolution," when he was arrested en route:
According to Tedd Benson, ASCSU's Race Relations Director, Watson was stopped six times while driving in the vicinity of 34th and Franklin in Denver. Benson said 'It appears to me that they don't want him to speak at CSU and to tell the truth to the students here.'
This event would lead to a trial that would come to be the very first of its kind shown to a national audience.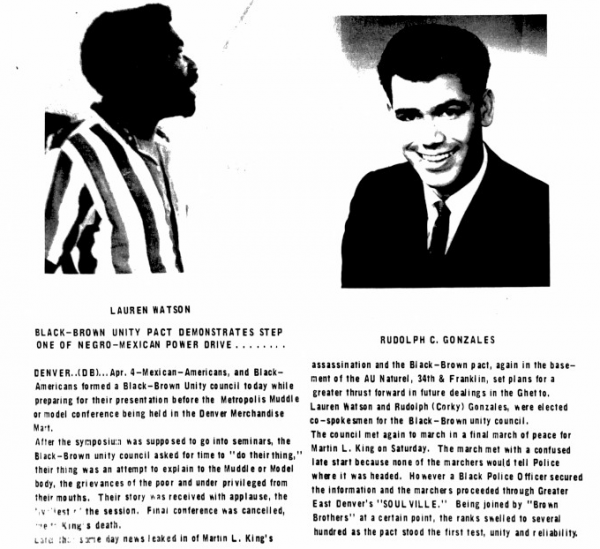 Watson's community organizing would bring him into contact with Mexican-American activist Rudolph "Corky" Gonzales by forming the Black-Brown Unity Council in 1968, and other prominent civil rights leaders of the day. Watson was an active anti-war demonstrator and talked of his experiences of resolving community conflicts in an insightful series of interviews conducted by The Paper – Metro State.  The Denver Blade also offered a sympathetic outlet for events in this time period, proving the enduring value of local journalism for not only reflecting the times, but also serving as a record for histories that can seem all but lost to contemporary researchers. For example, they reported stories of misconduct by police, such as a police raid on the Panthers' headquarters, and Watson reported in his own column on Huey P. Newton's trial for the death of a police officer in California.
Newspapers also covered Watson's other legal troubles around the same time, including a separate trial for conspiracy to commit arson of a cleaning store in Denver. A defense fund was set up, and a jury which included three Black people was selected, but no real trial was held and Watson was ultimately freed after several people refused to testify against him.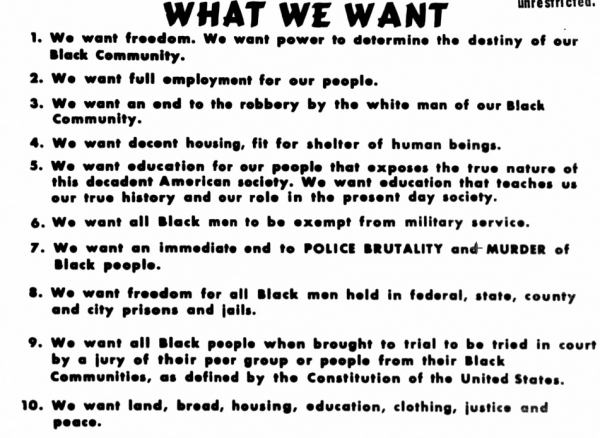 Then, as briefly discussed by The Aspen Times, in March 1970, television history was made with the national airing of Trial: The City and County of Denver vs. Lauren R. Watson. This was the first criminal trial ever to be televised in full in the US (edited down to be concise). Black history is also American history – they are inextricable. It's somewhat surprising, then, that this event isn't well remembered as not only did this documentary birth a new genre of film making, it came at an inflection point in US race relations, as the civil rights movement had waned, and the Black Power movement was peaking. The host of the documentary, Harvard professor James Vorenberg, explains why the case is significant:
In one sense, this might look like a relatively unimportant trial – the maximum sentence for each misdemeanor count actually charged is 90 days in jail and $300 – but in some respects, it's a crucially important case. First, what we are about to see is an opportunity for all of us to make some judgments on the trial process itself. Second, it presents one way – and certainly a most hopeful way – that the explosive conflicts in this country are being worked out, for the man who brought the charges is a policeman and the defendant was Denver's most prominent Black Panther.
Lauren Watson was on trial for "interfering with a police officer, resisting arrest, and causing a disturbance," according to defense lawyer, Leonard E. Davies in the opening scenes. The trial, from jury selection to post-verdict (totaling six hours of footage), can be viewed in full for free on Youtube and most of it is available on the American Archive of Public Broadcasting website, along with descriptions of each episode.
By the early 1970s, local papers were calling Watson the former leader of the Denver BPP. The times were changing again, and support for BPP ideas lost momentum. Lauren Watson's vocal brand of politics was radical and in-keeping with broader Black Panther ideology: anti-police, anti-capitalist, anti-assimilation, and encouraging of militancy in order to further the cause. By the early 1970s, a variety of factors (such as counterintelligence efforts by the government, waning membership, and internal/legal problems) contributed to the Black Panthers' fall from prominence.
Watson largely stepped back from public life after this, although he was the subject of occasional media attention, with some commentators lamenting the absence of a local figure such as Watson, who had been an effective organizer. Yet, while the group remains controversial it also remains highly relevant, as a glance at today's newspapers will show you: the very same issues are as yet unresolved. Some BPP ideas and strategies continue to inspire action today, especially in Black activists' demands for justice and liberation as manifested in the Black Lives Matter movement and beyond.
Further Reading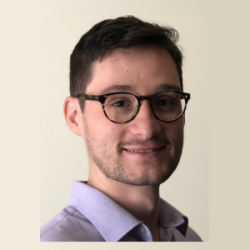 Latest posts by Michael Peever
(see all)