As Thanksgiving approaches, there's a chance you may be swapping recipes with friends, recreating an old family dish, or doing some googling for fresh ideas. Luckily for us Coloradans, our Rocky Mountain home has more than a few favorite foods that are as uniquely intertwined with our history as they are with our daily diets. Whether they're from the sunny orchards of the western slope, the spicy southern Colorado border towns, or the eastern plains, Coloradans have always had a special love for their local fare.  These are some of our favorites that are ripe with flavor and Colorado history!
Palisade Peaches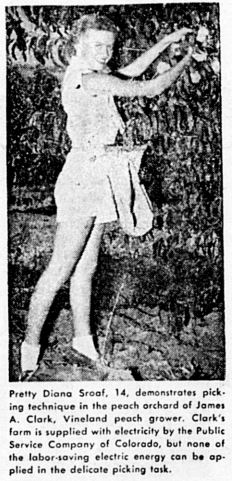 The region that would one day become the town of Palisade was originally inhabited by the Ute tribe of Native Americans.  Settlers began to arrive in the area in the early 1880's and named it for the palisade cliff formations to the North. Some of the first peach trees in the area were planted by John Harlow in 1882 and by the early 1900's, new irrigation systems allowed for more than 25,000 pounds of peaches to be shipped daily from Palisade to destinations all around the region. The rich soil and nearly 200-day growing season of the Western Slope produces apples, cherries, and even impressive wine grapes, but are first and foremost responsible for these peaches, which are now some of the most sought after nation-wide. In fact, because the town owed so much to its peaches, in 1968, the town of Palisade began hosting an annual Peach Festival in August that now draws over 15,000 visitors to the town. In Colorado, Palisade peaches are used in everything from jam to barbeque sauce to Colorado whiskey and we could not be more proud!
Rocky Ford Melons
The town of Rocky Ford was named for a nearby shallow crossing of the Arkansas River by explorer Kit Carson, founded by G.W Swink and Asa Russell in 1871, and moved shortly thereafter following the placement of railroad tracks. By 1881, Swink had gardens so large that they were producing nearly 300 tons of watermelon a year and in 1886, he began to grow the Netted Gem Cantaloupe, the melon for which Rocky Ford is now most well-known.
And just like Palisade's famous peaches, Rocky Ford's melons have their own festival that centers around Watermelon Day, which was founded by Swink himself in 1878 with about 25 friends and neighbors. Today Watermelon Day is the centerpiece of the Arkansas Valley Fair and boasts over 12,000 attendees and hosts events ranging from seed-spitting contests to watermelon carving competitions. It is also estimated that nearly 50,000 pounds of free watermelons are given away on that day at Rocky Ford's famous Watermelon Pile. Also, the Rocky Ford cantaloupe don't just grow bigger and healthier than other region's melons. They actually contain up 5% more natural sugar, making them richer and sweeter than others and proving that Colorado sun and soil really do make all the difference!
Colorado Green Chile (Pueblo Chilies)
Even though we saved it for last, if you ask anyone Coloradan what food we love most, our green chile is #1. Unlike our peaches and melons, the Pueblo Chilies that provide the base for our favorite dish are a fairly recent discovery. While chilies are no strangers to Southern Colorado, the particular variety that has become the commonly known Pueblo Green Chile of today was actually the result of a mutation in the crop of farmer name Harry Mosco.  After his passing in 1988, Mosco left a bag of seeds to his nephew, Dr. Mike Bartolo, the manager and vegetable crop specialist at Colorado State University's Arkansas Valley Research Center. 
Bartolo found that the peppers these seeds produced tended to be a little bigger, a little thicker and faced upward toward the sun while growing, as opposed to hanging down like most chilies.  Today, these Mosco chilies are the most common variety of Pueblo Chile found in Colorado and as you may have guessed, they too have their own festival. The Pueblo Chile and Frijoles Festival takes place in September and attracts over 140,000 attendees over 3 days. But Coloradans don't need a festival to celebrate their favorite dish all year long.  From Burgers to biscuits to pasta and even pizza, our Colorado hearts pump green and spicy!
Historic Newspaper Articles/Ads About Palisade Peaches
Palisade Tribune, Volume 39, Number 7, August 15, 1941
Palisade Tribune, Volume 10, Number 7, July 12, 1912
Palisade Tribune, Volume 4, Number 13, August 25, 1906
Historic Newspaper Articles/Ads About Rocky Ford Melons
La Junta Tribune, Volume 21, Number 41, August 15, 1900
Middle Park Times, July 12, 1912
Aspen Daily Times, August 25, 1908
Historic Newspaper Articles/Ads About Colorado Green Chile
La Cucaracha, Volume II, Number 10, November 7, 1977
Louisville Times, Volume 64, Number 5, July 21, 1977
Latest posts by Madison Basch
(see all)