September and October are the best months to plant bulbs in Colorado!  The Colorado State University Extension has several resources that will ensure fall-planted bulbs grow into thriving flowers in the spring.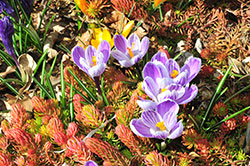 The Fall-planted bulbs and corms fact sheet covers everything about growing bulbs, from selecting the best bulbs to how deep in the soil each bulb needs to be planted. Fall is a great time to plant these bulbs because the soil is still warm from the summer sun and will allow bulbs to establish root systems before it freezes for the winter. Bulbs that grow well in Colorado include tulips, grape hyacinth, and crocuses. Some tips the Extension include:
Select the largest bulbs to grow the largest flowers – there's a direct correlation between bulb and flower size;
Areas where bulbs are planted should be covered with mulch to keep the soil at a more consistent temperature, since freezing and thawing can damage bulbs;
Check out CSU Extension fact sheets for more information improving soil for planting bulbs.
Planting bulbs in the fall is one of the easiest ways to jump-start a spring garden, but there are several other ways to prepare your garden beds for the next growing season. One way is to plant perennials. Like bulbs, perennials are able to establish root systems in the fall before the soil freezes, preparing them for a strong start when the weather warms up in the spring. The end of summer also signals time to clean up flower and vegetable beds by removing dead plants, turning the soil, and adding compost.
If you're already a pro at planting fall-planted bulbs and are looking for a new gardening challenge, take a look at the Spring-planted bulbs, corms, and roots fact sheet. Happy planting!
Latest posts by Miranda Doran-Myers
(see all)