Our series travelling Colorado's Scenic and Historic Byways continues through the Collegiate Peaks! The Collegiate Peaks Scenic and Historic Byway follows 57 miles of paved road at the base of the Sawatch Range in central Colorado.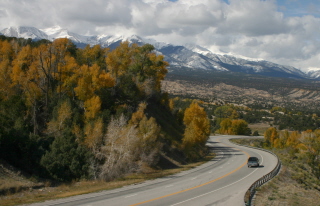 The Collegiate Peaks Scenic and Historic Byway provides access to fantastic recreational opportunities. The Sawatch Range on the western side of the Byway contains the highest concentration of 14,000-foot mountain peaks (fourteeners) in the state, making it a hiker's paradise. The Arkansas River runs along the eastern side, with many access points for rafting, kayaking, and fishing. After all the activity, keep an eye out for wayfinding markers pointing towards developed hot springs not far off the Byway.
The markers along the Byway also point to several historical and cultural landmarks. Byway visitors interested in the area's mining history can visit classic mining towns like Vicksburg and St. Elmo, as well as Mt. Antero, which is the only place in Colorado where aquamarine, the state gemstone, is mined. Interpretive signage denoting places and people of historical significance can be spotted all along the Byway. You can read about everything there is to discover in the Colorado Department of Transportation's report, A Framework for Wayshowing: Collegiate Peaks Scenic and Historic Byway.
The byways aren't just pretty drives; the economic benefits of the Scenic and Historic Byways program are far-reaching, fueling economic growth and vitality in the communities along the route. CDOT's 2015 report, Colorado Scenic Byways economic development strategies, noted the immense value of the scenic views, open space, historical downtowns, and local agriculture found along the Collegiate Peaks Scenic and Historic Byway, recommending that these resources be preserved to encourage tourism. A 2016 report, Colorado Byways Economic Data Analysis, found that the Byways program contributed nearly $4.8 billion in business sales in Colorado between 2009-2014. For more information about how CDOT calculates the economic impact of the program, check out The benefits of Colorado's Scenic and Historic Byways (2013).
Latest posts by Miranda Doran-Myers
(see all)