First up in our series exploring Colorado's Scenic and Historic Byways is the Alpine Loop! The Alpine Loop Scenic Byway is a 63-mile long drive located in the San Juan Mountains that takes visitors through some of the most picturesque scenery in the state.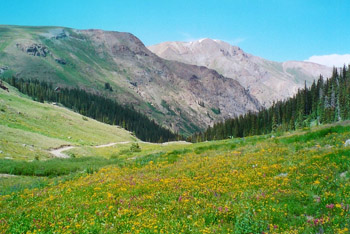 As you wind through the rugged mountains over two passes above 12,000 feet, you'll see pristine alpine lakes, abundant wildlife, and abandoned ghost towns. The byway passes through Silverton and Lake City, where visitors can learn about the region's mining history. The byway also takes visitors through the San Juan National Forest, where you can explore the stunning natural beauty of the area.
While the drive is incredibly scenic, it's essential to be aware of the road conditions and to drive carefully. The Alpine Loop is part of the Bureau of Land Management's Back Country Byway system and is classed as a "Type III" road, which requires four-wheel drive or other specialized off-road vehicles like all-terrain vehicles (ATVs) or dirt bikes. Type III roads demand attention and skill to navigate, so be sure to refresh your knowledge of ATV safety tips before embarking on your alpine adventure!
The Colorado Department of Transportation (CDOT) recommends that drivers take their time on the Alpine Loop, especially when navigating the narrow, steep, and winding roads. The Alpine Loop becomes dangerous in winter weather, so it's best to visit between June and September when the road is typically snow-free. However, drivers should be mindful of changing weather conditions all year.
It can be easy to lose your way driving in the back country, so CDOT has developed a Framework for Wayshowing to guide drivers through the Alpine Loop Byway. "Wayshowing" refers to a collection of signs, maps, brochures, and electronic media meant to help travelers find their way in an unfamiliar environment. Some wayshowing components to look out for include:
byway entrance and exit signs;
orienting signs like pull-offs and turn-outs with interpretive signage;
repetitive route markers and signs for attractions along the route; and,
paper and online maps that drivers can carry with them.
The Alpine Loop Scenic Byway is only the first of the 26 designated byways that we'll be featuring in the State Publications blog. Keep your eye out for the next installment coming soon!
Latest posts by Miranda Doran-Myers
(see all)