Vol.1, Issue 6
Hello, wonderful K-12 library staff, and happy spring! I'm hopeful by now many of your schools have
most of the testing behind you. And that means that summer break is near! How many more days of school are ahead before your summer break? All we know is, you all do such important work, and we're excited for each of you to enjoy restorative down time soon.
This issue features a swath of various tidbits that Tammy and I have collected in the last few weeks, including some learning opportunities ahead, an article or two that we hope inspires you with ideas, and more.
---
Learning Opportunities
Innedco Conference – The annual Innedco (Innovation in Education Colorado) conference is in Breckinridge CO this year from June 13th – 15th. Learn more about the conference focus, learning opportunities, and registration: https://www.innedco.org/conference/
Online Learning Opportunities for Library Staff. Browse this great list of free online learning opportunities shared with us by the Wyoming State Library. This list auto-updates each month and can be found at the Colorado School Libraries webpage under "Learning Opportunities."
CSL in Session: Working with Tweens: What's up with these "in-betweeners"? In this session, gain skills and knowledge to become equipped, excited, and empowered to better serve this fun age group. Learn about typical tween development, collect tips for positive interactions with tweens, and practice your newfound knowledge during scenario discussions. May 12, 12:00 – 1:00 pm. Join online.
Shine-a-Light Webinar Series – Listen to past recordings that highlight promising practice from your own CO K-12 librarians. If you listen to a session and send a reflection via email to Becky Russell by June 10th, you can earn one continuing education credit for each session you listen to/share a reflection.
---
Other Tidbits
Colorado Association of Libraries (CAL) – CAL has so much to offer!  We want to make it easy for you to participate, educate, learn, network, and grow! Your CAL Membership allows you to join such interest groups as CAL Queer Interest Group; CAL Makerspace Interest Group, CAL EDI interest group, CAL School Libraries Interest Group; CAL Leadership Institute, and more.  Learn more about joining CAL here: https://cal-webs.org/
Colorado State Board of Education Updates Learn about recent news releases from the Colorado State Board of Education, including the timeline of feedback on the Colorado Social Studies Standards regarding the proposal to remove references to LBGTQ individuals for grades below fourth grade.
Concrete Rose by Angie Thomas won the Colorado Blue Spruce Award. Partners in Literacy invites you to print the attached poster and post in your library.
---
Some Good Reads
There are many wonderful educational/library-related associations that help us grow as educators such as CAL (mentioned above) as well as the "Association for Supervision and Curriculum Development" (ASCD), which targets and highlights many different facets of teacher-leadership. In one of ASCD's daily digests last week, I came across this gem last week about an Alabama teacher-librarian:
Librarian offers a side of math with book fair purchases Regina Hale turned a love for reading into a career as an elementary-school librarian, and the twice-yearly Scholastic Book Fairs are a favorite for her Alabama students. Hale noted that she takes the change jar with extra coins for students who may need help paying and turns the process of buying into math lessons. https://www.al.com/life/2022/04/book-fairs-can-spawn-a-love-of-reading-and-sometimes-even-a-math-lesson.html
Follett Reverses Course on Parental Controls for Customers Facing Censorship https://www.publishersweekly.com/pw/by-topic/childrens/childrens-industry-news/article/88929-follett-reverses-course-on-parental-controls-for-customers-facing-censorship-legislation.html
---
Idea Sharing
What are some of your thoughts/questions about this edition of the newsletter? What other books, resources, and ideas can you share? Share your ideas in the comments or via our School Library Hotline listserv.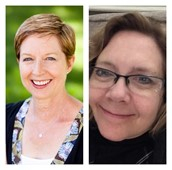 Latest posts by Becky Russell and Tammy Langeberg
(see all)