Engaging with Wikipedia can be fun. It can be instructive. It can be empowering. It is – without question – transformative. Below is a robust list of reading about Wikipedia, its potential use for libraries, its value in education, and some of the very real issues that exist (and persist) in Wikipedia.
From Wikimedia and Wikipedia
Why Wikipedia?
Wikipedia & Libraries
Wikipedia in Education

The Problem(s) with Wikipedia 
Interested in updating Wikipedia for your library or creating a page for it from scratch? Library Wikipedia Entry Template Feb 2023 (PDF)
Cristy Moran (she/ her/ ella) will be presenting "Wikipedia @ the Library: Busting Myths and Fostering Information Literacy" at the 2023 CLiC Virtual Winter Workshop on February 24, 2023.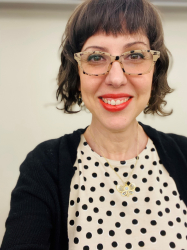 Latest posts by Cristy Moran
(see all)