We've asked libraries across Colorado to submit program they've run in the last year that they're proud of and they want the rest of us to see and celebrate. Sharing stories in books is great… but what about our stories? The stories of the ways our libraries bring the community together, enrich the lives of our neighbors, and serve the people who live and work in our cities and towns.
Anne Marie Boger, Community Engagement Coordinator, answered our call and we're excited to let them tell you about Arapahoe Library District's  "Celebrate Mexico" program in their own words.
Library Name: Arapahoe Libraries
City/ Town: Centennial
Program Name: "Celebrate Mexico" traveling exhibit with Museo de las Americas
Date/ Date Range of Program: September 12 to November 9, 2022
Intended Audience: All community members of all ages
Description:
Arapahoe Libraries is excited to share our unique traveling exhibit in partnership with Museo de las Americas and local artist, Maribel Arredondo. This colorful display of handcrafted piñatas at Smoky Hill Library brings Mexican culture to life in celebration of Hispanic Heritage Month! Our opening day was Monday, September 12th, we hosted a reception to celebrate the artist on September 14th, and have heard such great things from our patrons about the beautiful piñatas.
We also worked with Museo to create an interactive QR code, so patrons can visit a website to learn more about the piñatas and their connection to Mexican history. Hanging them from the rafters in our café was a nice touch – now we can't wait to hang more things from them!
How did you come up with the idea for this program?
Our goal was to bring a museum experience to our patrons. Museo de las Americas was the perfect partner to celebrate Hispanic Heritage Month with!
What partners (if any) did you work with in developing or implementing this program?
Museo de las Americas, Maribel Arredondo, Owner, Curious Paper
What about this program did you find successful? How did you measure the success of this program?
After the art installation, we immediately witnessed the display catching patrons' attention. Lots of patrons have asked staff the story behind the exhibit. And over 40 people were in attendance at our launch reception. That's a success for us!
Anne Marie has permitted us to share their contact information so that anyone interested in reaching out to them about their program can do so. It is an incredibly generous offer of which you are invited to avail yourself if you're inspired by their work and want to celebrate them or if you have questions about ways you can follow their lead.
To reach Anne Marie, email them at aboger@arapahoelibraries.org
Resources shared in this post include:
***
Colorado State Library (and the readers of this point as well, no doubt) understands how time consuming, emotionally draining, costly (in so many ways), and challenging it can be to run a program or project. Sometimes they fail gloriously… sometimes they fail with barely a whisper. It can be hard to recover from that. You've worked so hard!… and it just didn't work out. Be gentle with yourself. Self-reflect. Pick up the pieces. And then get to the next thing. It'll be worth it.
For all those other times, be sure to celebrate. Brag about it! Feel good about yourself, the team that collaborated on your work, and the community members who participated with it. Celebrate your hard work and the value that you contribute to your community.
Tell us the story of your program just like this library did here. Submit your library's program for a Program Spotlight featured here and shared as far as Colorado State Library news reaches.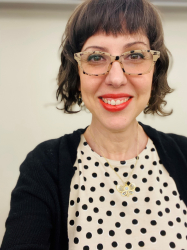 Latest posts by Cristy Moran
(see all)