This guest post was written by Paul Andrews, Collection Development Technician, The Strauss Health Sciences Library.
The Strauss Health Sciences Library at the University of Colorado Anschutz Medical Campus recently shared a collection of medical lecture tickets with the Digital Public Library of America, or DPLA. Of particular interest, is a University of Denver Dental Department schedule card from 1889 from the Robert H. Shikes collection , a large collection of medical artifacts dating from the 19th and 20th centuries.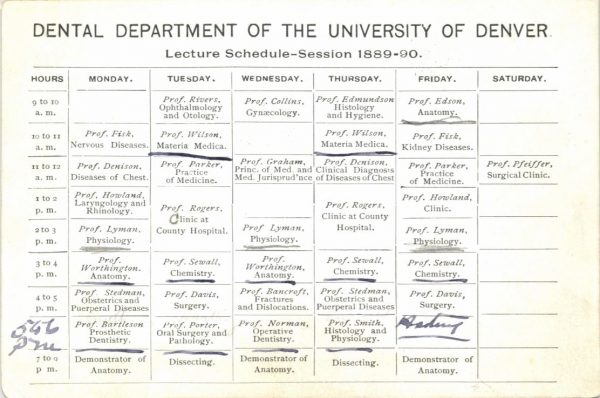 The card allows the student to plan the lectures they need to attend to receive their medical education. The ticket gives the professor teaching the course, the course subject, and the days and times, such as Professor Worthington's Anatomy lecture on Monday from 3 to 4 pm. Many of the courses are not strictly related to dentistry, which indicates that students were given a broad medical education. The card also includes markings made by the student, presumably to plan their schedule of lectures, or perhaps to indicate courses already completed.
Before medical students enrolled in rigorous programs of medical education, medical lecture tickets were used to track a student's progress. Rather than pay tuition, medical students purchased lecture tickets. The tickets could be purchased by anyone, and would be presented to the professor at the time of the lecture. The professor's salaries were often tied to the sale of tickets. At the University of Denver, a schedule of classes and the requirements needed to graduate were published in an Announcement book each year. Students could purchase the tickets for all of the lectures and laboratories they would need to complete a three year medical apprenticeship.
In 2015 Dr. Robert H. Shikes donated his medical artifacts collection to the Strauss Health Sciences Library. Dr. Shikes is Professor Emeritus in the Pathology Department of the University of Colorado School of Medicine. In addition to many books on medicine, he is also the author of three historical works, including two histories of the School of Medicine which he co-authored with Dr. Henry Claman. Dr. Shikes collected medical related artifacts for many years and his donation includes thousands of items. In addition to the medical lecture tickets, the collection includes pamphlets, postcards, medical advertising materials, and materials related to tuberculosis and consumption.
The Strauss Health Sciences Library artifacts collection can be searched online, and many items have been digitized and made available in Mountain Scholar. New items are being cataloged continuously. The collection is available for research by appointment only. For more information, please contact Paul Andrews, Collection Development Technician, at paul.andrews@cuanschutz.edu, 303.724.2113.
---
If you would like to share your unique historic digital collections with the DPLA, please contact Leigh Jeremias at ljeremias@coloradovirtuallibrary.org or 303-335-0709.
Latest posts by Leigh Jeremias
(see all)