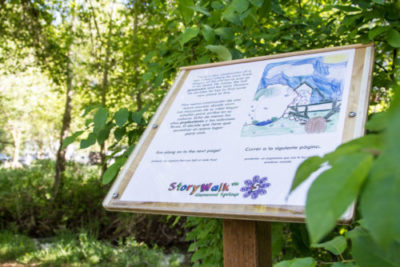 A StoryWalk® is a fun activity that places laminated pages from a picture book mounted on posts along an outside path, in store windows, around a playground or park, or anywhere else you can imagine it!
The StoryWalk® concept was created by Anne Ferguson of Montpelier, VT and was developed with the help of Rachel Senechal, Kellogg-Hubbard Library, in 2007. Today there are StoryWalks® in every state and many countries. Learn more about the program's history.
Colorado StoryWalks® Shared Spreadsheet and Ideas
Are you considering creating a StoryWalk®?
Have you been providing StoryWalks in your community and looking for some fresh ideas and great books and activities for this format?
Have you ever wanted one easy shared document to see what other libraries are offering around StoryWalks®–and even exchange them?
Check out this shared spreadsheet all about StoryWalks® by and for Colorado library staff! Use it to look around, and share about your library's StoryWalks® with colleagues from around the state!
Looking for more ideas on the why and how? Keep reading below, and also visit this shared document of notes from a Feb 4, 2021 youth services meeting on the topic for much more.
Why StoryWalks®?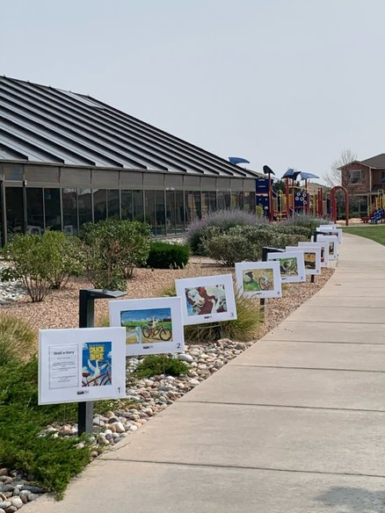 StoryWalks® can fill many library and community goals:
Encourage families to spend time outdoors, getting some exercise
Encourage families to read together and with their young children
Provide a fun reading venue for families to instill a love of reading
Instill critical early literacy skills
Provide valuable library services outside the library, 24/7
Opportunity to partner with community organizations like parks and rec, etc
For StoryWalks® posted in store windows: partner with and highlight community businesses
How-to Resources to get started:
Funding and Other Assistance
Preschools and local/county parks and recreation departments may be interested in partnering on StoryWalks®, including providing some funding and assistance with building and maintaining the project.
In Colorado, Great Outdoors Colorado (GOCO) is a funding possibility; they've funded library StoryWalks® before, and are all about funding programs to get people outdoors and encouraging community partners to work together on that mission. Go to https://www.goco.org/grants for a list of their grants.
Scouting groups may be interested in building a StoryWalk® (and StoryWalks® make an excellent Eagle Scout project). In these projects, the scout/scout group usually obtains the funding and materials for you.
Other civic organizations (Lyons Club, Kiwanis, Jr. League, etc) may be interested in funding and/or helping build a StoryWalk®.
Hardware and big box stores may be willing to donate materials (stakes, lumber, etc) to help build a StoryWalk®.
Latest posts by Beth Crist
(see all)