The Check Out Colorado State Parks program is the flagship program of the Colorado State Library and Colorado Parks & Wildlife (CPW). The exploration kit, backpack, and parks pass borrowing program have gone out to Coloradans and their families over 43,000 times since the program's full launch in 2016. Since library reporting of circulation of the pass and backpack has never been required nor had it been a part of the annual reporting, we can be assured of the "over" part of the estimate. The 43,000 counted are just the tip of the iceberg!
Day passes available in libraries are unique to our program. They provide access to more than individuals, but to whomever they bring to the parks. (A recent development – the vehicle registration state parks annual pass – may be the nearest similar program, though it is limited to personally owned vehicles which many Coloradans do not have and is optional upon car registration.) If an individual day pass is $10 at a Colorado State Park, then each one of those passes being used once has saved Coloradans over $430,000. Used twice? $860,000. And that's just the minimum we know of!
You can find out more about the of the program on our first ever retrospective report put together by the state library's own Library Research Services (LRS).
What does this mean? Colorado library partnerships expand access to parks and the outdoors. Communities connected to their environment and nature can and will build a sustainable future. Providing access for Coloradans to our parks, lakes, and hatcheries and all the educational opportunities the state parks provides can create stewards of our environment and nature. All the good nature does for individual health outcomes, it can do for community health outcomes and the longevity of our communities.
The parks passes, though, are just a part of the partnership thus far and just an inch toward its full potential. In its nearly eight years, libraries across the state have expanded their Libraries of Things to include camping equipment funded through grants from CPW. They've set up StoryWalk stalls in state parks.
As our partnership continues, the state library and parks department looks ahead to expanding access to hispanohablantes in Colorado as well as to people with disabilities who visit our parks or want to. The outdoors is for every body and everyone. We look forward to hearing from our parks visitors and library patrons and our library partners about what they love about the program and what you want to see that you haven't yet.
What's next?
At the moment, the state library and CPW are reviewing the responses from our first ever library partner survey, looking for ways we can improve the Check Out Colorado State Parks program to make changes to the materials or processes as they make sense.
Upon a first cursory glance, the thing our libraries responded that they wanted most often was better promotion from within their libraries and tools from CPW to help them do that. Done!
Behold the Wilder ad featuring the library backpack! Use this on your social media. Embed it to your websites. Add it to your newsletters. Find additional promotional materials on the Check Out Colorado State Parks webpage on the Colorado State Library website.
The video is also available in Spanish!
In fall 2023, the state library will be touring the state for regional workshops to prepare our libraries for the Summer 2024 Collaborative Summer Learning Program. Look for programming and resources from our CPW partners, including your local area park rangers… and additional adventure partnership goodies.
There's no end in sight to Check Out Colorado State Parks. We love it and we know you love it too. You've told us. To many more years ahead!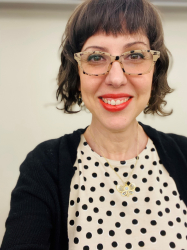 Latest posts by Cristy Moran
(see all)