The short story is a form of fiction that has been with us for centuries, beginning with the legends, fables, and myths of the days of yore and evolving into the bite-size tales we know today. What makes up a short story is hotly debated – some believing that it needs to have all of the elements of a novel (i.e. a plot) but in shorter form, whereas others believe that it should depict a slice of life and just start where it starts and end where it ends. Regardless of your view of the construction of a short story, I am pretty certain we can agree that we all love them. When else can you dive in and get lost in another world or time completely for 15-50 minutes, without the need of technology, batteries, or social media. A short story gives you a brief escape – and then sets you free again after the tale is done, and often leaves you with something you will never forget.
When you read a short story, you come out a little more aware and a little more in love with the world around you. – George Saunders
The Colorado Book Club Resource has a growing collection of short story anthologies that reach far and wide to take your book club around the universe – or at least around the world. In our collection we share sets that represent fantasy, the immigrant experience, women in society, historical fiction, mystery, war, magical realism, horror, contemporary culture, folk and fairy tales, and so much more. Here are some of the sets in the collection. For a complete list of short story anthologies in our collection, visit the Colorado Book Club Resource online catalog.
***
The Adventures and Memoirs of Sherlock Holmes, by Sir Arthur Conan Doyle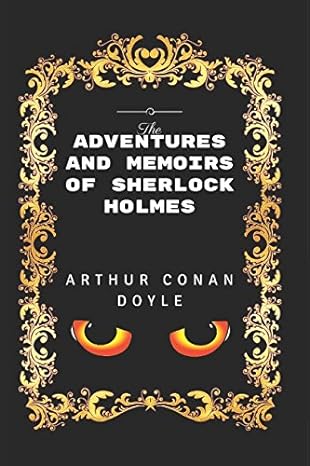 With an Introduction by Dr. Julian Wolfreys. This edition contains two collections of short stories: the Adventures of Sherlock Holmes documents the earliest cases of the greatest fictional detective of all time, while The Memoirs of Sherlock Holmes brings us to what Doyle intended to be Holmes' last appearance, in The Adventure of the Final Problem, as he plunges into the depths of the Reichenbach Falls with his archenemy, Professor Moriarty. This edition contains the original illustrations from Strand Magazine drawn by Sidney Paget."
Black Glass : Short Fictions, by Karen Joy Fowler
First published in 1998 to high praise, and now reissued with the addition of a prefatory essay, Black Glass showcases the extraordinary talents of this prizewinning author. In fifteen gemlike tales, Fowler lets her wit and vision roam freely, turning accepted norms inside out and fairy tales upside down—pushing us to reconsider our unquestioned verities and proving once again that she is among our most subversive writers.  It is a book full of great themes and terrific stories—but it is the way in which Fowler tells the tale, develops plot and character, plays with time, chance, and reality that makes these pieces so original.
Brief Interviews with Hideous Men, by David Foster Wallace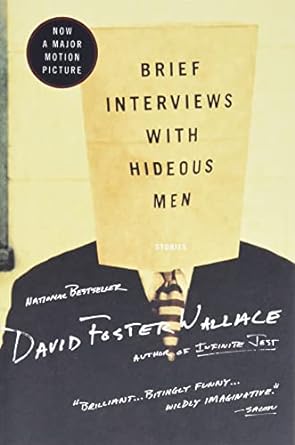 In his startling and singular short story collection, David Foster Wallace nudges at the boundaries of fiction with inimitable wit and seductive intelligence. Venturing inside minds and landscapes that are at once recognizable and utterly strange, these stories reaffirm Wallace's reputation as one of his generation's pre-eminent talents. Wallace delights in leftfield observation, mining the absurd, the surprising, and the illuminating from every situation. This collection will enthrall DFW fans, and provides a perfect introduction for new readers.
Bleed Into Me : A Book of Stories, by Stephen Graham Jones ***Colorado Author***
As one character after another tells it in these stories, much that happens to them does so because "I'm an Indian." And, as Stephen Graham Jones tells it in one remarkable story after another, the life of an Indian in modern America is as rich in irony as it is in tradition. A noted Blackfeet writer, Jones offers a nuanced and often biting look at the lives of Native peoples from the inside. A young Indian man's journey to discover America results in an unsettling understanding of relations between whites and Natives in the twenty-first century, a relationship still fueled by mistrust, stereotypes, and almost casual violence. A character waterproofs his boots with transmission fluid; another steals into Glacier National Park to hunt. One man uses watermelon to draw flies off poached deer; another, in a modern twist on the captivity narrative, kidnaps a white girl in a pickup truck; and a son bleeds into the father carrying him home. Rife with arresting and poignant images, fleeting and daring in presentation, weighty and provocative in their messages, these stories demonstrate the power of one of the most compelling writers in Native North America today.
Bratwurst Haven : Stories, by Rachel King  ***Colorado Author***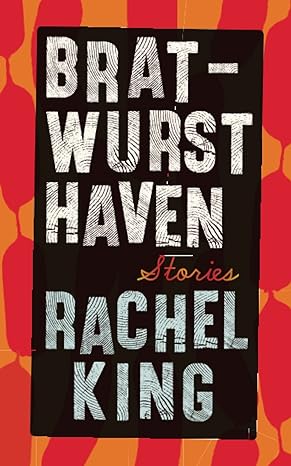 It's almost a decade after the Great Recession, and in Colorado, St. Anthony Sausage has not recovered. Neither have its employees: a laid-off railway engineer, an exiled computer whiz, a young woman estranged from her infant daughter, an older man with cancer who lacks health care. As these low-wage workers interact under the supervision of the factory's owner and his quietly rebellious daughter, they come to understand that in America's postindustrial landscape, although they may help or comfort each other, they also have to do what's best for themselves. Over the course of these twelve interrelated stories, Rachel King gives life to diverse, complex, and authentic characters who are linked through the sausage factory and through their daily lives in a vividly rendered small town in Boulder County. The internal and external struggles of Bratwurst Haven's population are immediately and intimately relatable and resonant: these people seek answers within the world they inhabit while questioning what it means to want more from their lives.
Coyote Stories, by Mourning Dove
A powerful force and yet the butt of humor, the coyote figure runs through the folklore of many American Indian tribes. He can be held up as a "terrible example" of conduct, a model of what not to do, and yet admired for a careless anarchistic energy that suggests unlimited possibilities. Mourning Dove, an Okanagan, knew him well from the legends handed down by her people. She preserved them for posterity in Coyote Stories , originally published in 1933. Here is Coyote, the trickster, the selfish individualist, the imitator, the protean character who indifferently puts the finishing touches on a world soon to receive human beings. And here is Mole, his long-suffering wife, and all the other Animal People, including Fox, Chipmunk, Owl-Woman, Rattlesnake, Grizzly Bear, Porcupine, and Chickadee. Here it is revealed why Skunk's tail is black and white, why Spider has such long legs, why Badger is so humble, and why Mosquito bites people. These entertaining, psychologically compelling stories will be welcomed by a wide spectrum of readers.
Denver Noir, by Cynthia Swanson (ed.)  ***Colorado Author***
Denver has a dark side and more than a dozen local authors are telling you all about it. Together, in Denver Noir, these authors pen a diverse look at the underside of Denver. This anthology of short fictional crime and suspense stories written by 14 local authors and edited by Cynthia Swanson tells hair-raising, spine-tingling tales set in Denver's unique neighborhoods. Follow felons down Colfax, solve a murder mystery and root for runaways as you flip through the pages, but be warned—the book's final words may haunt you even after you turn out the lights.
Brand-new stories by: Peter Heller, Barbara Nickless, Cynthia Swanson, Mario Acevedo, Francelia Belton, R. Alan Brooks, D.L. Cordero, Amy Drayer, Twanna LaTrice Hill, Manuel Ramos, Mark Stevens, Mathangi Subramanian, David Heska Wanbli Weiden, and Erika T. Wurth.
The Djinn in the Nightingale's Eye : Five Fairy Stories, by A. S. Byatt
A.S. Byatt portrays the strange relationship between an intelligent heroine—a world-renowned scholar of the art of storytelling—and the marvelous being that lives in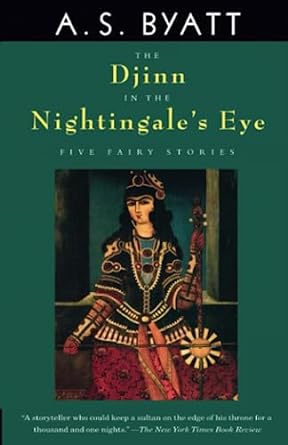 a bottle, found in a dusty shop in an Istanbul bazaar. As Byatt renders the relationship between the woman and the being with a powerful combination of erudition and passion, she makes the interaction of the natural and the supernatural seem not only convincing, but inevitable. The companion stories in this collection each display different facets of Byatt's remarkable gift for enchantment. They range from fables of sexual obsession to allegories of political tragedy; they draw us into narratives that are as mesmerizing as dreams and as bracing as philosophical meditations; and they all inhabit an imaginative universe astonishing in the precision of its detail, its intellectual consistency, and its splendor.
The Elephant Vanishes : Stories, by Haruki Murakami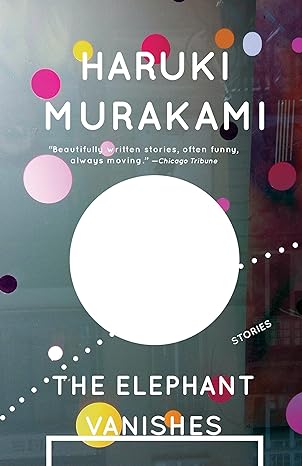 In these stories, a man sees his favorite elephant vanish into thin air; a newlywed couple suffers attacks of hunger that drive them to hold up a McDonald's in the middle of the night; and a young woman discovers that she has become irresistible to a little green monster who burrows up through her backyard. By turns haunting and hilarious, in The Elephant Vanishes Murakami crosses the border between separate realities—and comes back bearing remarkable treasures.
The Girl with Curious Hair, by David Foster Wallace
David Foster Wallace was one of America's most prodigiously talented and original young writers, and The Girl with Curious Hair displays the full range of his gifts. From the
eerily "real," almost holographic evocations of historical figures such as Lyndon Johnson and over televised game-show hosts and late-night comedians to the title story, in which terminal punk nihilism meets Young Republicanism, Wallace renders the incredible comprehensible, the bizarre normal, the absurd hilarious, the familiar strange.
The Hawk is Hungry and Other Stories, by D'Arcy McNickle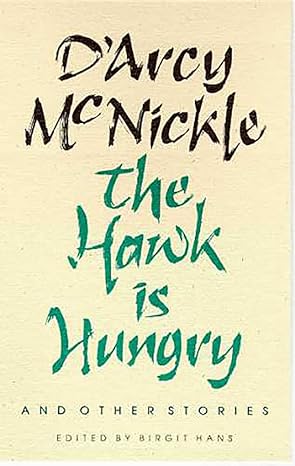 These sixteen stories represent the work of one of the most influential Native American writers of the twentieth century—held by many to be the most important Native American to write fiction before N. Scott Momaday. Birgit Hans' introductory essay provides a brief biography of McNickle, sets the stories in the context of his better known work, and provides insights into their literary significance. Together, they constitute a collection essential to an adequate understanding of McNickle and of the development of Native American fiction.
The Lone Ranger and Tonto Fist Fight in Heaven, by Sherman Alexie
Vividly weaving memory, fantasy, and stark reality to paint a portrait of life in and around the Spokane Indian reservation, this book introduces some of Alexie's most
beloved characters, including Thomas Builds-the-Fire, the storyteller who no one seems to listen to, and his compatriot, Victor, the sports hero who turned into a recovering alcoholic. Now with an updated introduction from Alexie, these twenty-four tales are narrated by characters raised on humiliation and government-issue cheese, and yet they are filled with passion and affection, myth and charm. Against a backdrop of addiction, car accidents, laughter, and basketball, Alexie depicts the distances between men and women, Indians and whites, reservation Indians and urban Indians, and, most poetically, modern Indians and the traditions of the past.
The Lottery and Other Stories, by Shirley Jackson
The Lottery and Other Stories unites "The Lottery" with twenty-four wonderfully strange and equally terrifying short stories from the legendary Shirley Jackson. Together they demonstrate Jackson's remarkable range―from the hilarious to the horrible, the unsettling to the ominous―and showcase a true master at the height of her haunting powers.
Make Something Up : Stories You Can't Unread, by Chuck Palahnuik
Chuck Palahniuk gives us twenty-one stories and one novella in a compilation that disturbs and delights in equal measure. In "Expedition," fans will be thrilled to see a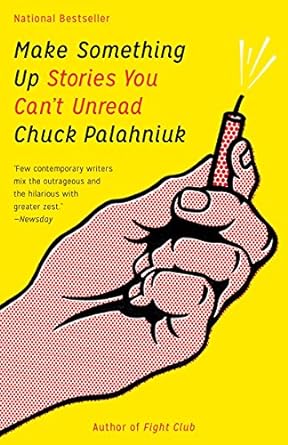 side of Tyler Durden never seen before in a precursor story to Fight Club. The absurdity of both life and death are on full display: in "Zombies," the best and brightest of a high school prep school become tragically addicted to the latest drug craze—electric shocks from cardiac defibrillators; in "Knock, Knock," a son hopes to tell one last off-color joke to a father in his final moments; and in "Tunnel of Love," a massage therapist runs the curious practice of providing "relief" to dying clients. Funny, caustic, bizarre, poignant, these stories represent everything readers have come to love and expect from Chuck Palahniuk. You'll never forget them. Just try.
Nine Stories, by J. D. Salinger
Nine exceptional stories from one of the great literary voices of the twentieth century. Witty, urbane, and frequently affecting, Nine Stories sits alongside Salinger's very best work–a treasure that will be passed down for many generations to come.
Reckonings : Contemporary Short Fiction by Native American Women, edited by Hertha D. Sweet Wong et. al.
The fifteen Native women writers in Reckonings document transgenerational trauma, yet they also celebrate survival. Their stories are vital testaments of our times.
Unlike most anthologies that present a single story from many writers, this volume offers a sampling of two to three stories by a select number of both famous and lesser known Native women writers in what is now the United States. Here you will find much-loved stories, many made easily accessible for the first time, and vibrant new stories by well-known contemporary Native American writers as well as fresh emergent voices. These stories share an understanding of Native women's lives in their various modes of loss and struggle, resistance and acceptance, and rage and compassion, ultimately highlighting the individual and collective will to endure against all odds.
Seventeen Syllables and Other Stories, by Hisaye Yamamoto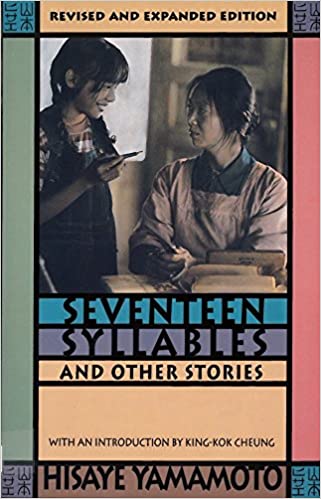 Seventeen Syllables and Other Stories brings together nineteen stories that span Hisaye Yamamoto's forty-year career. It was her first book to be published in the United States. Yamamoto's themes include the cultural conflicts between the first generation, the Issei, and their children, the Nisei; coping with prejudice; and the World War II internment of Japanese Americans.
Sabrina & Corina : Stories, by Kali Fajardo-Anstine ***Colorado Author***
Kali Fajardo-Anstine's magnetic story collection breathes life into her Latina characters of indigenous ancestry and the land they inhabit in the American West. Against
the remarkable backdrop of Denver, Colorado—a place that is as fierce as it is exquisite—these women navigate the land the way they navigate their lives: with caution, grace, and quiet force. Sabrina & Corina is a moving narrative of unrelenting feminine power and an exploration of the universal experiences of abandonment, heritage, and an eternal sense of home.
Tenth of December : Stories, by George Saunders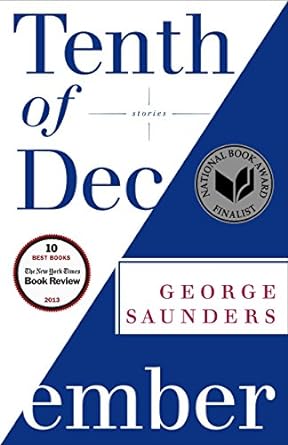 Writing brilliantly and profoundly about class, sex, love, loss, work, despair, and war, Saunders cuts to the core of the contemporary experience. These stories take on the big questions and explore the fault lines of our own morality, delving into the questions of what makes us good and what makes us human. Unsettling, insightful, and hilarious, the stories in Tenth of December—through their manic energy, their focus on what is redeemable in human beings, and their generosity of spirit—not only entertain and delight; they fulfill Chekhov's dictum that art should "prepare us for tenderness."
The Things They Carried, by Tim O'Brien
A classic work of American literature that has not stopped changing minds and lives since it burst onto the literary scene, The Things They Carried is a ground-breaking
meditation on war, memory, imagination, and the redemptive power of storytelling.   The collection depicts the men of Alpha Company: Jimmy Cross, Henry Dobbins, Rat Kiley, Mitchell Sanders, Norman Bowker, Kiowa, and the character Tim O'Brien, who has survived his tour in Vietnam to become a father and writer at the age of forty-three.  Taught everywhere from high school classrooms to graduate seminars in creative writing it has become required reading for any American and continues to challenge readers in their perceptions of fact and fiction, war and peace, courage and fear and longing.
We Love Anderson Cooper : Short Stories, by R. L. Maizes ***Colorado Author***
In this quirky, humorous, and deeply human short story collection, author R.L. Maizes reminds us that even in our most isolated moments, we are never truly alone. In We Love Anderson Cooper, characters are treated as outsiders because of their sexual orientation, racial or religious identity, or simply because they look different. Readers will recognize themselves in these stories and in these protagonists, whose backgrounds are vastly different from their own―we've all been outsiders at some point.
The Ways of White Folks : Stories, by Langston Hughes
A collection of vibrant and incisive short stories depicting the sometimes humorous, but more often tragic interactions between Black people and white people in
America in the 1920s and '30s. One of the most important writers to emerge from the Harlem Renaissance, Langston Hughes may be best known as a poet, but these stories showcase his talent as a lively storyteller. His work blends elements of blues and jazz, speech and song, into a triumphant and wholly original idiom.
Women of Brewster Place, by Gloria Naylor
In Women of Brewster Place, Gloria Naylor weaves together the stories of seven women living in Brewster Place, a bleak-inner city sanctuary, creating a powerful, moving portrait of the strengths, struggles, and hopes of Black women in America. Vulnerable and resilient, openhanded and openhearted, these women forge their lives in a place that in turn threatens and protects—a common prison and a shared home. Naylor renders both loving and painful human experiences with simple eloquence and uncommon intuition in this touching and unforgettable read.
What is Not Yours, Is Not Yours : Stories, by Helen Oyeyemi
Playful, ambitious, and exquisitely imagined, What Is Not Yours Is Not Yours is cleverly built around the idea of keys, literal and metaphorical. The key to a house, the key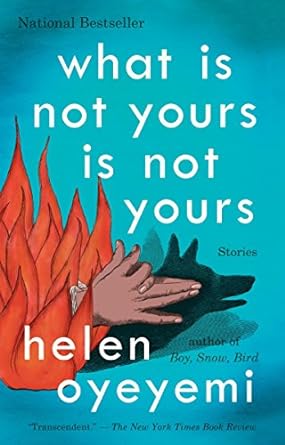 to a heart, the key to a secret—Oyeyemi's keys not only unlock elements of her characters' lives, they promise further labyrinths on the other side. Oyeyemi's tales span multiple times and landscapes as they tease boundaries between coexisting realities. Is a key a gate, a gift, or an invitation? What Is Not Yours Is Not Yours captivates as it explores the many possible answers.
***
Book club sets are circulated to participating libraries via the CLiC courier. If you are interested in receiving book club sets but are not already a member library, use the online form to get signed up. Since the BCR has always relied on book donations, we are deeply grateful to all of the institutions and individuals that have donated sets and helped make the collection stronger. Please contact bookclub@coloradovirtuallibrary.org for questions or to discuss donations.
*NOTE: All descriptions are adapted from goodreads.com and Amazon.com.

Latest posts by Regan Harper
(see all)