Spotlight on School Libraries: Steamboat Springs School District
April is School Library Month, and on behalf of the Colorado State Library and Colorado Department of Education, THANK YOU to all our Colorado school library professionals and the school and district leaders who support them!
School librarians enrich the lives of their students by providing access to a diverse range of resources, instilling a love of learning and reading, and promoting critical thinking skills that can have a profound and positive impact on their academic and personal growth. On March 27th I had the opportunity to visit five schools in the Steamboat Springs School District, and this month's blog post is a snapshot of how these school librarians impact student outcomes.
Soda Creek Elementary School
The front entrance of Soda Creek Elementary leads directly into the warm, inviting library space created by teacher librarian Libby Creamer. With multi-colored flags from around the world on display, clouds on the ceiling, a fire glowing in the library fireplace, and book covers facing out to advertise their stories within, the library feels like a giant, cozy living room for the entire school community. In addition to creating a welcoming library environment that immerses students in appealing books, as a trained school librarian Libby manages all aspects of library collection development and plans schoolwide programming that promotes a love of literature. For example, she leads Battle of the Books for grades 3-5, teaches author studies to multiple grade levels, and this year she coordinated with her Steamboat Springs school library colleagues to organize three author visits this Spring.
The American Association of School Libraries (AASL) learner standards define the school library as a "unique and essential part of a learning community" where students create, think, share and grow. Libby creates these types of learning opportunities for students through multimedia theme boxes and her weekly rotation of library centers. The library centers encourage inquiry and hands-on exploration, like researching a historical artifact that Libby has acquired, building with Keva planks, engineering electrical circuits with Little Bits, and writing poetry. Thank you, Libby, for all you do to nurture students' love of reading and encourage their inquiry and creativity.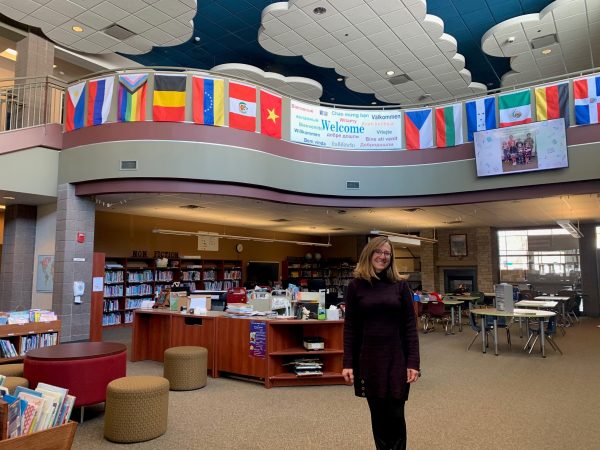 Strawberry Park Elementary School
At Strawberry Park Elementary School, teacher librarian Christine Russell is teaching a class of fifth grade students about the First Amendment and free speech using iCivics and primary sources from the Library of Congress. Christine often connects to what students are learning in the classroom to build their information literacy skills.
After the lesson, students had the choice to check out books and read, use their Chromebooks to engage in library lessons posted on the library website, or play board games. The room buzzed with excitement as students browsed the bookshelves for their next great read, set up chess boards, mancala, and other board games, and settled into cozy nooks throughout the space to read independently or with a friend.
In addition to teaching information literacy, Christine ensures all students have easy access to library resources and leads schoolwide programming that promotes a love of reading. Christine opens the library before school three days per week so that students can start their school day selecting new library books, reading, completing homework, or playing board games. Christine also leads book clubs, hosts academic competitions like the Who Was? History Bee and America's Battle of the Books, organizes author visits, and mentors the Reading Advisory Board (a group of fourth and fifth grade students that write book reviews about new and popular books). Thank you, Christine, for modeling the library as a classroom and building a school culture of reading.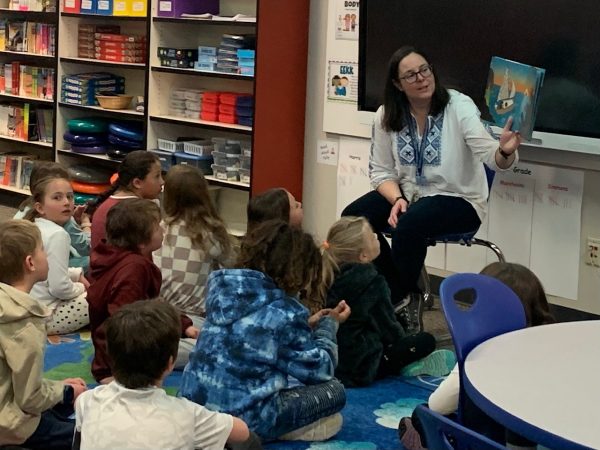 Sleeping Giant School
Sleeping Giant is a K-8 school and the newest addition to the Steamboat Springs School District. The second-floor library is visually stunning, with soft seating throughout inviting readers to relax with a book and a wall of windows providing a jaw-dropping view of the mountains. Teacher librarian Nicole DeCrette deeply values the continuity of teaching students throughout their K-8 years, as she can build on students' information literacy skills each year and meaningfully marry the skills to classroom content. Nicole wants her students to experience more than passive media consumption and she integrates multimedia production into student learning. By learning how to produce a video or record a podcast, students learn how to communicate their ideas in diverse ways and gain valuable experience with technology tools.
The Mission Joy project is an example of how Nicole co-teaches with classroom teachers and content specialists and integrates multimedia production into student learning. In collaboration with the SEL (social-emotional learning) teacher, Nicole taught sixth grade students about the brain science behind experiencing joy and fostering a positive community. To demonstrate their learning, students created "joy story" videos illustrating how they personally experience joy. The video production process included learning how to plan a sequence of ideas using a storyboard, filming technique, and how to use video editing software. The culminating event was the Mission Joy Film Festival, a student-led event for the entire school community to view students' exemplar videos and interact with student-created "joy stations" (think science fair for mental health). Thank you, Nicole, for demonstrating the collaborative potential of librarianship and meaningfully engaging students in learning that fosters their creativity.
Steamboat Springs Middle School
At Steamboat Springs Middle School, teacher librarian Megan Scannell is passionate about teaching critical thinking and media literacy. The motto of her library instruction is "Quality information leads to quality decisions," a statement she adapted from the Stanford History Education Group's Civic Online Reasoning (COR) curriculum.
Megan teaches every sixth grade student for a trimester-long course on information literacy, a course she developed by adapting Stanford's COR curriculum. Students learn how to evaluate online information that affects them, their community, and our global community through lateral reading, which is the skill of evaluating credibility, intent and bias while reading. For example, students might be assigned to read information shared via a website, blog post, or social media post and investigate its source, evidence that may or may not support the information, and the viewpoints of other sources. Megan describes her course as a foundation in information literacy that she builds on with 7th and 8th grade students by collaborating with their classroom teachers to review these skills and apply them to their instruction.
Additionally, Megan leads schoolwide programming to nurture students' love of reading. Two student favorites are Battle of the Books and Letters for Literature. During the Letters for Literature campaign, Megan encourages students to write letters to authors whose work changed the way they see themselves or the world. Students have sent hundreds of letters to authors and many students have received responses from well-known authors like Alan Gratz, Stuart Gibbs, Sharon Draper, and Judy Blume. Megan shared that the Letters for Literature experience is "pretty special for our whole school, but definitely for those students who put themselves out there and are honest with these authors about the power of their work." Thank you, Megan, for preparing students with the critical thinking skills they need to navigate their world and building students' reader identities as they transition from childhood to young adulthood. 
Steamboat Springs High School
The Steamboat Springs High School library is a large, light-filled oasis with comfy furniture throughout that invites students to read, study, enjoy a sensory break, and connect with peers. Teacher librarian Jennifer Vellenga is new to her role this year, and after the year-long vacancy in the library prior to her arrival, her first priority is to create a safe and welcoming space for all students and an easily accessible, appealing and inclusive library collection. Since her arrival Jennifer has worked hard to reset the space, add soft seating throughout the library, organize the collection, add new and high interest titles that reflect diverse identities and lived experiences, and build relationships with students and staff. She has also started the complex process of reorganizing the library collection by genre, often called the "bookstore model," to make it easy for students to find books they love to read in sections like Fantasy, Graphic Novels, Mystery, Romance, and Sci Fi.
In addition to creating an inclusive and appealing library environment and collection, Jennifer partners with the science teachers to co-teach research skills. The Steamboat Springs School District librarians closely partner with the Routt County public librarians to share resources such as online databases, which all students have access to via their school accounts. Jennifer integrates use of the online databases into her instruction to ensure students are skilled in researching information using reliable sources such as academic journals, primary sources, and newspaper publications. These research skills empower students to be information-savvy in their personal lives and prepare them for the academic demands of postgraduate-level work. Thank you, Jennifer, for prioritizing the needs of students and preparing them for their futures.
---
Sign up for CSL News You Can Use
Would you like to receive weekly updates of Colorado school library events, professional learning, grants and more?
Subscribe here to CSL News You Can Use.
---
Professional Learning Opportunities, April 2023
Can't attend the live session? Most webinars offer free access to the recording with registration.
4/4/23  Help Students #LearnToNeverForget with Digital Holocaust Education Activities (Anti-Defamation League)
4/5/23  Learning to Read at School, Loving to Read at the Library (Colorado State Library)
4/6/23  Using Your ESSER Funds Wisely for Fall: An Expert Panel Discussion (Follett)
4/11/23  Under Scrutiny: Helping Staff Feel Safe and Empowered in the Face of Book Challenges (YALSA)
4/12/23  How to Find News You Can Trust: Quality Journalism (News Literacy Project)
4/12/23  AASL Town Hall: Supporting Equity, Choice and Student Voice in the Library (AASL)
4/13/23  Artificial Intelligence in the School Library (AASL)
4/19/23  How to Find News You Can Trust: Media Bias (News Literacy Project)
4/20/23  Autism Is Welcome Here: Increase Access and Inclusion for Neurodivergent Youth (Colorado State Library and UC Denver)
4/26/23  How to Find News You Can Trust: Fact-Checking (News Literacy Project)
4/26/23  Make It! Tips on Starting or Expanding Your Library's Makerspace (Indiana State Library)
4/27/23  Authentic Representation: A Conversation with Neurodivergent Authors (Mackin)
4/27/23  Breaking Stereotypes through Children's Books (National Girls Collaborative Project)
4/27/23  Rethinking Collection Organization with Kelsey Bogan (Demco)
Latest posts by Suzi​ Tonini
(see all)