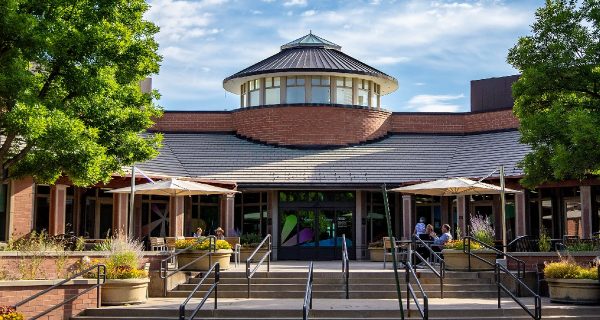 Guest Post by Ellie Nash, Library Specialist Lead at Arapahoe Libraries
While Diversity, Equity, and Inclusion is a growing field, with an increase in businesses creating DEI departments or seeking consultations, it is still most often discussed in terms of Human Resources practices or in academic circles, removed from the experiences and insight of customer service staff. So, when I had the opportunity to start an Inclusivity Committee at my branch, I was excited to bring the bigger concepts of diversity, equity, and inclusion to the frontline staff who interact with patrons and each other every day.
This opportunity came in the summer of 2021, only a few months after I had started in my position as a part-time patron assistance staff member. This was the first project I joined since I started, and I was greatly excited to join a group of people who were as enthusiastic as I was to create a more welcoming culture in the workplace. It has also been a unique and valuable learning experience for me as co-leader of the committee.
In the past year and a half, we've had members join and leave with the overall turnover of staff. At times, it's been difficult to engage committee members in generating project ideas, finding ways to change our processes, and creating opportunities to take assertive action within our branch. However, the enthusiasm and energy that staff have had, both to participate in the committee as well as its projects, has been a source of motivation for me.
One of the roadblocks that I have struggled with the most is the question of how to determine the needs of others. As a branch that is located in an area that is relatively racially, ethnically, and financially homogenous, our staff reflect the same homogeneity to a degree: White, able-bodied, and middle- to upper-middle class, even across different age groups. The main struggle of the committee has been trying to notice and understand potential roadblocks for communities who don't share the same identities as those of staff. When we try to advocate for others on their behalf, we risk alienating and patronizing them. However, when we don't do anything at all, we fail to be inclusive of those that may already feel alienated from the library.
As one way to navigate this paradox, we started a project based on an idea from a staff member with experience in social work. Originally called "Topics to Tackle", we began holding weekly hour-long sessions for staff members to discuss topics relating to cultural awareness, particularly regarding patron interactions. Committee members choose a topic, do some preliminary research, and summarize the key points in a document that is shared to all staff. We rotate topics every three weeks to accommodate our staff schedule and ensure that everyone has a chance to attend at least once. After a few sessions, we decided to change the name to "Concepts to Consider" to lessen the connotation of difficult, troublesome conversations. Over the past year and a half, we have covered a variety of topics, including Different Family Structures, English as a Non-Native Language, Intergenerational Socializing, LGBTQ+ Communities, and Inclusive Language.
A major goal of the Concepts to Consider project is to foster organic discussion and encourage engagement with unfamiliar topics. To do this, we have set the expectation that no one person is the sole authority on any topic, even if they prepared the notes. Because many of the details of the topics we cover can change over time or with new research, we want staff to know that one person's interpretation or opinion is not any more or less valuable than someone else's. We also emphasize that the intent of having these discussions is to inform ourselves and our actions, not to judge others. While discriminatory or hateful views are not tolerated, the intent is to encourage each other to consider the context or background information before making assumptions about patron behavior. We make an effort to reiterate that attendance of these sessions is optional. The topics we cover can sometimes be emotionally charged or triggering for some folks, so we always want to allow people the space to remove themselves from the conversation at any time.
So far, feedback from staff has been favorable. Attendance is always high, and the staff who don't attend are usually those who work every Sunday and have already been to a session on that topic. Engagement can vary by the topic, the energy level of staff, and the staff members in attendance, but almost every session uses the full hour, sometimes even going over.
As a committee, we lead or contribute to other projects, such as stocking menstrual products in all restrooms regardless of gender, adapting paper signage in the branch to be more accessible, and creating guidelines for diverse materials in displays. The Concepts to Consider have been unique in that they are ongoing, led entirely by the committee, and involve the entire team in one way or another. Other branches in the district have shown interest in starting their own inclusivity committees, opening possibilities for inter-district collaboration. Moving into 2023, we are also turning our focus inwards to address the various dynamics that can help or hinder an inclusive workplace environment.
If there is a moral to this story, it would be that DEI efforts can start anywhere. It is, of course, important and valuable for upper management to initiate projects that encourage diversity, equity, and inclusivity within the organization, but staff of all levels of organizational hierarchy can get involved in efforts that directly impact their surroundings. No matter how small the influence of these actions may feel, they still make a valuable difference to everyone involved.
***
Thank you so much to Ellie and the Inclusivity Committee for contacting Colorado State Library's EDI team and agreeing to write this guest post!
If you are a library worker in Colorado engaged in EDI work, we'd love to hear from you and feature your efforts on CVL. Reach out the team at edit@coloradovirtuallibrary.org.