We've asked libraries across Colorado to submit program they've run in the last year that they're proud of and they want the rest of us to see and celebrate. Sharing stories in books is great… but what about our stories? The stories of the ways our libraries bring the community together, enrich the lives of our neighbors, and serve the people who live and work in our cities and towns.
Aimee Vann, Executive Co-Director of Ouray Public Library, answered our call and we're excited to let them tell you about Ouray Public Library's  Youth Mental Health Programs in their own words.
Library Name: Ouray Public Library
City/ Town: Ouray
Program Name: Youth Mental Health Programming
Date/ Date Range of Program: Throughout 2022
Intended Audience: Teens
Description:
The Ouray Public Library created a series of programs to address the growing need of youth mental health in our area. Such programs included the following:
Art with Heart – A partnership with the Ouray School art teacher and mental health specialist. Students learned new art forms and talked about the importance of taking time to create when you are feeling stressed or anxious. Students also received supplies to take home so they can continue to practice their new art.
Queer Crafternoon – A safe space for LGBTQ youth and allies to meet, do crafts, and have snacks.
Not-So-Bored Board Games – A teen only space to gather, talk to peers, and play board games.
Teen Self Care Fair – There will be stations set up for teens to learn self-care methods, such as skin care, knitting, yoga, and massage. The fair included dinner and door prizes.
No Questions Asked Snack Center – We created a snack center where students can come and grab a snack anytime since food insecurity is a source of stress and anxiety in youth.
How did you come up with the idea for this program?
A recent Healthy Kids Survey was done at our local school and the results showed that stress, anxiety, and depression were way up so we thought we should address this.
What partners (if any) did you work with in developing or implementing this program?
The Ouray School Art teacher, An Ouray School Mental Health specialist, and The Ouray County Food Bank.
What about this program did you find successful? How did you measure the success of this program?
We measured success by the responses from the teens and their parents. We were so pleased to have a large (about 100%) increase in attendance in the teen age group.
Aimee has permitted us to share their contact information so that anyone interested in reaching out to them about their program can do so. It is an incredibly generous offer of which you are invited to avail yourself if you're inspired by their work and want to celebrate them or if you have questions about ways you can follow their lead.
To reach Aimee Vann, email them at AimeeOurayPL@gmail.com
Resources shared in this post include:
***
Colorado State Library (and the readers of this point as well, no doubt) understands how time consuming, emotionally draining, costly (in so many ways), and challenging it can be to run a program or project. Sometimes they fail gloriously… sometimes they fail with barely a whisper. It can be hard to recover from that. You've worked so hard!… and it just didn't work out. Be gentle with yourself. Self-reflect. Pick up the pieces. And then get to the next thing. It'll be worth it.
For all those other times, be sure to celebrate. Brag about it! Feel good about yourself, the team that collaborated on your work, and the community members who participated with it. Celebrate your hard work and the value that you contribute to your community.
Tell us the story of your program just like this library did here. Submit your library's program for a Program Spotlight featured here and shared as far as Colorado State Library news reaches.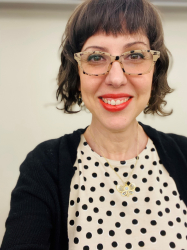 Latest posts by Cristy Moran
(see all)