We've asked libraries across Colorado to submit program they've run in the last year that they're proud of and they want the rest of us to see and celebrate. Sharing stories in books is great… but what about our stories? The stories of the ways our libraries bring the community together, enrich the lives of our neighbors, and serve the people who live and work in our cities and towns.
An anonymous submitter put us in contact with the program designer and coordinator, Michelle Youngblood,  answered our call and we're excited to let them tell you about Sterling Correctional Facility's  Art Journal Program in their own words.
Library Name: Sterling Correctional Facility (SCF)
City/ Town: Sterling
Program Name: Art Journal Program
Date/ Date Range of Program: April 10, 2022
Intended Audience: Adults – Offenders (all adult age) who sign up in advance
Description:
The Art Journal Program at Sterling Correctional Facility was started from a personal journey and a little Zine activity found on the internet. I handed out the Zine instructions with paper when the facility was on lockdown, and it went over well so the art journaling idea was mentioned to offenders to see if the response to this journaling method would be popular enough to start the program. There was overwhelming response to the idea of art journaling, so the program was put together combining a classroom setting once a week with a self-paced, daily prompt schedule. There was no thought to seek out similar programs because the plan was already there in books and videos and all that was needed was to arrange the appropriate prompts into a structured itinerary. By appropriate, I mean that the prompts used could not use supplies and equipment that could not be brought into this facility.
To promote the program, there was a sign-up sheet posted in the library for 2 weeks with dates and times of the classroom portion of the program. This was a 6-week program so participants were asked to make as many of the 5 classroom sessions as possible.
What partners (if any) did you work with in developing or implementing this program?
I would like to emphasize the importance of having good help and there were 2 Library Clerks that were phenomenal in their assistance in preparing for and cleaning up the classroom sessions.
What about this program did you find successful? How did you measure the success of this program?
The offenders had a good time and when scheduling became difficult because of our building being shut down at times, they were encouraged to come in any time it was open to finish their art journals, which they did. From the responses of the participants, it was a successful, creative program.
Michelle has permitted us to share their contact information so that anyone interested in reaching out to them about their program can do so. It is an incredibly generous offer of which you are invited to avail yourself if you're inspired by their work and want to celebrate them or if you have questions about ways you can follow their lead.
To reach Michelle Youngblood email them at michelle.l.youngblood@state.co.us
Resources shared in this post include:
***
Colorado State Library (and the readers of this point as well, no doubt) understands how time consuming, emotionally draining, costly (in so many ways), and challenging it can be to run a program or project. Sometimes they fail gloriously… sometimes they fail with barely a whisper. It can be hard to recover from that. You've worked so hard!… and it just didn't work out. Be gentle with yourself. Self-reflect. Pick up the pieces. And then get to the next thing. It'll be worth it.
For all those other times, be sure to celebrate. Brag about it! Feel good about yourself, the team that collaborated on your work, and the community members who participated with it. Celebrate your hard work and the value that you contribute to your community.
Tell us the story of your program just like this library did here. Submit your library's program for a Program Spotlight featured here and shared as far as Colorado State Library news reaches.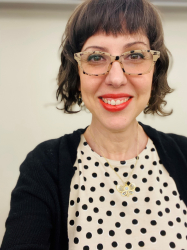 Latest posts by Cristy Moran
(see all)