We've asked libraries across Colorado to submit program they've run in the last year that they're proud of and they want the rest of us to see and celebrate. Sharing stories in books is great… but what about our stories? The stories of the ways our libraries bring the community together, enrich the lives of our neighbors, and serve the people who live and work in our cities and towns.
Dodie Ownes, Adult Services Librarian, answered our call and we're excited to let them tell you about Denver Public Library's Battle of the Books program in their own words.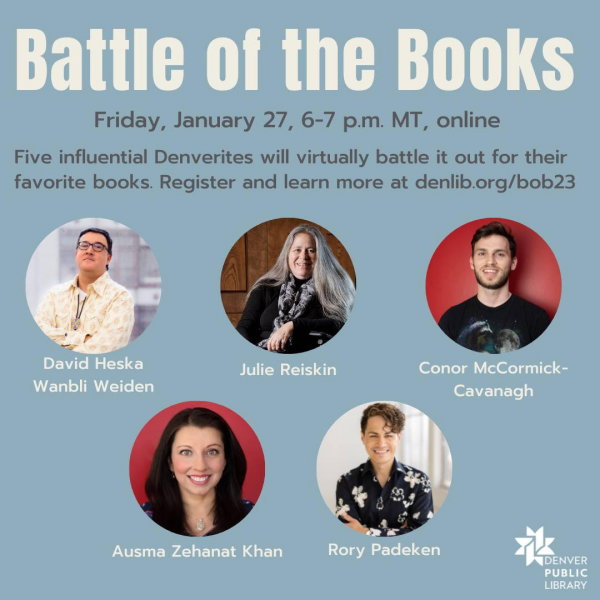 Library Name: Denver Public Library
City/ Town: Denver, CO
Program Name: Battle of the Books
Date/ Date Range of Program: January 27, 2023
Intended Audience: Teens, adults, older adults
Description:
Denver Public Library celebrates its annual adult Winter of Reading program with a virtual evening for book lovers! We talk books with James Mustich, author of 1,000 Books to Read Before You Die, the compulsively readable, entertaining, and surprising book that celebrates the greatest books of all time. Each of five local luminaries battle (for only 4 minutes!) to advocate for their favorite books, vying for the hearts and minds of the audience members who then vote for the title to be added to the list of 1,000 Books to Read Before You Die. The runner-up returns the following year. 2023 was the third year for Battle of the Books for DPL.
How did you come up with the idea for this program?
We borrowed it from another library system!
What partners (if any) did you work with in developing or implementing this program?
We worked with Jim and Margo Mustich, who came up with this idea with another library.
What about this program did you find successful? How did you measure the success of this program?
It was supposed to be in person the first year we did it, but well, COVID. So it became a virtual event and has stayed that way since folks indicated they enjoyed being able to attend from wherever they are, no matter the weather. In 2023, we had 100 live attendees, and almost 200 have viewed the recorded program on YouTube. Holds also went up on the books that the panelists suggested!
Final Thoughts:
Fun and easy program that brings the Denver community together!
Dodie Ownes has permitted us to share their contact information so that anyone interested in reaching out to them about their program can do so. It is an incredibly generous offer of which you are invited to avail yourself if you're inspired by their work and want to celebrate them or if you have questions about ways you can follow their lead.
To reach Dodie, email them at downes@denverlibrary.org
Resources shared in this post include:
Links to Denver Public Library's webpages
YouTube link for the Battle of the Books 2022 virtual event
***
Colorado State Library (and the readers of this point as well, no doubt) understands how time consuming, emotionally draining, costly (in so many ways), and challenging it can be to run a program or project. Sometimes they fail gloriously… sometimes they fail with barely a whisper. It can be hard to recover from that. You've worked so hard!… and it just didn't work out. Be gentle with yourself. Self-reflect. Pick up the pieces. And then get to the next thing. It'll be worth it.
For all those other times, be sure to celebrate. Brag about it! Feel good about yourself, the team that collaborated on your work, and the community members who participated with it. Celebrate your hard work and the value that you contribute to your community.
Tell us the story of your program just like this library did here. Submit your library's program for a Program Spotlight featured here and shared as far as Colorado State Library news reaches.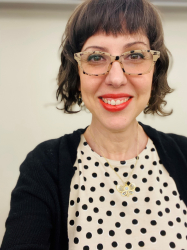 Latest posts by Cristy Moran
(see all)