Annie Caplan is the Libraries Community Partner at Living Room Conversations . They've answered some questions below to help librarians around Colorado learn about their organization, agency, and/or services.
Below, you'll learn about Living Room Conversations and their potential to help you serve your community. In addition, at the end of this post we've included some of their resources for you to view and/or use.
Scroll down to view the Virtual Partner Forum with Annie from Living Room Conversations recorded on March 14, 2023.
Tell us who you are and what you do for Living Room Conversations.
My name is Annie Caplan and I'm the Libraries Partner for Living Room Conversations. I offer tools, resources, and consulting to libraries interested in offering civil dialogue programming and events.
How can Living Room Conversations partner with a library to offer resources or programming to the local community of library visitors and users?
We offer a pre-built, easy to implement library program that enables libraries to host community conversations on a wide range of topics. Living Room Conversations has a library of conversation guides ready to plug and play on over 150 topics that are timely and responsive to local needs. We also offer facilitation training so that any library staff, friends of the library, or volunteers can feel confident facilitating these conversations.
Editor's note: The Colorado State Library Resource Kit "Having Conversations @ the Library" is available for any library to request and borrow. This kit includes some content from Living Room Conversations and Annie co-curated some resources for programming related to community conversations.
 What needs or challenges can Living Room Conversations help libraries address for their communities?
Living Room Conversations helps libraries offer and support community dialogue programming, deepening the library's role as an engaging, inclusive community center. Our conversation model is designed to build understanding and bridge divides between participants. Living Room Conversations enables libraries to expand their community impact by equipping them with tools to foster relationships and connections between community members and patrons.
What regions – cities, counties, areas – of Colorado does your organization reach?
We are a national organization and are able to serve any library in Colorado.
Do the services or resources from Living Room Conversations cost any money?
Our conversation guides and online resources are free, open-source, and available for any library to use. Our facilitated events and facilitation training, however, are paid services.
Do libraries have to provide any funds or apply to any grants to work with Living Room Conversations?
No-however, there is a fee for our facilitation training and facilitated events.
Do libraries have to provide any staff, volunteers, or training in order to run your programs or provide resources or services with Living Room Conversations?
If a library is planning on holding Living Room Conversations for the community, a staff member, volunteer, or friend of the library is needed to facilitate or "host" the conversation. Living Room Conversations can also be a passive library program where patrons are given our conversation guides to hold their own Living Room Conversations.
What support can you offer libraries to help them access additional resources or funding to bring Living Room Conversations to their library?
Living Room Conversations can help libraries seek joint funding and grant opportunities.
Let's say one of our librarians, directors, or staff contact you and says, "We want to bring Living Room Conversations to our community!" What will the next step look like?
Setting up an initial consultation call with me to discuss what conversation topics and program format would work best for your library and community.
You will be attending a Virtual Partner Forum with the Colorado State Library on Tuesday March 14, 2023 at 1PM where you can answer questions directly from Colorado libraries who are able to attend. How else can people reach you?
By emailing me at annie@livingroomconversations.org
***
Not every resource or partner that we highlight will meet the needs or fit in with the mission of every library or community that will read this post. Furthermore, no single interview can include every available opportunity to work with Living Room Conversations .
If you'd like to learn more about Living Room Conversations or speak with Annie, then please watch the recording of our Virtual Partner Forum with Annie Caplan on YouTube or by playing the video below.
If you could not attend our Virtual Partner Forum and have questions about bringing Living Room Conversations to your library, feel free to email me – Cristy Moran, Adult Library Services Senior Consultant at the Colorado State Library – at moran_c@cde.state.co.us or Annie Caplan directly at the contact information listed in the interview above.
Attachments included in this post are: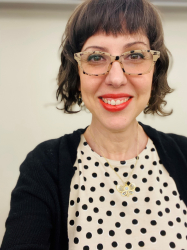 Latest posts by Cristy Moran
(see all)