May is Asian Pacific American Heritage month, celebrating the histories, contributions, and achievements of Americans hailing from across the Asian continent and from the Pacific Islands of Melanesia, Micronesian and Polynesia, AKA Asian American and Pacific Islander community (AAPI).  Here are some facts about AAPI Heritage month that you may not be aware of. The term AAPI is used to describe a diverse and fast-growing population of 23 million Americans that includes roughly 50 ethnic groups with roots in more than 40 countries. In 1978 President Jimmy Carter signed into law a week long celebration of Asian American Pacific Islander heritage, then referred to as Asian/Pacific American Heritage Month, and this was extended to a full month of celebration by George W Bush in 1990, finally undergoing a name change in 2009 during the Obama administration. But what is the story behind the designation of this month long celebration of AAPI heritage? According to an NPR article written by Rina Torchinsky in May of 2022, the original week long celebration was the creation of Jeanie Jew, a former Capitol Hill staffer who shared the idea with Rep. Frank Horton, who introduced the legislation that formed it.
Jew's great grandfather, M. Y. Lee, left China for the United States in the 1800s and became a prominent business man in California and later traveled to Oregon. He was killed during a period of unrest and anti-Asian sentiment. With the support of Rep Horton, Jew was able to turn a personal family tragedy into something positive. To learn more about this powerful personal story, check out the Time article: "How One Woman's Story Led to the Creation of Asian Pacific American Heritage Month" by Kat Moon, published May 23, 2019.
There are so many voices and experiences from the AAPI community to be shared, and the Colorado Book Club Resource has a variety of voices and stories to choose from for your next book club read. Here are some ideas to consider.
---
Works of Fiction:
Crazy Rich Asians – by Kevin Kwan
When Rachel Chu agrees to spend the summer in Singapore with her boyfriend, Nicholas Young, she envisions a humble family home, long drives to explore the island, and quality time with the man she might one day marry. What she doesn't know is that Nick's family home happens to look like a palace, that she'll ride in more private planes than cars, and that with one of Asia's most eligible bachelors on her arm, Rachel might as well have a target on her back. Initiated into a world of dynastic splendor beyond imagination, Rachel meets Astrid, the It Girl of Singapore society; Eddie, whose family practically lives in the pages of the Hong Kong socialite magazines; and Eleanor, Nick's formidable mother, a woman who has very strong feelings about who her son should—and should not—marry.
Crescent – by Diana Abu-Jaber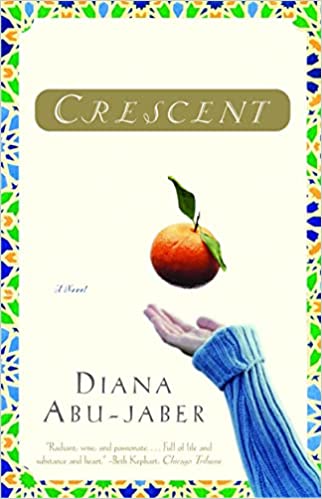 Sirine, the heroine is thirty-nine, never married, and living in the Arab-American community of Los Angeles. She has a passion for cooking and works contentedly in a Lebanese restaurant, while her storytelling uncle and her saucy boss, Umm Nadia, believe she should be trying harder to find a husband. One day Hanif, a handsome professor of Arabic literature, an Iraqi exile, comes to the restaurant. Sirine falls in love and finds herself questioning everything she thought she knew about Hanif, as well as her own torn identity as an Arab-American.
Everybody's Son – by Thrity Umrigar
During a terrible heat wave in 1991—the worst in a decade—ten-year-old Anton has been locked in an apartment in the projects, alone, for seven days, without air conditioning or a fan. With no electricity, the refrigerator and lights do not work. Hot, hungry, and desperate, Anton shatters a window and climbs out. Cutting his leg on the broken glass, he is covered in blood when the police find him. Juanita, his mother, is discovered in a crack house less than three blocks away, nearly unconscious and half-naked. When she comes to, she repeatedly asks for her baby boy. She never meant to leave Anton—she went out for a quick hit and was headed right back, until her drug dealer raped her and kept her high. Though the bond between mother and son is extremely strong, Anton is placed with child services while Juanita goes to jail. The Harvard-educated son of a US senator, Judge David Coleman is a scion of northeastern white privilege. Desperate to have a child in the house again after the tragic death of his teenage son, David uses his power and connections to keep his new foster son, Anton, with him and his wife, Delores—actions that will have devastating consequences in the years to come. Following in his adopted family's footsteps, Anton, too, rises within the establishment. But when he discovers the truth about his life, his birth mother, and his adopted parents, this man of the law must come to terms with the moral complexities of crimes committed by the people he loves most.
Everything I Never Told You – by Celeste Ng
Lydia is the favorite child of Marilyn and James Lee, and her parents are determined that she will fulfill the dreams they were unable to pursue. But when Lydia's body is found in the local lake, the delicate balancing act that has been keeping the Lee family together is destroyed, tumbling them into chaos.
The Hanging on Union Square – H. T. Tsiang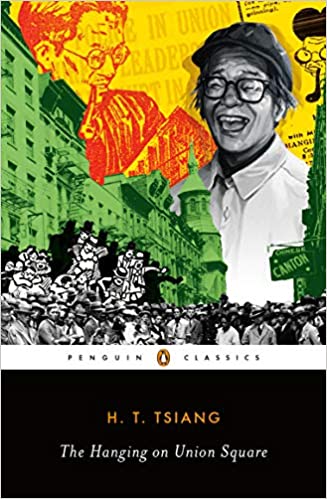 Originally self-published in 1935, H.T. Tsiang's hallucinatory, quasi-experimental novel Hanging on Union Square explores leftist politics in Depression-era New York–an era of union busting and food lines–in an ambitious style that brilliantly blends Gertrude Stein's playful language with the political satire of Carl Sandberg's prose fables. It follows the peripatetic musings of a young man throughout a single day that takes him from a worker's cafeteria to a world of dinner clubs and sexual exploitation in the highest echelons of society, and back again to the streets of Greenwich Village, where starving families rub shoulders with the recently evicted. Each chapter comprises a single hour of the day. Tsiang's style combines satirical allegory with snatches of poetry, newspaper quotations, non-sequiturs and slogans, as well as elements of classical and contemporary Chinese literature. Adventurous and unclassifiable in its combination of avant-garde and proletarian concerns, Hanging on Union Square is a major rediscovery of a uniquely American voice.
How High We Go In The Dark – Sequoia Nagamatsu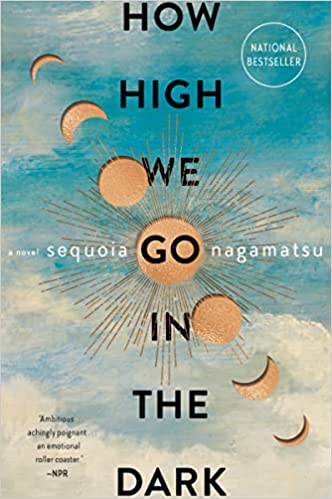 Beginning in 2030, a grieving archeologist arrives in the Arctic Circle to continue the work of his recently deceased daughter at the Batagaika crater, where researchers are studying long-buried secrets now revealed in melting permafrost, including the perfectly preserved remains of a girl who appears to have died of an ancient virus. Once unleashed, the Arctic Plague will reshape life on earth for generations to come, quickly traversing the globe, forcing humanity to devise a myriad of moving and inventive ways to embrace possibility in the face of tragedy. In a theme park designed for terminally ill children, a cynical employee falls in love with a mother desperate to hold on to her infected son. A heartbroken scientist searching for a cure finds a second chance at fatherhood when one of his test subjects—a pig—develops the capacity for human speech. A widowed painter and her teenaged granddaughter embark on a cosmic quest to locate a new home planet.
How Much of These Hills is Gold – by C Pam Zhang
Ba dies in the night; Ma is already gone. Newly orphaned children of immigrants, Lucy and Sam are suddenly alone in a land that refutes their existence. Fleeing the threats of their western mining town, they set off to bury their father in the only way that will set them free from their past. Along the way, they encounter giant buffalo bones, tiger paw prints, and the specters of a ravaged landscape as well as family secrets, sibling rivalry, and glimpses of a different kind of future.
Little Fires Everywhere – by Celeste Ng
Everyone in Shaker Heights was talking about it that summer: how Isabelle, the last of the Richardson children, had finally gone around the bend and burned the house down. In Shaker Heights, a placid, progressive suburb of Cleveland, everything is meticulously planned – from the layout of the winding roads, to the colors of the houses, to the successful lives its residents will go on to lead. And no one embodies this spirit more than Elena Richardson, whose guiding principle is playing by the rules. Enter Mia Warren – an enigmatic artist and single mother- who arrives in this idyllic bubble with her teenage daughter Pearl, and rents a house from the Richardsons. Soon Mia and Pearl become more than just tenants: all four Richardson children are drawn to the mother-daughter pair. But Mia carries with her a mysterious past, and a disregard for the rules that threatens to upend this carefully ordered community. When old family friends attempt to adopt a Chinese-American baby, a custody battle erupts that dramatically divides the town – and puts Mia and Elena on opposing sides. Suspicious of Mia and her motives, Elena is determined to uncover the secrets in Mia's past. But her obsession will come at an unexpected and devastating cost . . .
Mambo in Chinatown – by Jean Kwok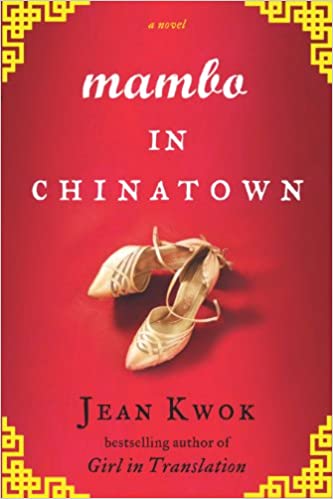 Twenty-two-year-old Charlie Wong grew up in New York's Chinatown, the older daughter of a Beijing ballerina and a noodle maker. Though an ABC (America-born Chinese), Charlie's entire world has been limited to this small area. Now grown, she lives in the same tiny apartment with her widower father and her eleven-year-old sister, and works—miserably—as a dishwasher. But when she lands a job as a receptionist at a ballroom dance studio, Charlie gains access to a world she hardly knew existed, and everything she once took to be certain turns upside down. Gradually, at the dance studio, awkward Charlie's natural talents begin to emerge. With them, her perspective, expectations, and sense of self are transformed—something she must take great pains to hide from her father and his suspicion of all things Western. As Charlie blossoms, though, her sister becomes chronically ill. As Pa insists on treating his ailing child exclusively with Eastern practices to no avail, Charlie is forced to try to reconcile her two selves and her two worlds—Eastern and Western, old world and new—to rescue her little sister without sacrificing her newfound confidence and identity.
The Map of Salt and Stars – by Zeyn Joukhadar
It is the summer of 2011, and Nour has just lost her father to cancer. Her mother, a cartographer who creates unusual, hand-painted maps, decides to move Nour and her sisters from New York City back to Syria to be closer to their family. But the country Nour's mother once knew is changing, and it isn't long before protests and shelling threaten their quiet Homs neighborhood. When a shell destroys Nour's house and almost takes her life, she and her family are forced to choose: stay and risk more violence or flee as refugees across seven countries of the Middle East and North Africa in search of safety. As their journey becomes more and more challenging, Nour's idea of home becomes a dream she struggles to remember and a hope she cannot live without. More than eight hundred years earlier, Rawiya, sixteen and a widow's daughter, knows she must do something to help her impoverished mother. Restless and longing to see the world, she leaves home to seek her fortune. Disguising herself as a boy named Rami, she becomes an apprentice to al-Idrisi, who has been commissioned by King Roger II of Sicily to create a map of the world. In his employ, Rawiya embarks on an epic journey across the Middle East and the north of Africa where she encounters ferocious mythical beasts, epic battles, and real historical figures.
Midnight's Children – by Salman Rushdie
Saleem Sinai is born at the stroke of midnight on August 15, 1947, the very moment of India's independence. Greeted by fireworks displays, cheering crowds, and Prime Minister Nehru himself, Saleem grows up to learn the ominous consequences of this coincidence. His every act is mirrored and magnified in events that sway the course of national affairs; his health and well-being are inextricably bound to those of his nation; his life is inseparable, at times indistinguishable, from the history of his country. Perhaps most remarkable are the telepathic powers linking him with India's 1,000 other "midnight's children," all born in that initial hour and endowed with magical gifts.
On Earth We're Briefly Gorgeous – by Ocean Vuong
On Earth We're Briefly Gorgeous is a letter from a son to a mother who cannot read. Written when the speaker, Little Dog, is in his late twenties, the letter unearths a family's history that began before he was born — a history whose epicenter is rooted in Vietnam — and serves as a doorway into parts of his life his mother has never known, all of it leading to an unforgettable revelation. At once a witness to the fraught yet undeniable love between a single mother and her son, it is also a brutally honest exploration of race, class, and masculinity. Asking questions central to our American moment, immersed as we are in addiction, violence, and trauma, but undergirded by compassion and tenderness, On Earth We're Briefly Gorgeous is as much about the power of telling one's own story as it is about the obliterating silence of not being heard.
One Amazing Thing – by Chitra Divakaruni
Late afternoon sun sneaks through the windows of a passport and visa office in an unnamed American city. Most customers and even most office workers have come and gone, but nine people remain. A punky teenager with an unexpected gift. An upper-class Caucasian couple whose relationship is disintegrating. A young Muslim-American man struggling with the fallout of 9/11. A graduate student haunted by a question about love. An African-American ex-soldier searching for redemption. A Chinese grandmother with a secret past. And two visa office workers on the verge of an adulterous affair. When an earthquake rips through the afternoon lull, trapping these nine characters together, their focus first jolts to their collective struggle to survive. There's little food. The office begins to flood. Then, at a moment when the psychological and emotional stress seems nearly too much for them to bear, the young graduate student suggests that each tell a personal tale, "one amazing thing" from their lives, which they have never told anyone before. And as their surprising stories of romance, marriage, family, political upheaval, and self-discovery unfold against the urgency of their life-or-death circumstances, the novel proves the transcendent power of stories and the meaningfulness of human expression itself.
Pachinko – by Min Jin Lee
In the early 1900s, teenaged Sunja, the adored daughter of a crippled fisherman, falls for a wealthy stranger at the seashore near her home in Korea. He promises her the world, but when she discovers she is pregnant — and that her lover is married — she refuses to be bought. Instead, she accepts an offer of marriage from a gentle, sickly minister passing through on his way to Japan. But her decision to abandon her home, and to reject her son's powerful father, sets off a dramatic saga that will echo down through the generations.
A Place for us – by Fatima Farheen Mirza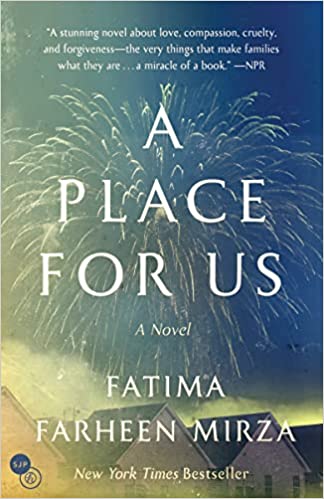 A Place for Us unfolds the lives of an Indian-American Muslim family, gathered together in their Californian hometown to celebrate the eldest daughter, Hadia's, wedding – a match of love rather than tradition. It is here, on this momentous day, that Amar, the youngest of the siblings, reunites with his family for the first time in three years. Rafiq and Layla must now contend with the choices and betrayals that lead to their son's estrangement – the reckoning of parents who strove to pass on their cultures and traditions to their children; and of children who in turn struggle to balance authenticity in themselves with loyalty to the home they came from. In a narrative that spans decades and sees family life through the eyes of each member, A Place For Us charts the crucial moments in the family's past, from the bonds that bring them together to the differences that pull them apart. And as siblings Hadia, Huda, and Amar attempt to carve out a life for themselves, they must reconcile their present culture with their parent's faith, to tread a path between the old world and the new, and learn how the smallest decisions can lead to the deepest of betrayals.
Searching for Sylvie Lee – by Jean Kwok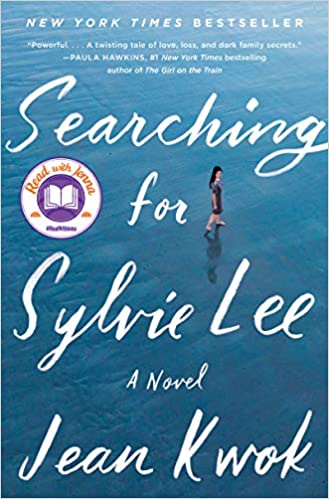 It begins with a mystery. Sylvie, the beautiful, brilliant, successful older daughter of the Lee family, flies to the Netherlands for one final visit with her dying grandmother—and then vanishes. Amy, the sheltered baby of the Lee family, is too young to remember a time when her parents were newly immigrated and too poor to keep Sylvie. Seven years older, Sylvie was raised by a distant relative in a faraway, foreign place, and didn't rejoin her family in America until age nine. Timid and shy, Amy has always looked up to her sister, the fierce and fearless protector who showered her with unconditional love. But what happened to Sylvie? Amy and her parents are distraught and desperate for answers. Sylvie has always looked out for them. Now, it's Amy's turn to help. Terrified yet determined, Amy retraces her sister's movements, flying to the last place Sylvie was seen. But instead of simple answers, she discovers something much more valuable: the truth. Sylvie, the golden girl, kept painful secrets . . . secrets that will reveal more about Amy's complicated family—and herself—than she ever could have imagined.
Snow Flower and the Secret Fan – by Lisa See
In nineteenth-century China, in a remote Hunan county, a girl named Lily, at the tender age of seven, is paired with a laotong, "old same," in an emotional match that will last a lifetime. The laotong, Snow Flower, introduces herself by sending Lily a silk fan on which she's painted a poem in nu shu, a unique language that Chinese women created in order to communicate in secret, away from the influence of men. As the years pass, Lily and Snow Flower send messages on fans, compose stories on handkerchiefs, reaching out of isolation to share their hopes, dreams, and accomplishments. Together, they endure the agony of foot-binding, and reflect upon their arranged marriages, shared loneliness, and the joys and tragedies of motherhood. The two find solace, developing a bond that keeps their spirits alive. But when a misunderstanding arises, their deep friendship suddenly threatens to tear apart.
The Sympathizer – by Viet Thanh Nguyen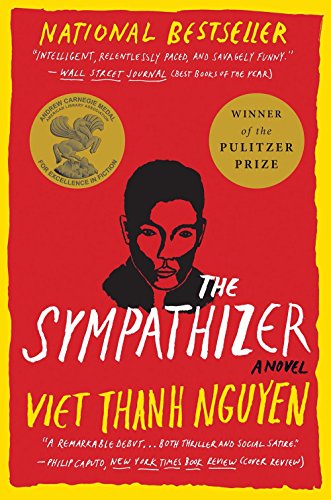 It is April 1975, and Saigon is in chaos. At his villa, a general of the South Vietnamese army is drinking whiskey and, with the help of his trusted captain, drawing up a list of those who will be given passage aboard the last flights out of the country. The general and his compatriots start a new life in Los Angeles, unaware that one among their number, the captain, is secretly observing and reporting on the group to a higher-up in the Viet Cong. The Sympathizer is the story of this captain: a man brought up by an absent French father and a poor Vietnamese mother, a man who went to university in America, but returned to Vietnam to fight for the Communist cause. A gripping spy novel, an astute exploration of extreme politics, and a moving love story, The Sympathizer explores a life between two worlds and examines the legacy of the Vietnam War in literature, film, and the wars we fight today.
A Tale for the Time Being – by Ruth Ozeki
In Tokyo, sixteen-year-old Nao has decided there's only one escape from her aching loneliness and her classmates' bullying, but before she ends it all, Nao plans to document the life of her great-grandmother, a Buddhist nun who's lived more than a century. A diary is Nao's only solace—and will touch lives in a ways she can scarcely imagine. Across the Pacific, we meet Ruth, a novelist living on a remote island who discovers a collection of artifacts washed ashore in a Hello Kitty lunchbox—possibly debris from the devastating 2011 tsunami. As the mystery of its contents unfolds, Ruth is pulled into the past, into Nao's drama and her unknown fate, and forward into her own future.
The Wangs vs the World – by Jade Chang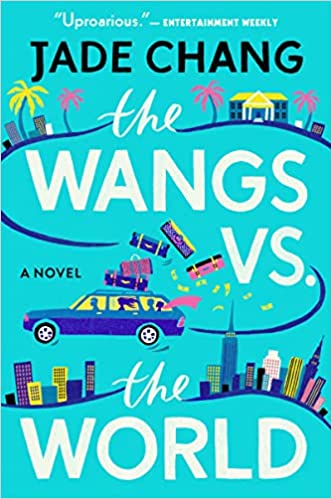 Charles Wang is mad at America. A brash, lovable immigrant businessman who built a cosmetics empire and made a fortune, he's just been ruined by the financial crisis. Now all Charles wants is to get his kids safely stowed away so that he can go to China and attempt to reclaim his family's ancestral lands – and his pride. Charles pulls Andrew, his aspiring comedian son, and Grace, his style-obsessed daughter, out of schools he can no longer afford. Together with their stepmother, Barbra, they embark on a cross-country road trip from their foreclosed Bel-Air home to the upstate New York hideout of the eldest daughter, disgraced art world it-girl Saina. But with his son waylaid by a temptress in New Orleans, his wife ready to defect for a set of 1,000-thread-count sheets, and an epic smash-up in North Carolina, Charles may have to choose between the old world and the new, between keeping his family intact and finally fulfilling his dream of starting anew in China.
The Widows of Malabar Hill – by Sujata Massey
Bombay, 1921: Perveen Mistry, the daughter of a respected Zoroastrian family, has just joined her father's law firm, becoming one of the first female lawyers in India. Armed with a legal education from Oxford, Perveen also has a tragic personal history that makes her especially devoted to championing and protecting women's rights. Mistry Law is handling the will of Mr. Omar Farid, a wealthy Muslim mill owner who has left three widows behind. But as Perveen goes through the papers, she notices something strange: all three have signed over their inheritance to a charity. What will they live on if they forfeit what their husband left them? Perveen is suspicious. The Farid widows live in purdah: strict seclusion, never leaving the women's quarters or speaking to any men. Are they being taken advantage of by an unscrupulous guardian? Perveen tries to investigate and realizes her instincts about the will were correct when tensions escalate to murder. It's her responsibility to figure out what really happened on Malabar Hill, and to ensure that nobody is in further danger.
---
Fictional Short Stories:
The Refugees – by Viet Thanh Nguyen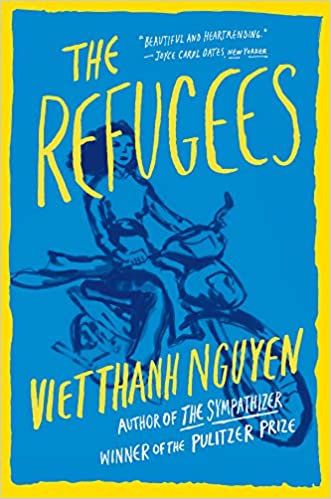 From a young Vietnamese refugee who suffers profound culture shock when he comes to live with two gay men in San Francisco, to a woman whose husband is suffering from dementia and starts to confuse her for a former lover, to a girl living in Ho Chi Minh City whose older half-sister comes back from America having seemingly accomplished everything she never will, the stories are a captivating testament to the dreams and hardships of immigration.
Seventeen Syllables & Other Stories – by Hisaye Yamamoto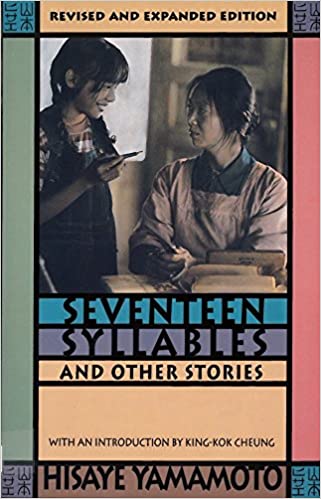 Seventeen Syllables and Other Stories brings together nineteen stories that span Hisaye Yamamoto's forty-year career. It was her first book to be published in the United States. Yamamoto's themes include the cultural conflicts between the first generation, the Issei, and their children, the Nisei; coping with prejudice; and the World War II internment of Japanese Americans.
---
Poetry:
If They Come For Us: Poems – by Fatimah Asghar
In this powerful and imaginative debut poetry collection, Fatimah Asghar nakedly captures the experiences of being a young Pakistani Muslim woman in America by braiding together personal and marginalized people's histories. After being orphaned as a young girl, Asghar grapples with coming-of-age as a woman without the guidance of a mother, questions of sexuality and race, and navigating a world that put a target on her back. Asghar's poems at once bear anguish, joy, vulnerability, and compassion, while exploring the many facets of violence: how it persists within us, how it is inherited across generations, and how it manifests in our relationships with friends and family, and in our own understanding of identity. Using experimental forms and a mix of lyrical and brash language, Asghar confronts her own understanding of identity and place and belonging.
---
Works of Non-Fiction:
Amache Remembered – by Robert Y Fuchigami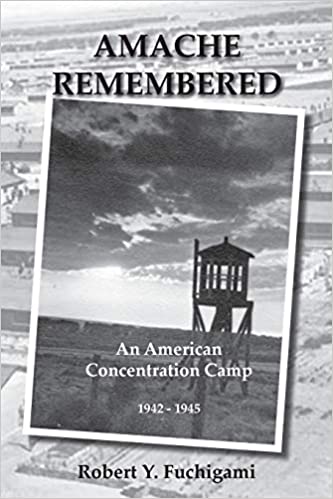 During World War II, over one hundred thousand American citizens were corralled behind barbed wire with watch towers, search beacons and armed guards, simply because they had Japanese faces and names. These people have earned a place in history; they have earned the right to have their story told. No myth or legend, Amache's pain and suffering were real and true. No charges filed. No hearings held. Eight camps were erected in desolate, desert type lands in Arizona, California, Colorado, Idaho, Utah, and Wyoming. Two other camps were located in swamp type lands in Arkansas. The camp in Colorado, holding over 7,500 inmates, was officially named Granada Relocation Center but unofficially called Amache. The Amache story needs remembrance or it can be repeated with other Americans. This is the story of Amache.
America is in the Heart: A Personal History – by Carlos Bulosan
First published in 1946, this autobiography of the well known Filipino poet describes his boyhood in the Philippines, his voyage to America, and his years of hardship and despair as an itinerant laborer following the harvest trail in the rural West. Bulosan does not spare the reader any of the horrors that accompanied the migrant's life; but his quiet, stoic voice is the most convincing witness to the terrible events he witnessed.
Crying in H Mart: A Memoir – by Michelle Zauner
Michelle Zauner tells of growing up one of the few Asian American kids at her school in Eugene, Oregon; of struggling with her mother's particular, high expectations of her; of a painful adolescence; of treasured months spent in her grandmother's tiny apartment in Seoul, where she and her mother would bond, late at night, over heaping plates of food. As she grew up, moving to the East Coast for college, finding work in the restaurant industry, and performing gigs with her fledgling band–and meeting the man who would become her husband–her Koreanness began to feel ever more distant, even as she found the life she wanted to live. It was her mother's diagnosis of terminal cancer, when Michelle was twenty-five, that forced a reckoning with her identity and brought her to reclaim the gifts of taste, language, and history her mother had given her.
Freedom from the Known – Jiddu Krishnamurti
Krishnamurti shows how people can free themselves radically and immediately from the tyranny of the expected, no matter what their age–opening the door to transforming society and their relationships.
Here We Are: American Dreams, American Nightmares – by Aarti Namdev Shahani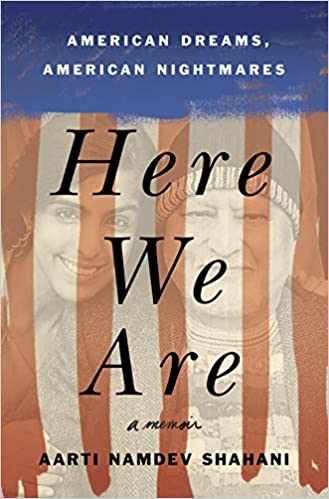 The Shahanis came to Queens–from India, by way of Casablanca–in the 1980s. They were undocumented for a few unsteady years and then, with the arrival of their green cards, they thought they'd made it. This is the story of how they did, and didn't; the unforeseen obstacles that propelled them into years of disillusionment and heartbreak; and the strength of a family determined to stay together. Here We Are: American Dreams, American Nightmares follows the lives of Aarti, the precocious scholarship kid at one of Manhattan's most elite prep schools, and her dad, the shopkeeper who mistakenly sells watches and calculators to the notorious Cali drug cartel. Together, the two represent the extremes that coexist in our country, even within a single family, and a truth about immigrants that gets lost in the headlines. It isn't a matter of good or evil; it's complicated. Ultimately, Here We Are is a coming-of-age story, a love letter from an outspoken modern daughter to her soft-spoken Old World father. She never expected they'd become best friends.
How Does It Feel to be a Problem: Being Young and Arab in America – Moustafa Bayoumi
Arab and Muslim Americans are the new, largely undiscussed "problem" of American society, their lives no better understood than those of African Americans a century ago. Under the cover of the terrorist attacks, the wars in Afghanistan and Iraq, and the explosion of political violence around the world, a fundamental misunderstanding of the Arab and Muslim American communities has been allowed to fester and even to define the lives of the seven twentysomething men and women whom we meet in this book. Their names are Rami, Sami, Akram, Lina, Yasmin, Omar, and Rasha, and they all live in Brooklyn, New York, which is home to the largest number of Arab Americans in the United States. We meet Sami, an Arab American Christian, who navigates the minefield of associations the public has of Arabs as well as the expectations that Muslim Arab Americans have of him as a marine who fought in the Iraq war. And Rasha, who, along with her parents, sister, and brothers, was detained by the FBI in a New Jersey jail in early 2002. Without explanation, she and her family were released several months later. As drama of all kinds swirls around them, these young men and women strive for the very things the majority of young adults desire: opportunity, marriage, happiness, and the chance to fulfill their potential. But what they have now are lives that are less certain, and more difficult, than they ever could have imagined: workplace discrimination, warfare in their countries of origin, government surveillance, the disappearance of friends or family, threats of vigilante violence, and a host of other problems that thrive in the age of terror.
In Order to Live: A North Korean Girl's Journey to Freedom – by Yeonmi Park
Human rights activist Park, who fled North Korea with her mother in 2007 at age 13 and eventually made it to South Korea two years later after a harrowing ordeal, recognized that in order to be "completely free," she had to confront the truth of her past. It is an ugly, shameful story of being sold with her mother into slave marriages by Chinese brokers, and although she at first tried to hide the painful details when blending into South Korean society, she realized how her survival story could inspire others. Moreover, her sister had also escaped earlier and had vanished into China for years, prompting the author to go public with her story in the hope of finding her sister.
In Other Words – by Jhumpa Lahiri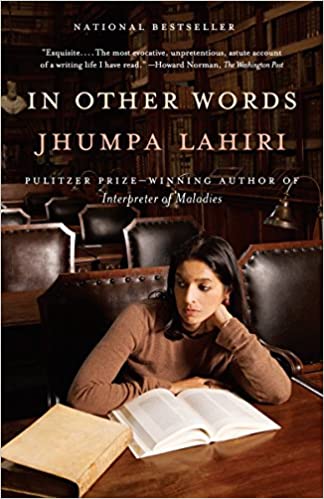 In Other Words is at heart a love story—of a long and sometimes difficult courtship, and a passion that verges on obsession: that of a writer for another language. For Jhumpa Lahiri, that love was for Italian, which first captivated and capsized her during a trip to Florence after college. And although Lahiri studied Italian for many years afterward, true mastery had always eluded her. So in 2012, seeking full immersion, she decided to move to Rome with her family, for "a trial by fire, a sort of baptism" into a new language and world. In Rome, Lahiri began to read, and to write—initially in her journal—solely in Italian. In Other Words, an autobiographical work written in Italian, investigates the process of learning to express oneself in another language, and describes the journey of a writer seeking a new voice. Presented in a dual-language format, it is a book about exile, linguistic and otherwise, written with an intensity and clarity not seen since Nabokov. A startling act of self-reflection and a provocative exploration of belonging and reinvention.
Infidel – Ayaan Hirsi Ali
Infidel shows the coming of age of this distinguished political superstar and champion of free speech as well as the development of her beliefs, iron will, and extraordinary determination to fight injustice. Raised in a strict Muslim family, Hirsi Ali survived civil war, female mutilation, brutal beatings, adolescence as a devout believer during the rise of the Muslim Brotherhood, and life in four troubled, unstable countries ruled largely by despots. She escaped from a forced marriage and sought asylum in the Netherlands, where she earned a college degree in political science, tried to help her tragically depressed sister adjust to the West, and fought for the rights of Muslim women and the reform of Islam as a member of Parliament. Under constant threat, demonized by reactionary Islamists and politicians, disowned by her father, and expelled from family and clan, she refuses to be silenced.
A Long Walk to Water: Based on a True Story – by Linda Sue Park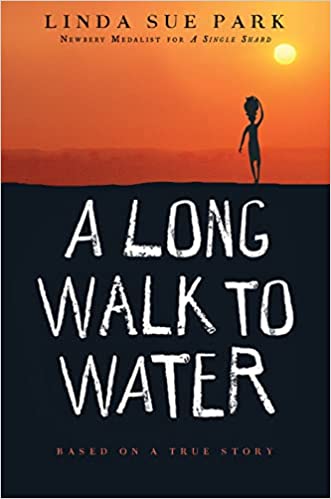 A Long Walk to Water begins as two stories, told in alternating sections, about a girl in Sudan in 2008 and a boy in Sudan in 1985. The girl, Nya, is fetching water from a pond that is two hours' walk from her home: she makes two trips to the pond every day. The boy, Salva, becomes one of the "lost boys" of Sudan, refugees who cover the African continent on foot as they search for their families and for a safe place to stay. Enduring every hardship from loneliness to attack by armed rebels to contact with killer lions and crocodiles, Salva is a survivor, and his story goes on to intersect with Nya's in an astonishing and moving way.
The Making of Asian America: A History – by Erika Lee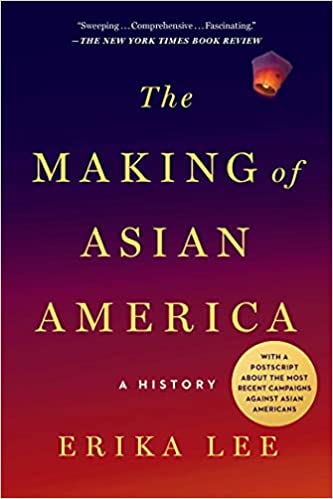 In the past fifty years, Asian Americans have helped change the face of America and are now the fastest growing group in the United States. But as award-winning historian Erika Lee reminds us, Asian Americans also have deep roots in the country. The Making of Asian America tells the little-known history of Asian Americans and their role in American life, from the arrival of the first Asians in the Americas to the present-day. An epic history of global journeys and new beginnings, this book shows how generations of Asian immigrants and their American-born descendants have made and remade Asian American life in the United States: sailors who came on the first trans-Pacific ships in the 1500s; indentured "coolies" who worked alongside African slaves in the Caribbean; and Chinese, Japanese, Filipino, Korean, and South Asian immigrants who were recruited to work in the United States only to face massive racial discrimination, Asian exclusion laws, and for Japanese Americans, incarceration during World War II. Over the past fifty years, a new Asian America has emerged out of community activism and the arrival of new immigrants and refugees. No longer a "despised minority," Asian Americans are now held up as America's "model minorities" in ways that reveal the complicated role that race still plays in the United States.
Minor Feelings: An Asian American Reckoning – by Cathy Park Hong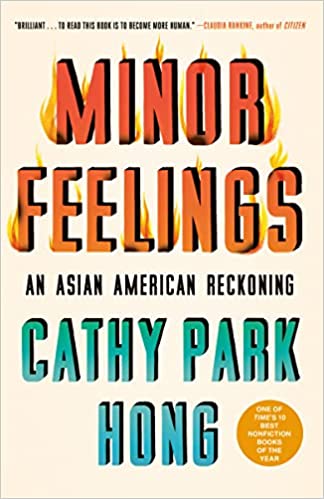 Poet and essayist Cathy Park Hong blends memoir, cultural criticism, and history to expose the truth of racialized consciousness in America. Binding these essays together is Hong's theory of "minor feelings." As the daughter of Korean immigrants, Cathy Park Hong grew up steeped in shame, suspicion, and melancholy. She would later understand that these "minor feelings" occur when American optimism contradicts your own reality—when you believe the lies you're told about your own racial identity. Hong uses her own story as a portal into a deeper examination of racial consciousness in America today. This book traces her relationship to the English language, to shame and depression, to poetry and artmaking, and to family and female friendship in a search to both uncover and speak the truth.
Only What We Could Carry: The Japanese American Internment Experience – by Lawson Fuseo Inada (ed)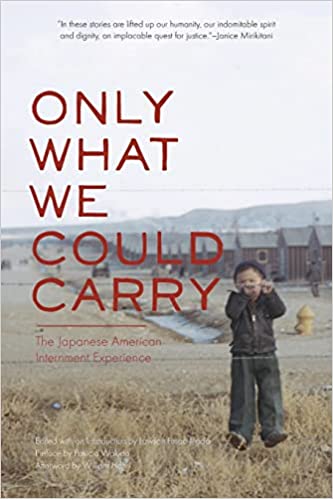 The definitive anthology of Japanese American internment. "In these stories are lifted up our humanity, our indomitable spirit and dignity, an implacable quest for justice"— Janice Mirikitani. Shortly after the Japanese attacked Pearl Harbor, the United States government uprooted 120,000 people of Japanese descent from their homes and banished them to remote internment camps. This collection of reminiscences, stories, poems, photographs, and graphic art expresses the range of powerful and sometimes conflicting emotions that arose from the internment experience. Also included are propaganda, government documents, and stories of those outside the camps whose lives were interwoven with those of the internees.
When Breath Becomes Air – by Paul Kalanithi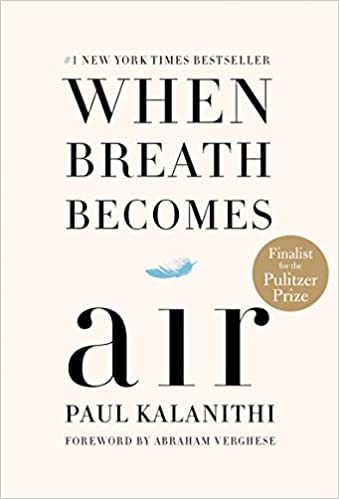 At the age of thirty-six, on the verge of completing a decade's worth of training as a neurosurgeon, Paul Kalanithi was diagnosed with stage IV lung cancer. One day he was a doctor treating the dying, and the next he was a patient struggling to live. And just like that, the future he and his wife had imagined evaporated. When Breath Becomes Air chronicles Kalanithi's transformation from a naïve medical student "possessed," as he wrote, "by the question of what, given that all organisms die, makes a virtuous and meaningful life" into a neurosurgeon at Stanford working in the brain, the most critical place for human identity, and finally into a patient and new father confronting his own mortality. What makes life worth living in the face of death? What do you do when the future, no longer a ladder toward your goals in life, flattens out into a perpetual present? What does it mean to have a child, to nurture a new life as another fades away? These are some of the questions Kalanithi wrestles with in this profoundly moving, exquisitely observed memoir. Paul Kalanithi died in March 2015, while working on this book, yet his words live on as a guide and a gift to us all. "I began to realize that coming face to face with my own mortality, in a sense, had changed nothing and everything," he wrote. "Seven words from Samuel Beckett began to repeat in my head: 'I can't go on. I'll go on.'" When Breath Becomes Air is an unforgettable, life-affirming reflection on the challenge of facing death and on the relationship between doctor and patient, from a brilliant writer who became both.
Why Not Me? – by Mindy Kaling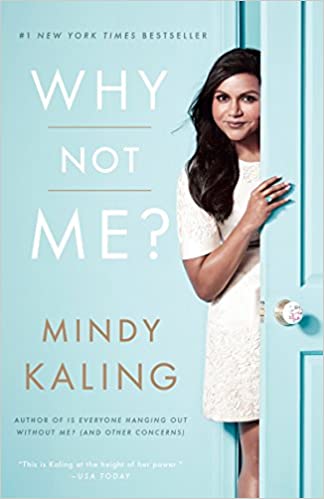 In Why Not Me?, Kaling shares her ongoing journey to find contentment and excitement in her adult life, whether it's falling in love at work, seeking new friendships in lonely places, attempting to be the first person in history to lose weight without any behavior modification whatsoever, or most important, believing that you have a place in Hollywood when you're constantly reminded that no one looks like you.
---
Graphic Fiction/Non-fiction
Almost American Girl: An Illustrated Memoir – by Robin Ha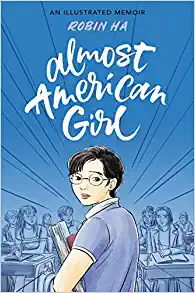 For as long as she can remember, it's been Robin and her mom against the world. Growing up in the 1990s as the only child of a single mother in Seoul, Korea, wasn't always easy, but it has bonded them fiercely together. So when a vacation to visit friends in Huntsville, Alabama, unexpectedly becomes a permanent relocation—following her mother's announcement that she's getting married—Robin is devastated. Overnight, her life changes. She is dropped into a new school where she doesn't understand the language and struggles to keep up. She is completely cut off from her friends at home and has no access to her beloved comics. At home, she doesn't fit in with her new stepfamily. And worst of all, she is furious with the one person she is closest to—her mother. Then one day Robin's mother enrolls her in a local comic drawing class, which opens the window to a future Robin could never have imagined.
American Born Chinese – by Gene Luen Yang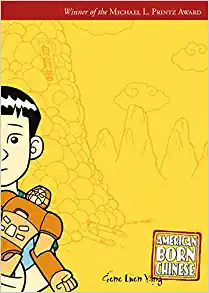 All Jin Wang wants is to fit in. When his family moves to a new neighborhood, he suddenly finds that he's the only Chinese American student at his school. Jocks and bullies pick on him constantly, and he has hardly any friends. Then, to make matters worse, he falls in love with an all-American girl… Born to rule over all the monkeys in the world, the story of the Monkey King is one of the oldest and greatest Chinese fables. Adored by his subjects, master of the arts of kung-fu, he is the most powerful monkey on earth. But the Monkey King doesn't want to be a monkey. He wants to be hailed as a god…Chin-Kee is the ultimate negative Chinese stereotype, and he's ruining his cousin Danny's life. Danny's a popular kid at school, but every year Chin-Kee comes to visit, and every year Danny has to transfer to a new school to escape the shame. This year, though, things quickly go from bad to worse… These three apparently unrelated tales come together with an unexpected twist, in a modern fable that is hilarious, poignant and action-packed. American Born Chinese is an amazing rise, all the way up to the astonishing climax–and confirms what a growing number of readers already know: Gene Yang is a major talent.
I Was Their American Dream: A Graphic Memoir – by Malaka Gharib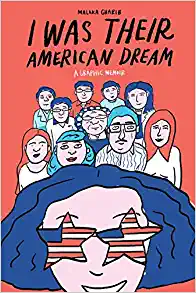 One part Mari Andrew, one part Marjane Satrapi, I Was Their American Dream: A Graphic Memoir is a triumphant tale of self-discovery, a celebration of a family's rich heritage, and a love letter to American immigrant freedom. Malaka Gharib's illustrations come alive with teenage antics and earnest questions about identity and culture, while providing thoughtful insight into the lives of modern immigrants and the generation of millennial children they raised. Malaka's upbringing will look familiar to anyone who grew up in the pre-internet era, but her particular story is a heartfelt tribute to the American immigrants who have invested their future in the promise of the American dream. The daughter of parents with unfulfilled dreams themselves, Malaka navigates her childhood chasing her parents' ideals, learning to code-switch between her family's Filipino and Egyptian customs, adapting to white culture to fit in, crushing on skater boys, and trying to understand the tension between holding onto cultural values and trying to be an all-American kid.
They Called Us Enemy – by George Takei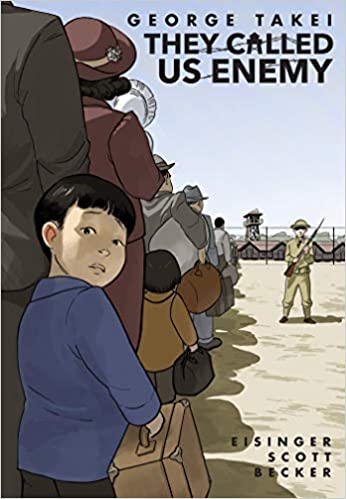 Long before George Takei braved new frontiers in Star Trek, he woke up as a four-year-old boy to find his own birth country at war with his father's — and their entire family forced from their home into an uncertain future. In 1942, at the order of President Franklin D. Roosevelt, every person of Japanese descent on the west coast was rounded up and shipped to one of ten "relocation centers," hundreds or thousands of miles from home, where they would be held for years under armed guard. They Called Us Enemy is Takei's firsthand account of those years behind barbed wire, the joys and terrors of growing up under legalized racism, his mother's hard choices, his father's faith in democracy, and the way those experiences planted the seeds for his astonishing future.
---
Related Reading:
The Colorado Historic Newspapers Collection (CHNC) – a service of the Colorado State Library – has also added to the online collection several newspapers representing AAPI communities.
In 1942, Colorado provided one of the 10 "relocation centers" that involuntarily imprisoned many American Japanese citizens until September 1945. Although Colorado did not incarcerate Japanese Americans living within the State, it did provide camp Amache in Granada CO for Japanese Americans forcibly removed from California cities. While incarcerated, the inmates at Amache created a number of newspapers to keep track of camp activities and create a social and communication infrastructure.  Four of these titles: The Granada Bulletin, The Granada Pioneer, The Granada Church News, and The Amachi Hi IT can all be found in the CHNC collection. You can read about these papers on CVL and access them directly on the CHNC site: https://tinyurl.com/4h9j47ub
Recently, the CHNC added a local newspaper title from the Japanese American community of Denver, the Rocky Mountain JIHO. The JIHO was first published in
1962 and continued its run until 2006, documenting Japanese immigration, and Japanese American community life in Denver and the surrounding areas. The CHNC has included issues from 1969-1997, but will be adding more this summer. The Rocky Mountain JIHO can be found on the CHNC at this link: https://tinyurl.com/muarkk4b.  Other new Japanese American community newspaper titles that will be added later this summer include The Rocky Nippon, The Santos Times, The Colorado Times, and The Colorado Shimbun.  Check back later in 2023 for more interesting reading.
---
Book club sets are circulated to participating libraries via the CLiC courier. If you are interested in receiving book club sets but are not already a member library, use the online form to get signed up. Since the BCR has always relied on book donations, we are deeply grateful to all of the institutions and individuals that have donated sets and helped make the collection stronger. Please contact bookclub@coloradovirtuallibrary.org for questions or to discuss donations.
*NOTE: All descriptions are adapted from goodreads.com.

Latest posts by Regan Harper
(see all)