Check out the latest 2021 Library Jobline Fast Facts report!
The Network and Resource Sharing unit of the Colorado State Library partners with the Rhode Island Office of Library and Information Services to maintain the job board Library Jobline for job seekers and employers across the United States. Library Jobline connects qualified job seekers with open positions in libraries and museums nationwide through tailored search options and a robust network of employer subscribers. It is funded in part by a grant from the U.S. Institute of Museum and Library Services.
The current website was created in 2007 to provide customizable search options and detailed information on job postings. There were 552 jobs posted to Library Jobline in 2007. For fifteen years Colorado State Library's Library Research Service (LRS) has compiled data on the jobs posted and workforce trends in this field. Library Jobline saw rapid growth beginning in 2012 after a website redesign and expanded again in January 2020 when Rhode Island's New England job site merged with Library Jobline. A total of 1,083 new jobs were posted on the site in 2021, twice as many as in 2020. Currently, Library Jobline has around 4,128 active users.
Throughout the Great Resignation, the COVID-19 pandemic, the Great Recession and everything in between LRS Library Jobline Fast Facts reports have tracked the number of job seekers and employers, salaries, education requirements, position types and more for Library Jobline. In 2021, new user data from Library Jobline showed that almost half of new users (49%) were employers while the other half (51%) were job seekers. This points to a high demand for workers in 2021.
Compiling data from these reports reveals trends through the years. The graph below depicts the average starting hourly wages posted on Library Jobline categorized by whether the job posting specified if an MLIS degree was not required, preferred, or required.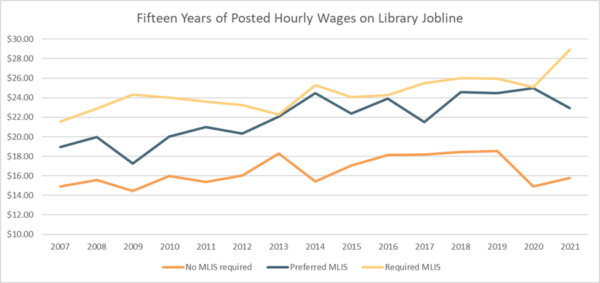 As this job field develops, LRS will continue to track these trends from Library Jobline to bring you quality data so you can make informed career decisions. If you have any questions on this data please reach out to lrs@lrs.org. I encourage you to check out some of the previous years' reports at lrs.org, and if you already work for libraries or wish to in the future follow Library Jobline on Twitter @LibraryJobline.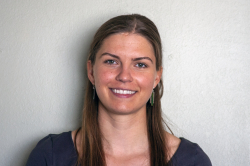 Latest posts by Sara Wicen
(see all)