The Trustee Corner is a monthly series featuring information of interest to public library boards. Topics include training opportunities, legal issues, helpful information, and relevant news impacting public library governance. The information included in this newsletter is for informational purposes, and does not constitute legal or financial advice. Please consult your library's attorney with any questions about your specific situation.
Patron Privacy in Libraries
The theme of this month's Trustee Corner is patron privacy in libraries. Patron privacy is a core value of library service, and is an essential component of intellectual freedom, protecting our first amendment rights to access information. Issues of confidentiality and protecting library patron data continue to arise as personal information is increasingly collected, stored, and shared online. Library policies related to privacy and data collection help protect the privacy of patrons by providing guidance and direction for library operations. Trustees play a critical role in helping the library to adopt and develop policies related to patron privacy and confidentiality. The information in this month's newsletter may help inform the work of the library board in developing, adopting, reviewing, and revising patron privacy policies for the library.
Library Bill of Rights
The American Library Association (ALA) adopted the Library Bill of Rights in 1939. This document serves as an affirmation of library values, stating that "libraries are forums for information and ideas, and that the following basic policies should guide their services." The document goes on to list seven articles that outline the foundations of library service, including statements on the provision of books and materials, access to information, use of library spaces, and freedom of speech.
The final article is related to patron privacy, and is a recent addition to the Library Bill of Rights, adopted by the ALA Council on January 29, 2019. Some public libraries have chosen to formally adopt the Library Bill of Rights as part of their library policies. For boards who have previously adopted this document, it may be necessary to make a motion or resolution to adopt the current version.
In addition to the Bill of Rights, ALA provides a series of Interpretations of the Library Bill of Rights. One of these interpretations specifically addresses Privacy, while others address topics including Challenged Resources, Equity, Diversity and Inclusion, and Meeting Rooms. These interpretations can be helpful resources when developing, reviewing, and updating library policies.
Colorado Library Law – Privacy of User Records
The Colorado Library Law includes a provision for the Privacy of User Records (C.R.S. 24-90-119). This law states that "a publicly-supported library shall not disclose any record or other information that identifies a person as having requested or obtained specific materials or service or as otherwise having used the library." The law includes four exceptions: when disclosure is needed for library operations, when the library user provides consent, when a subpoena or court order is presented, or when a parent or legal guardian is in possession of the library card number and can access the library user's record electronically. For the full language of the law, along with a rough, non-legal summary, review the Colorado Library Law – Quick Guide – Privacy of User Records.
Privacy Policy Review
For libraries that need to develop a new policy, or review and revise an existing policy, there are several resources available to guide you through the process. The ALA provides guidelines for Developing or Revising a Privacy Policy as part of their Privacy Toolkit. The Choose Privacy Everday website includes some Sample Policies & Documents from major metropolitan libraries in the United States. The Colorado State Library includes examples for privacy and confidentiality on their Public Library Sample Policies page. For general guidance on policy development, review these free online training materials from the Mid-Hudson (NY) Public Library System.
Public library boards should work with their library director on review and drafting of new or revised policy to ensure that the policy aligns with library operations and values. In county, municipal, or joint libraries, the library board may also need to work with the governing authority. In the case of public libraries that also serve K-12 schools, there may be additional laws and regulations related to parental access to school records of minors. It is important to remember that the library director is responsible for implementing the policy from an operational and procedural perspective.
Protecting Personal Information of Library Users
In addition to patron privacy considerations, Colorado libraries are also required to adhere to a state law related to the protection of consumer data (HB18-1128). This law took effect in September 2018, and strengthens protections for consumers with regards to protection of their personal data collected by government and commercial entities.
This new law addresses four key areas related to the protection of personal information:
It provides legal definitions of personal identifying information and personal information that are addressed by the law.
It requires entities to develop and adopt a written policy for the disposal and destruction of personal data.
It requires entities to adopt "reasonable security practices" which apply to internal collection, storage, and use of personal data, as well as that of third-party vendors.
It requires entities to have procedures in place to investigate a potential security breach of personal information, and to provide notification to consumers and other entities in the event of a security breach.
To learn more about what actions your library needs to take to be in compliance with the new law, read this CVL blog post and review the fact sheet Protection of Personal Information of Library Users, published by the Colorado State Library.
Tips for Trustees: Accessing C.R.S.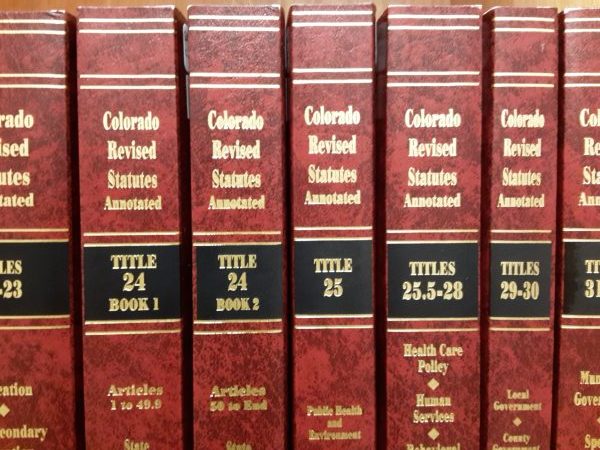 Are you looking for access to the Colorado Revised Statutes? The Statutes are available for free online through the Colorado General Assembly website, as well as in print at many public libraries across Colorado. To learn more about how the C.R.S. are updated annually, as well as how to access them, read this blog post by Amy Zimmer at the Colorado State Publications Library.
Webinars for Trustees
October 3, 10, 29: Fundraising & Building Support for Your Library: A Three-Part Webinar Series (United for Libraries – $$)
October 24: Successful Strategic Planning When You are Strapped for Resources and Staff (Library Works/Pat Wagner – $$)
November 7: Advocacy 101: When Advocacy Becomes Second Nature (WebJunction – free)
On demand:

Hooray for Freedom! Part One: Privacy, Confidentiality, and Intellectual Freedom in the Library (WebJunction – free)
Hooray for Freedom! Part Two: Developing Policies in Support of Ethical Practice (WebJunction – free)
CAL Conference 2019 Wrap
Thanks to all of the library trustees who attended the 2019 Colorado Association of Libraries Conference! We hope you learned some new things to take back to your library. Session slides and handouts are available on the conference schedule website (Sched). Stay tuned – over the next few months, several sessions from the Trustee Track will be highlighted in the Trustee Corner.
If you have feedback about the conference, or suggestions for next year, please send them to Crystal Schimpf.
Trustee Corner Contributions
Does your library have trustee news to share? Would you like to write a post for the Trustee Corner? Do you have a topic you would like to see featured? Email Crystal Schimpf with your ideas.
Be sure to follow Colorado State Library on Twitter and Facebook. Interested in receiving Trustee-related updates via email? Sign up for the Colorado Library Trustees  (COLT) newsletter.
Did you miss the August issue? View it, and more, at the Library Trustees page of the Colorado Virtual Library. 
Latest posts by Crystal Schimpf
(see all)