Lorrie Spoering is the Patron Services Readers Advisor at Colorado Talking Book Library . They've answered some questions below to help librarians around Colorado learn about their organization, agency, and/or services.
Below, you'll learn about the Braille E-Readers from Colorado Talking Book Library and their potential to help you serve your community. In addition, at the end of this post we've included some of their resources for you to view and/or use.
 View video recording from the Virtual Partner Forum with Lorrie  on Tuesday, May 16, 2023 at 11AM or scroll to view video embedded below. 

Tell us who you are and what you do for Colorado Talking Book Library (CTBL).
I'm Lorrie Spoering, and I'm a Patron Services Reader Advisor Librarian, as well as the outreach contact with CTBL. As a Reader Advisor, I provide assistance to our print-disabled patrons with selecting reading material, trouble-shooting technology, and providing information to interested organizations and individuals. As the Outreach Librarian, I also attend various events in target communities, as well as demonstration visits for organizations.
What are Braille E-Readers and how can Colorado Talking Book Library  partner with a library to offer them and other resources or programming to the local community of library visitors and users?
Braille eReaders, officially referred to as refreshable Braille displays, provides a 20 cell Braille display for individuals to read Braille books available in digital format. Much like a tablet or eReader, a user can download a book, and read it anytime and anywhere, without the bulk of a standard print Braille book.
Like our digital book players, qualified patrons can receive a device on loan from CTBL for the duration of their membership. Interested print-disabled individuals apply for membership via application, which must be certified by a professional familiar with their disability—this can be a doctor, nurse, therapist, caregiver, teacher, librarian, assisted living staff, etc. Once their application is received and confirmed, and processed, all equipment is provided, free of charge, and sent through the USPS.
As such, librarians at institutions can demonstrate and educate their patrons about CTBL and its offerings, as well as sign off on applications for individuals they believe would benefit from our service. As the Outreach contact, I am happy to provide training for library staff, as well as marketing materials to assist them in informing their community about us. 
What needs or challenges can Colorado Talking Book Library help libraries address for their communities?
Equipment and materials for the print-disabled can be very expensive, and difficult to obtain. We have a vast large print and Braille collection that libraries can utilize to provide materials to their blind and print-disabled community, as well as be their point of contact for audio books and players. We never charge for libraries or individuals to use our service, making it easier, and more cost-effective, to receive materials that are frequently cost-prohibitive.
What regions – cities, counties, areas – of Colorado does your organization reach?
CTBL serves every county in the state of Colorado. We are based in Denver, but send all materials through the USPS, and are accessible online, over the phone, and through email and fax. 
Do the services or resources from Colorado Talking Book Library cost any money? To libraries? How about to library users?
We are an absolutely free service. We are funded through an act of Congress, the Library of Congress and National Library Service for the Blind and Print Disabled, as well as the State Library, and our Friends of the Colorado Talking Book Library non-profit. We have no late fees, no deposits for equipment, and no fines for late or damaged materials.
Do libraries have to provide any funds or apply to gain access to the Braille E-Readers or to connect library users to the Colorado Talking Book Library?
We provide all services, to individuals and organizations alike, free of charge.
Do libraries have to provide any staff, volunteers, or training in order to run your programs or provide resources or services for blind and visually impaired Coloradans offered through Colorado Talking Book Library?
We can provide demonstrations and training to interested libraries, as well as materials for libraries to do their own demonstrations. We also have marketing materials, such as posters, brochures, and fliers, for posting and distribution.
What support can you offer libraries to help them access additional resources or funding to bring services for blind and visually impaired Coloradans to their library?
We love to support libraries in providing access to materials for their visually impaired patrons. We are happy to provide demonstration materials, including equipment, to libraries, as well as interlibrary loan and deposit collections of large print books, in order for community members to have access to these often cost-prohibitive items while still in the comfort and familiarity of their local library. 
Let's say one of our librarians, directors, or staff contact you and says, "We want to provide Braille E-Readers to our community!" What will the next step look like?
There are a couple ways to go about this, but I would strongly encourage a library or organization have an account with us so they can be a knowledgeable point of contact for their community. From there, I'd have staff members sign eligible patrons up for our service—remember librarians are on the list of certifiers for our applications! They're welcome to receive items for patrons, if that works for the person, and assist them in the steps from joining our library up to reading streaming Braille!
You will be attending a Virtual Partner Forum with the Colorado State Library on Tuesday, May 16, 2023 where you can answer questions directly from Colorado libraries who are able to attend. How else can people reach you?
If you're interested in learning more about our service, you can visit our website at myctbl.org, give us a call at 800-685-2136, or reach me, personally, at spoering_l@cde.state.co.us.
***
Not every resource or partner that we highlight will meet the needs or fit in with the mission of every library or community that will read this post. Furthermore, no single interview can include every available opportunity to work with Colorado Talking Book Library.

Some resources were mentioned in the Virtual Partner Forum and appear on the video recording, but not in the Hidden Gems post. They are listed below with links to their webpages.
Legislative Blue Book for Colorado – mp4s available free for download to make upcoming ballot information in equitable and accessible for blind and visually impaired voters
If you could note attend our Virtual Partner Forum on Tuesday, May 16, 2023 at 11AM and have questions related to the content therein feel free to email me – Cristy Moran, Adult Library Services Senior Consultant at the Colorado State Library – at moran_c@cde.state.co.us or Lorrie  directly at the contact information listed in the interview above.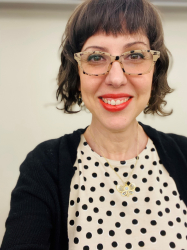 Latest posts by Cristy Moran
(see all)