From our partners at Colorado's Office of Future of Work:
The CDLE Office of the Future of Work has two very important opportunities available right now for organizations/agencies and members of the public to make sure they are "counted" in identifying digital equity needs.  The deadline for states to submit Digital Equity Plans to the National Telecommunications and Infrastructure Administration (NTIA) will be here before we know it!  These are five year plans that outline how each state will bring digital equity to those who lack high speed internet access, a web-enabled device and/or digital skills.
What can you do?
Assist as many members of communities you serve in completing this survey.  It is available in 21 languages and the data collected will be used to identify digital equity needs in Colorado.

Additional materials including print versions of the surveys and promotional materials for digital and print can be found at this Google Drive folder.

Complete this Digital Equity Ecosystem Mapping tool on behalf of your organization/agency and share it with others in your network.  This information will be used to form coalitions throughout the state who will present plans to address digital equity needs in communities.
Keep an eye out for the state Digital Access Plan that will be released in October for public comment.  Join one of the sessions that will be held to hear from communities throughout Colorado.
To learn more about the state's digital equity plan and how libraries can benefit from funding, partnerships, and resources in it, register here to join us on Thursday, November 9, 2023 from 11AM to noon as we host Melanie Colletti from the Office of Future work.
To learn more: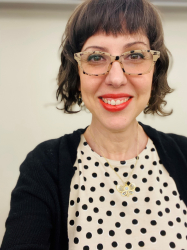 Latest posts by Cristy Moran
(see all)