CALCON, the annual conference of the Colorado Association of Libraries, will be October 12-14 in Loveland, CO. The event features keynote speakers, sessions, lightning talks, vendor exhibits, and networking opportunities. This year's theme is "A Confluence of Ideas". Visit CALCON23 to view full event details.
As in previous years, Colorado State Library staff members will present sessions throughout the conference, ranging in topics from library data to patron privacy. See the schedule below for details.
Colorado State Library Sessions
See the full schedule.
Thursday, October 12
9:00am – 12:00pm
Data Deep Dive – Analyzing, Understanding, and Using Library Data | Charissa Brammer, Dana Peterson, Sara Wicen
LRS staff will conduct a deep dive into library data, including:
A discussion of the 2022 Public Library Annual Report (PLAR) data.
Instruction on how to analyze data and build use effective data visualizations for your library patrons, boards of directors, and other stakeholders.
A hands-on learning opportunity to use Tableau or Excel to create visualizations of your data.
Bring your own laptop with Tableau Public (free account required, available at https://www.tableau.com/) or Excel installed if you would like to participate in the experiential learning portion of the presentation.
Deep Dive – Networking to Win the Room: How to Shine at the Conference | Sharon Morris and Kieran Hixon
Are you nervous about attending the conference? Do you feel awkward about making new connections and building your professional network? Are you wanting to put your best foot forward and be noticed? If the answer is yes to any of the above, join us for this experiential session. This deep dive will help you to reflect on what uniquely drives you in your work and how to use that purpose to meet others and build connections. You will learn ways to intentionally present yourself to new people as well as get tips to get them talking in more meaningful conversations. Even if you are an introvert or have social anxiety, this session will give you practical ways to show up and have fun at CALCON and in other situations.
2:00pm – 3:00pm
Prison libraries aren't Shawshank anymore! | Erin Boyington, Renee Barnes, Molly Bassford
If you've ever wondered what it's like to work in a prison library, this is the session for you. Hear from prison librarians themselves about the challenges and benefits of working in the field. Learn about the exciting changes happening inside the walls. Come away with information about opportunities for working in and partnering with prison libraries.
Friday, October 13
10:15am – 11:15am
Libraries and the Lives of People who are Incarcerated: the PRISM Project | Renee Barnes and Sara Wicen
After years of planning, the IMLS funded PRISM Project is underway. In this first-of-its-kind study, the Colorado State Library's Library Research Service and Institutional Library Development teams are looking to determine if and how prison libraries in Colorado affect incarcerated people's behaviors. We're also working with Remerg, a re-entry service organization, to determine if prison library usage affects formerly incarcerated peoples' behaviors upon release from prison. Through focus groups and surveys with currently and formerly incarcerated individuals, we have begun to understand the importance, challenges, and successes of these unique libraries. We will share preliminary findings from our research, discuss steps moving forward and give insights into inter-government agency collaboration and grant management.
Speed Mentoring | Christine Kreger, Padma Polepeddi, Ashley Fahey, Julianna Sipeki, Rick Medrano, Sara Satkowiak
Want to get a little micro-facetime with people who have been-there-done-that? Want to practice your elevator speech in a lower stakes environment? Want to see what a 90-second scan of your resume tells someone about you? Then this session is for you!
11:30am – 12:30pm
Autism Is Welcome Here: The ACCESS Approach to Serving Autistic Youth | Suzi Tonini
Transform your school and public library environment to support and engage autistic children and teens! Learn recent research and statistics related to autism, reflect on feedback gathered from the autism community about their library experiences, and apply the ACCESS approach to create an autism-friendly library climate, develop a collection with authentic and affirming representation of autism, and design programming to engage neurodivergent children and teens.
The Great UNBOXING: Adult Programs in a Box from CO State Library | Cristy Moran
In this session, Cristy Moran, Adult Library Services Senior Consultant, will guide participants through the resource kits for libraries available through Colorado State Library for adult programming. Some kits are new to the state library and for Colorado libraries, others have been updated, and some are upcoming in the next year. Participants will be able to get a peek inside the kits themselves and consider ways of using the kits and their contents to design programs or events, identify community partners, and develop their own library collections. Participants in this session can explore current hits for adult programs and identify themes, topics, and ideas for kits that the Colorado State Library may create in the future. An overview of the process for requesting kits and an opportunity to give feedback are a part of this session as well.
2:00pm – 3:00pm
Craft Your Way to a Better Job | Christine Kreger
Do you feel unconnected or disengaged at work?
Are you lacking motivation to complete daily tasks?
Do you wish you could design the perfect job?
While the perfect job may not exist, job crafting allows individuals to rethink themselves, their tasks, and their relationships with others to increase job satisfaction, engagement, and motivation.
In this session, we will discuss what job crafting is, and explore activities that can help you reinforce your natural strengths, redefine your purpose, and re-invigorate your work.
2:00pm – 3:00pm
Trustee's Advocacy Toolkit | Nicolle Davies
This session will focus on the importance of advocacy for libraries.  Specifically, it will address why advocacy is important and how individuals can participate.  The session will offer practical tools about messaging, audience, and strategy. Walk away ready to advocate for a well-supported library.
4:00pm – 5:00pm
Library Trends for Trustees | Sharon Morris, Kieran Hixon, Jamie LaRue
Too often, library boards react in the moment to the pressures of the market or community. But some larger trends are discernible now, and here's a chance to take the time to think about their larger effects both on the service opportunities of the library, and the work of the board. Just possibly, this will help us get ready for them. Facilitators will present a series of emerging trends, such as AI, demographic shifts, and mental health, and give Trustees a chance to sift them for meaning.
Saturday, October 14
9:00am – 10:00am
Session Sticky Situations: Patron privacy, and customer service | Christine Kreger
Privacy and confidentiality are core values of librarianship, but what does that mean when we are interacting with our patrons on a day-to-day basis?
Join me for an interactive session as we explore how patron privacy connects to everyday customer service.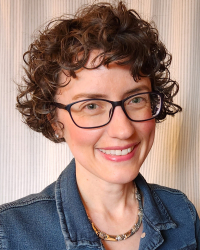 Latest posts by Amy Hitchner
(see all)