The Friday Grab Bag is a weekly series that highlights fun, unique, and interesting happenings in Colorado libraries, and includes news from the Colorado State Library.
Let's open the Friday Grab Bag!
Fresh from the Garden
Bud Werner Memorial Library is teaming up the Routt County CSU Master Gardeners to present An Evening with the Master Gardeners, April 11 from 5:00 to 7:00 pm. During the event participants will experience hands-on demos and learn tips for gardening in Routt County.
To celebrate Arbor Day, Pines and Plains Libraries welcomes guest speaker Kari Hall from Double EL Soil at the Simla Branch Library, April 28 at 12:30 pm. The lecture will include a Q&A session and a light lunch.
Just in time for Mother's Day, learn the basics of Flower Arranging at Avon Public Library, April 25 at 6:00 pm. All supplies will be provided; registration is required.
Always Learning
Pine River Library is hosting Conversational ASL (American Sign Language), a six-week course taught by San Juan Boces. The class meets each Thursday from April 19 – May 25 at 5:30 pm.
Learn Podcasting Basics at Denver Public Library's Central Library, April 22 at 2:00 pm. DPL's Podcaster in Residence Paul Karolyi will present what you need to know to produce a podcast, including equipment and software.
Global Issues
CU Boulder is hosting its 70th Annual Conference on World Affairs from April 9-13. The events held at Boulder Public Library will include 4 panel discussions and a film screening. See the full schedule of events.
Jefferson County Public Library continues its call-in series with North Korea with Active Minds, April 23 from 1:00 to 2:00 pm. Participants will learn about North Korean history and recent developments in nuclear weapons, international trade, and human rights. Join by phone at 303-502-5189 or by visiting uberconference.com/jcplhomeservices.
Libraries in the News
PPLD Chief Librarian and CEO John Spears authored a guest column in The Gazette: Pikes Peak Library District offers community multiple services.
National Library Week
National Library Week is April 8-14; this year's theme is "Libraries Lead." Many Colorado libraries are celebrating with special programs and fine forgiveness. Contact your library to see how they are participating in this annual event.
Pick 'n' Mix
Longmont Public Library's Yoga Storytime incorporates movement, stories, and songs – perfect for children ages 3+ and their caregivers. The class meets on Mondays from 11:00 to 11:45 am.
Did your library do an April Fools joke this year? Poudre River Public Library District surprised their patrons with a Facebook post announcing a new special collection of books designed specifically for left-handed readers. Check out their post and all the fun comments.
The Daniel Bennett Group will perform Jazz, Folk, Minimalism at Basalt Regional Library on April 6 at 5:30 pm. The Manhattan-based group is known for their "provocative mix of jazz, avant-pop, and surf rock."
---
What's New at the Colorado State Library
CSL Share & Learn: Glenwood Springs
CSL Share & Learn: Glenwood Springs has been cancelled due to low enrollment. We hope to see you at a future professional learning event.
One Book 4 Colorado
From April 9-23, all Colorado 4-year-olds can receive a free copy of the winning OB4CO title, to be announced next week. See a map of pick-up locations.
Learning Opportunities
CSL in Session | A Librarian's Guide to Solo Leadership: How to lead when you don't think you have anyone to lead, with Mandi Miller. April 12, 12:00 – 1:00 pm. Free; no registration required.
Registration is open for Successful Supervision Workshops with Pat Wagner, May 16 & 17 in Pueblo. Learn more. Registration for the workshop on June 19 & 20 in Rifle will open on May 2.
Each month, Wyoming State Library compiles a list of free learning opportunities. Check out the list for April 2018.
The Learning Edge Connection
The Learning Edge Connection is a new weekly series summarizing educator-focused professional learning opportunities, news, and resources. It's written by Christine Schein, Digital Literacy Instructional Specialist. Please share it with other educators.
Library Development Annual Report 2017
Read what CSL's Library Development team accomplished last year in their Annual Report 2017.
New CHNC Title
The Colorado Historic Newspapers Collection welcomes its newest title, The Oredigger, student newspaper of the Colorado School of Mines. Access 2,200 digitized pages spanning 1921-1936 for free through CHNC.
CLiC Springs Workshops – Pueblo
Are you headed to the CLiC Spring Workshops in Pueblo on April 19 & 20? While you're there, check out a session presented by State Library staff.
Colorado ILL Conference
The Colorado ILL Conference is April 19 & 20 at CSU in Fort Collins, with a free Prospector preconference on April 18. Learn more and register.
Colorado State Library Publications Blog
#GetToKnowCSL
Learn more about CSL staff in our weekly social media campaign on Facebook and Twitter. This week's staff member is Debbi MacLeod, Director of the Colorado Talking Book Library and State Publications Library. Debbi finds it rewarding to serve CTBL patrons and make a difference in their lives.
---
This post is part of the Spotlight on Sharing initiative, which aims to increase the visibility of resource sharing in Colorado libraries. Do you have a story from your library to share? Email Amy Hitchner, ahitchner@coloradovirtuallibrary.org. Also, be sure to follow Colorado State Library on Twitter and Facebook.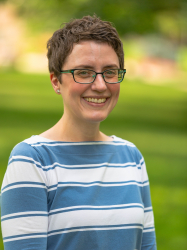 Latest posts by Amy Hitchner
(see all)