Vol.1, Issue 7
Happy almost summer break to all of you! You all deserve this restorative time SO  much. I hope all of you take time to reflect and celebrate on the positives that each of you brought to your learners and
staffs this year. It's important to focus on your celebrations of the year (rather than beating yourself up) and reflect on things you'd like to try differently for next year.
I also want to thank the following teacher-librarians for sharing various things with me for this particular issue: Katherine Kates from Academy 20, Rachel Budzynski from University Schools in Greeley, Becca Kaplan from Summit County, and Kyle Harmon from Cherry Creek School District.
Read on, and I hope you find something helpful for you. We'll issue one more newsletter later in June before my last day here at the State Library on June 30th.
---
Multiculturalism/Inclusivity
Below are several learning opportunities, and events that K-12 librarians have pursued regarding inclusivity and diversity in hopes that it sparks ideas for our readers.
Culture of Belonging
Hooray for Academy 20 librarians/staff (and most importantly, their learners and community) for their district-wide focus on the initiative "Belonging in the Library" this past year. One of several things that resonated with me was the emphasis on reflection in their librarian community around this work. Read on, and I hope this inspires many of you in multiple ways this coming school year.
One of our district values is "We aspire to practice meaningful inclusion, honor diversity and develop a culture of belonging throughout our school community." What better place to build a 'Culture of Belonging' than the library? The school library belongs to all students and staff and to ensure that everyone feels that sense of belonging, this year's library staff focused on Belonging in the Library: Building Diversity, Equity and Inclusion at our meetings and trainings. We began the year in-person with Dr. Aaron Henderson from Hearts for Justice and continued our journey with online speakers that included Carson Williams, Julia Torres, and Kara Stewart. Members of the Digital Integration Services team went to FETC in January to share with other librarians the journey of our library staff. We will end our school year with another training from Dr. Henderson and a reflection on our learning and growth.  Link to FETC presentation
Celebrate Juneteenth with Ibram X. Kendi
Thanks to Kyle Harmon for sharing this "Celebrating Juneteenth" event, featuring Ibram X. Kendi. While it does cost ($35.51), I'm confident that there will be valuable information for us K-12 folks, and..hey…you get a new book or two as well! I've registered. I hope you all do, too, via the link below.
https://www.eventbrite.com/x/celebrating-juneteenth-with-ibram-x-kendi-tickets-323369786737
---
Jason Reynolds/Library of Congress
Check out author Jason Reynold's newest initiative, in partnership with the Library of Congress. Thanks to my colleague Kieran Hixon for sharing it!
New Book June 3rd!
Many of us Colorado K-12 librarians have heard Julia Torres speak at numerous conferences and events. Well, now she and Valeri Tagoe have a new book coming out June 3rd entitled Liven Up Your Library: Designing Engaging and Inclusive Programs for Tweens and Teens. Check it out!
---
Learning Opportunities
Banned Book Report
Thanks to Becca Kaplan for sharing this short webinar (25 min.) with me a few weeks ago regarding the Banned Books report from a partnership between PEN American and Libraries Today. You'll find some useful tips and information in here for sure! It's free, but viewers need to register for the forum to access it
https://forum.libraries.today/talks/pen-america-banned-books-report/
Solving Copyright Dilemmas for K-12 Libraries
The University of Wisconsin-Madison provides professional development opportunities for library staff all over the country. We have an online class this summer, Solving Copyright Dilemmas for K12 Libraries,  Even though we learn about copyright, fair use, and licensing in our professional training, we still run into dilemmas that stump us – and we need enough information to train teachers and principals who need help on these topics. Taught by a high school librarian and an attorney, this course will give you a better understanding of how copyright law applies to real K-12 school situations. The class, which runs from June 20-July 17,  is completely online and has no required meeting times.
Offered through the UW-Madison Information School, Continuing Education Services. Contact Anna Palmer at ahpalmer@wisc.edu for receiving a 25% discount code for the $112.00 course fee registration.
https://ischool.wisc.edu/continuing-education/k12-copyright
---
Partnerships
Partnering with outside organizations in our communities is an important way to build community and expand ways for our younger learners to thrive. One of the most important partnerships is with our own public librarians/library staffs.
Recently, I received a question around how K-12 librarians/staffs are partnering with their respective public librarians. I received numerous feedback from folks in High Plains library districts, Telluride, and more. Here are some of the innovative partnerships they shared with me (beyond the most common one most of us know about which is summer learning programs):
Issuing public library cards to all K-12 students to access research databases and/or public library materials
Public librarians hosting field trips to the public library for elementary (K-6)
Public librarians inviting various schools to public library-hosted author visits.
Public librarians helping defray costs of author visits that are then enjoyed by both the younger learners as well as adult learners in the community.
Inviting public librarians to do book talks for various grade levels
Last year, in one CO district, the public librarians made 'Battle of the Books' bookmarks for the school district's 'Battle of the Books program' as well as supplying ebooks, audiobooks, and print copies for the student via the library system.
Public librarians co-hosting middle school and high school book clubs on campus at K–12 libraries, bringing snacks, incentives, and books.
Public librarians attending school carnivals with a table promoting library services and public library card sign up.
Listen to some webinars that feature public librarian partnerships as well as other community partnership from the UCD/CO State Library webinar series "Shine a Light Webinar Series" such as: 1) Public Library Partnerships; 2) Building a Culturally Responsive School Library Program; and, 3) Supporting Newcomers, Refugee Students, and Families.
Sign up for the weekly "Friday Grab Bag" newsletter from CO State Library colleague Amy Hitchner, where you'll be inspired by public library programs throughout the state and may think of other ideas/activities for partnering!
---
Idea Sharing
What are some of your thoughts/questions about this edition of the newsletter? What EDI books, resources, and ideas can you share? Share your ideas in the comments or via our School Library Hotline listserv.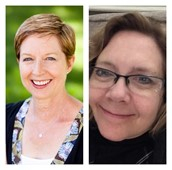 Latest posts by Becky Russell and Tammy Langeberg
(see all)