Posted on behalf of Melody Garcia and Growing Readers Together.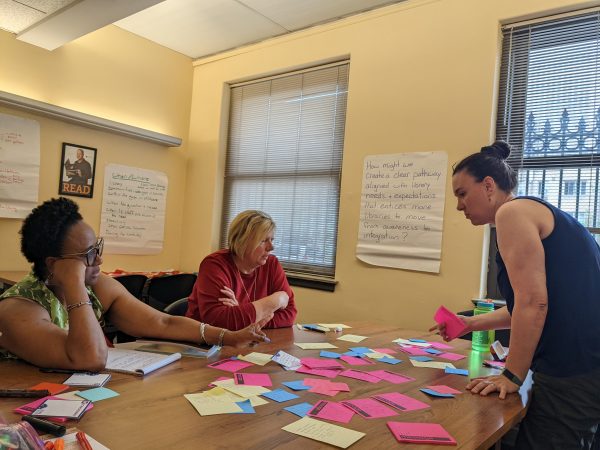 The Growing Readers Together (GRT) team recently asked a question, How might we appeal to more libraries and shift their approach to fully integrate services to Family, Friend, and Neighbor caregivers in their service model? Using a design thinking approach, our proposed response is a facilitated training, "Serving Community, Caregiver, and Child: A Growing Readers Together Course." We are preparing to beta-test this new course and are seeking several Colorado youth service staff to pilot the program. If you are interested, please read the information below and then apply here by January 23, 2023.
Since 2016, Growing Readers Together has awarded grants to 47 Colorado libraries to support their outreach and support for Family, Friend and Neighbor caregivers in their community. We have watched amazing transformations in the communities they serve, the partnerships they develop, and within the libraries themselves. Leveraging a design thinking process, we considered how we might make this model more accessible to a wider range of Colorado libraries. Design thinking is a human-centered approach to creative problem solving that uses an iterative process to understand users, challenge assumptions, redefine problems and create innovative solutions to prototype and test.
The GRT team engaged in user interviews, solicited feed-back from focus groups, and tore through stacks of post-it notes as we unpacked our own assumptions and looked for common themes related to how GRT serves Colorado library staff best. What emerged was the concept of a training pathway for library staff based on the collective knowledge and best practices of highly successful libraries involved in the Growing Readers Together grant program.
We are now getting ready to beta-test "Serving Community, Caregiver, and Child: A Growing Readers Together Course." We are currently looking for library staff who serve children and families to pilot the course with us and provide feedback. We welcome all interested library staff, regardless of their position or background, to apply. Our hope is to test the effectiveness and relevance of the course with a learning cohort that represents the diversity of Colorado libraries. Using a cohort model, we also hope to establish a community of learning that can support one another during the training and beyond.
Course material will be delivered as a series of interactive PDF modules that offer a mix of reading and other media, such as short videos and podcasts. The course consists of 6 modules and will be facilitated through bi-weekly meetings over 13 weeks to discuss the material. Cohort members will be expected to read and view each module's content prior to the discussion meeting, respond to reflection questions, and apply their learning to their work through a variety of activities and prompts. The cohort will run from mid February to the beginning of May. Dates and times are to be determined, and will depend on the availability of the cohort members.
A completion certificate will be awarded to all cohort members and it is our hope that involvement in this course will lead to greater engagement with Family, Friend and Neighbor caregivers, deeper partnerships with community organizations, and a more intentional approach to early learning programming in every participating library system. Feedback from the beta-testing will be integrated into the course development, and ideally the course will be offered again this fall via both a learning cohort and a self-paced version of the course. Below you will find the course outline. We welcome any questions you may have about this beta test or the course development in general. Please reach out to either Melody Garcia at garcia_m@cde.state.co.us or Kate Brunner at brunner_k@cde.state.co.us.
COURSE OUTLINE
WEEK 1: Orientation
Meet the cohort, establish expectations for the course, and get excited to learn more.
WEEK 2: Identifying & Connecting with Family, Friend, & Neighbor Caregivers 
Focused on an introduction to FFN care, Colorado childcare systems, the importance of cultural humility and inclusion and strategies for connecting and building relationships with FFN.  
WEEK 4: Access, Outreach, & Partnership
Helps to identify common barriers to library service, successful outreach approaches, strategies for mutually beneficial partnership, approaching outreach and partnership with cultural humility.
WEEK 6: Creating Early Childhood Learning Experiences 
Highlights major findings from current research in early childhood learning and discusses how you can apply that to designing play-based, culturally responsive experiences for young children and caregivers.
WEEK 8: FFN Caregiver Education and Inclusion
Provides opportunities for planning programming with and for FFN, creating a welcoming community, delivering effective early literacy messaging, and meeting caregivers where they are to build skills.
WEEK 10: Resources, Environments, & Materials for FFNs
Focuses on creating inclusive play spaces, collection development, and early learning resources through an FFN caregiver-friendly lens.
WEEK 12: The Whole Library Approach & Continued Professional Development
Applies what you have learned to getting your whole team excited about early learning and services to FFN, advocating for FFN caregivers, as well as your continued learning.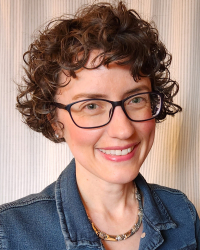 Latest posts by Amy Hitchner
(see all)